A master shoe cobbler works quietly on a strange machine of a bygone industrial era. A second-generation worker hammers countless nails into a single shoe. Anyone could say that it's an art of the past, or even, a dying art. But they are master shoe cobblers. Some stitch, some cut, and some finish. Their trade is an ancient one. And their devotion to it is uncommon, nearly sacred.
This is the outline of Der Dau, a 56-year-old boot manufacturing company. It follows a tradition of perfectionism established by Jose Der, founder of the Brooklyn, New York-based company. But it wouldn't be a story without a twist.
What happens when a dying art comes face to face with innovation? It either shrivels away or becomes strengthened by the ideas of a new era. With a background in fashion and the ambition required to lead the boot industry in style and performance, it was Joseph Der who asked this of his father's company.
A Solid Start
What Der Dau is today stems from the Cuban tradition of boot making, which Jose mastered under the guidance of his uncle. He immigrated to the United States in the 1940s with nothing more than the skill of making boots and the determination to make a life. A Cuban immigrant turned American dreamer, he began his own boot making company. "Morales," as it was then called, was the genesis of Der Dau.
Joseph, now CEO of Der Dau, has the utmost respect for his father's ardor. He remarked of Jose, "Not only is he my best friend, father, and mentor, but he is a class act." At 87-years-old, Jose Der still imparts his wisdom to his son.
From its humble beginnings, Der Dau has ascended to become a top name in equestrian boots. They make a custom boot that fits like a glove. Their top-of-the-line riding boots, crafted
from the highest grade of leather, are known for their comfort and durability. The boot is a tool for a rider, and the likes of Ian Miller, Margie Engle, and Debbie Stephens—true celebrities of show jumping sport—have put their trust in Der Dau.
There is always room for improvement. Joseph had a vision to take the company, and its age-old craft, to the forefront of design and functionality. With the utmost passion, Joseph has constantly sought to perfect the riding boot. He says, "We're always making it better and better. If anyone can make a boot to last a lifetime, I'm going to be the first to do it."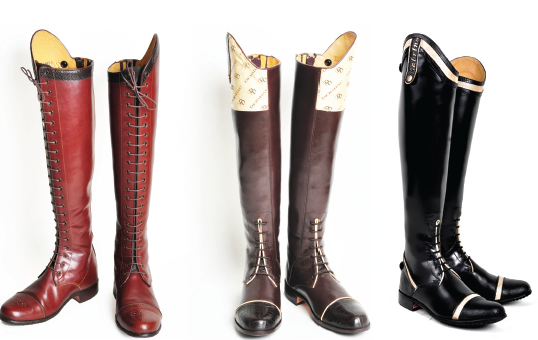 Getting feedback from riders has been crucial to this quest. Under Joseph's leadership, Der Dau has gained more and more awareness of the needs and desires of its market. The input from customers— from people like you and me—has changed the riding boot as we know it. It has been tweaked, tailored, and downright reinvented.
The Paradigm Shift
Der Dau's Dream Boot was the first transformation. For countless decades, riding boots were made out of French calf leather. Boots made from this material were hardy and could last riders for up to 30 or 40years. But those were the days when breaking in boots meant blisters, band-aids, and endless inventive remedies for the biting pain of stiff leather against skin.
Fortunately, we no longer have to tolerate that. It became the industry standard to make boots out of baby calf leather, a much softer leather. For what we gained in comfort, however, we lost in durability. Calf leather boots can only stand-up to about four years of use. Over time, the constant rubbing of the boot against the saddle and side of horse will wear out the leather on the inside of the calf.
Der Dau's approach to customer awareness paid off. Riders voiced their problems, so Der Dau kicked into action and invented what is now their top-selling product, The Dream Boot. Joseph is especially proud of this product because, he says, "It gives the customer the best of both worlds." It is made of baby calf leather for softness, but it has a panel of durable French calf leather on the inner part of the calf.
This was only the start. The Dream Boot has undergone more revisions throughout the years. Each new model does a little more to perfect the boot and solve riders' problems. For example, in order to help riders gain a better grip without using harmful stick sprays, they created The Dream 2- Grip Boot, employing a radical design of rubber pellets on the inner calf. Next came a boot with smooth rubber on the outside. Then came the latest model, which is a smooth rubber reinforced with fiberglass mesh.
The horse world is a traditional one, but it has embraced Der Dau's position on the vanguard of function and fashion. Der Dau was the first to make color, crystals, and exotic skins available to riders. Their snakeskin, and crocodile skin trimmed boots might as well have walked straight from the runway into the show ring.
Joseph's experience accommodating celebrity and Broadway stars has caught up with the show world, and a wild mixture of fashion and sport has ensued. It only takes a little creativity to breach the two worlds. Why not use the stretch leather from leggings to make tight-fitting half chaps? Why not use laser technology to emboss initials on products? Why not add a little Broadway bling to a fine pair of boots? This is what we call a spirit of innovation.
The fashionable take on the modern boot is a trendy one, yet, if you look in the background, you'll still find a shoe cobbler, working silently at his trade.
-Story by Arden Cone
This article was originally published in the Feb/Mar 2014 issue of Horse & Style Magazine. CLICK HERE to read the entire issue online!