Lexington, KY – November 2, 2014 – The history books were made to house Tori Colvin's name. The young phenom has been winning championship titles since she was wearing garters and riding ponies. At just 17 years old, she has already won the USHJA International Hunter Derby Finals, the Artisan Farms Young Rider Grand Prix Series, and countless other awards. One major title had eluded her, and today she changed that for good at the 2014 National Horse Show when she captured the prestigious ASPCA Alfred B. Maclay Championship, presented by Dover Saddlery.
"I never thought I would win an equitation final," said Colvin of Loxahatchee, Florida, after her victory. "It feels great. I thought Patrick went amazing. I thought that my second round was better than my first round, but Patrick really produced great rounds all day."
The Kentucky Horse Park hosted 153 of the country's top junior riders who turned out to vie for the winning title. Judges McLain Ward and Chrystine Tauber designed a course that tested the riders' precision and horsemanship skills with two combinations, multiple bending lines, and an inside turn to a three-stride line that would be a deciding factor for today's winners
Trainer Don Stewart said, "I thought today when I walked it that the people who are going to win this class are going to go inside and do three and do five correctly. They gave the option for people to play it safe by going around. That's not how McLain wins these big classes, though. He will do the inside turns; he goes to win the class. The judges weren't going to penalize you if you went around, but if you want to win these classes, you have to do what is hard."
The field was narrowed down to twenty riders who were asked to return for the flat phase, with Hunter Holloway of Topeka, Kansas, in the lead position, followed by Colvin and Sophie Simpson of Wellington, Florida. The flat test counted for half of the riders' overall score, and riders were asked to complete small circles, half-passes, and two changes of lead, as well as drop their stirrups.
After the flat phase, Holloway and Colvin remained in the top two spots. The top 15 competitors then had to complete a second course with increased difficulty that included a halt, counter canter fence, trot fence, and hand gallop fence. It also had three combinations as well as multiple turns where riders had to showcase balance and accuracy. The standings were as listed and the riders were asked to return in reverse order:
Hunter Holloway
Tori Colvin
Michael Hughes
Spencer Smith
Kelli Cruciotti
Ali Tritschler
Madison Goetzmann
Virigina Ingram
Rebekah Chenelle
Caitlin Boyle
McKayla Langmeier
Vivian Yowan
Sophie Simpson
Lilly Higgins
TJ O'Mara.
The delicate track separated the top riders. Michael Hughes of Allendale, New Jersey, a decorated jumper rider, had a light rub in the second combination, but demonstrated a very good halt and counter canter transition that helped him remain in third place. The Maclay Final marked the conclusion of the 18-year-old's equitation career.
"I think not only are the courses the same that we jump in the grand prix and the high juniors, but the pressure is the same as being last in the jump-off," explained Hughes at the end of the day. "You know what you have to do. Doing equitation really taught me that you have to go in and do it exactly as you have to do it."
Ali Tritschler of Southport, Connecticut, was able to move into fourth place ahead of Spencer Smith with a very smooth and confident round. Smith rode the counter canter transition well, but did not demonstrate enough of a hand gallop, dropping to fifth place. However, at the end of the competition, Smith was awarded the Wilson Dennehy Equitation Trophy as the rider with the best results overall from the ASPCA Maclay Final and the Pessoa/US Hunter Seat Medal Finals.
The work-off determined third through tenth place in the standings, but when Colvin and Holloway each produced flawless rounds that demonstrated their superb horsemanship skills, Ward and Tauber asked them to return for a final test, completing the same test, but swapping horses.
Colvin returned first on Holloway's Any Given Sunday and laid down the gauntlet by taking an inside turn on an unfamiliar horse and easily riding down the outside line with a controlled halt. Watch Colvin's round with Any Given Sunday here:
"I thought it would be a lot of fun to do another horse," admitted Colvin. "Hunter's horse was amazing – he was like a hunter. I love riding hunters. He had more energy than Patrick."
Holloway knew that she would need to be perfect to stay in the lead, and while she demonstrated a good trot fence and a lovely ride through the diagonal line as well as completing the inside turn with Colvin's Patrick, an extra stride at the final fence would cost her the win with a deep distance.
"I got really nervous for the final round and I miscounted down the final line, which was very unfortunate," explained 15-year-old Holloway. "Patrick is straightforward and fun to ride though, so it was fun."
Holloway added, "This has always been a goal of mine. Hopefully next year we will come back and do even better. This is the best I've done here. I have an amazing team, and amazing people in my life. It's really special to be able to come here and do this."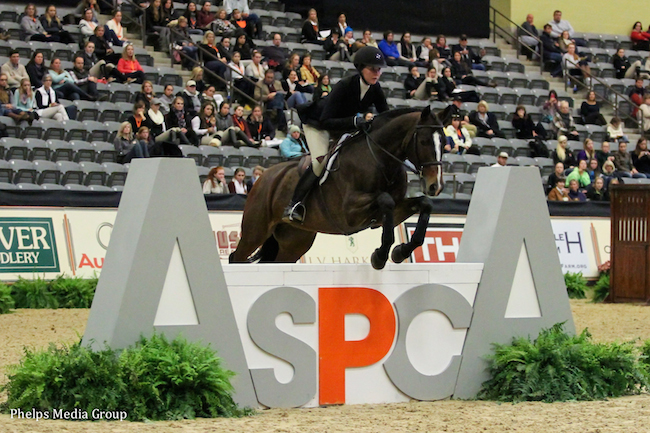 Hunter Holloway and Any Given Sunday. Photo ©Phelps Sports
The judges were very impressed with the level of riding demonstrated throughout the day. "We had talked earlier in the year about the general concept and what we wanted to see in the way of horsemanship and the riders commanding their mounts," noted Tauber. "I think you could see that the lines on the courses required a good connection. You had to ride leg to hand, know the track, and know how your horse had to be ridden on the course. Not every person could ride it the same. You had to ride it according to what you were sitting on. Our top riders did it beautifully. I think we were very thrilled with our top group."
Tauber added, "The final showed whether you could go from collected to a counter canter to a hand gallop to a rollback turn and bending line with your eye on it. But, that was exactly what that course was about. It let the people who were really riding well shine. The other weaknesses were exposed."
For Ward, the Maclay is more than just a junior championship: it is a test for riders to advance to the highest levels of the sport. "I think the basis of the courses and the thought process is that this isn't a be-all, end-all. This is a stepping-stone to something greater," he commented. "We hope that these events will point out the riders who are going to go on to do great things in their careers and for this country. The three kids sitting here, and all the young riders competing here today, really stepped up to the plate and had great performances."
For Holloway, the two-time Olympic Gold medalist also commented, "Don't worry, Hunter – second place worked out OK for me!"
Colvin's victory today also marked a third win in as many years at the championship for Andre Dignelli and the team at Heritage Farm. "When you come to these events with someone who rides like Tori, you know you have a shot at winning," he commented. "My goal is to try not to mess it up. I agonized for 75 rounds if I was going to have her go inside and do three to the five or do five. We took a shot and it paid off for us today. But this feeling never gets old."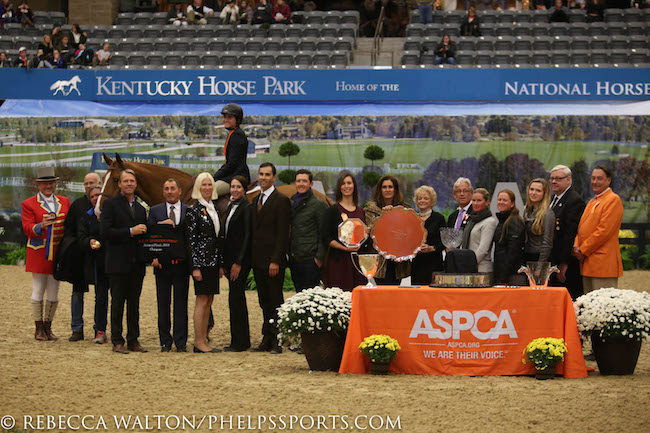 Photo ©Phelps Sports
ASPCA Federal Legislative Manager Caroline Schnurr concluded, "We applaud Tori's commitment to horsemanship as a unique talent that led to this truly impressive victory. This championship embodies not only the spirit of excellence,in equestrian sport, but in humane and responsible stewardship of equines, and in doing what is right and compassionate for horses and all animals. We now encourage Tori, and all those who compete in this prestigious competition, to join us in being a voice for the animals and helping us, and our Equine Welfare Ambassadors, many of whom are ASPCA Maclay National Champions themselves, in making a difference for animals."
The ASPCA Maclay Horsemanship class has been held since 1933, and it is one of the most prestigious competitions for junior riders in the United States. Its winners are some of the biggest names in equestrian sport. Previous winners include: William Steinkraus in 1941, Frank Chapot (1948), George Morris (1952), Leslie Burr Howard (1972), Stacia Klein Madden (1987) and Nicole Shahinian Simpson (1992). The 2012 ASPCA Maclay National Championship winner was Jacob Pope of Columbia, Maryland, and in 2013 Lillie Keenan of New York, New York, won the title. 

Founded in 1883 at the original Madison Square Garden, the National Horse Show is America's oldest indoor horse show, firmly established as a major fixture on the national and international sports and social event calendars. The National Horse Show Association's primary activity is the annual production of the National Horse Show and all ancillary events. Over the years, the National Horse Show has provided financial aid to many worthwhile charities.
For more information about the National Horse Show, please visit at  www.nhs.org.
-Rebecca Walton for Phelps Sports