Just in time for the holidays: from popular green equine grooming care company, EcoLicious Equestrian comes their eagerly anticipated Body Care line for riders. Customers love the results of EcoLicious on their 4-legged partners, and now they can pamper themselves too. 
"Our customers kept sharing all their stories about the different ways they use our products on animals other than equines, including themselves! Soon we were being asked when we would officially launch a skin care line for humans." Shares EcoLicious Equestrian founder Petra McGowan. "We didn't have a body care line on our radar in the beginning," she admits. "But the demand was growing and we responded to our customers." 
EcoLicious Equestrian is launching a new body care trio for a limited time during this holiday season. This nourishing line pampers and moisturizes your skin during the cold, dry winter and the warm, rich scents echo the joy of the holidays.
The benefits of a green grooming routine are felt by both your horse, and the surrounding environment. EcoLicious Equestrian caters to riders and horse owners who yearn for products to provide show-stopping results, while being free of harmful parabens, sulfates and harsh chemicals. The launch of the Exfoliating 3 in 1 Shower Shake, Nourishing Body Butter & Lip Silk gives customers a chance to indulge and pamper themselves like they do their horses, while still being assured that they are not harming the environment or their health.
EcoLicious Equestrian horse grooming products are featured in the H&S Holiday Guide to Equestrian Style. Pictured below are the Body Butter and Exfoliating Shower Shake for Riders.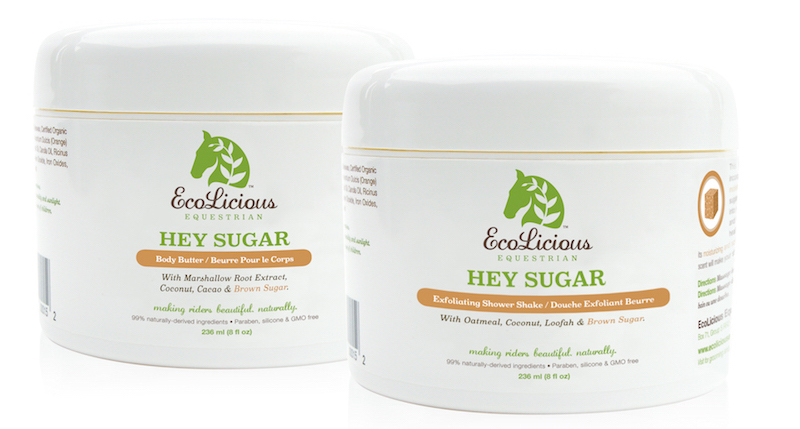 EcoLicious Equestrian is a fine line of natural equine grooming products developed for environmentally conscious equestrians and horse owners.  The company is committed to minimizing its carbon footprint, providing environmental horse tips while giving back to horses in need and equestrian community. 
To learn more about EcoLicious Equestrian grooming and horse care products and where you can purchase them, go to www.ecoliciousequestrian.com. Become a fan on Facebook and  follow us Twitter  to stay up-to-date on contests and new products.