Photography by Kyle Barney, Justin Charles, & Rodney Ray
Styling by Jessica Rose Lee
Nestled in the heart of Los Angeles, California sits a girl with a passion for good deeds, beautiful horses and great clothes. A girl who begged her parents for a pony at the age of nine, received said pony and was instantly thrust into a world revolving around the animals she loves so much. A girl whose upbringing and schooling led her to a career in luxury fashion marketing and later equine rescue programs. So what is a girl to do with such a path in life? She creates a club unlike any other.
For nestled in the heart of Los Angeles, California sits Jessica Rose Lee, creator and founder of Saddle Club – a California lifestyle brand inspired by the modern equestrian, tailored for the fashion culture of today, and benefiting equine rescue programs of America. "The evolution of Saddle Club has been completely organic," explains Lee. What began as a riding lesson program to introduce equestrian lifestyle to popular culture has grown into so much more.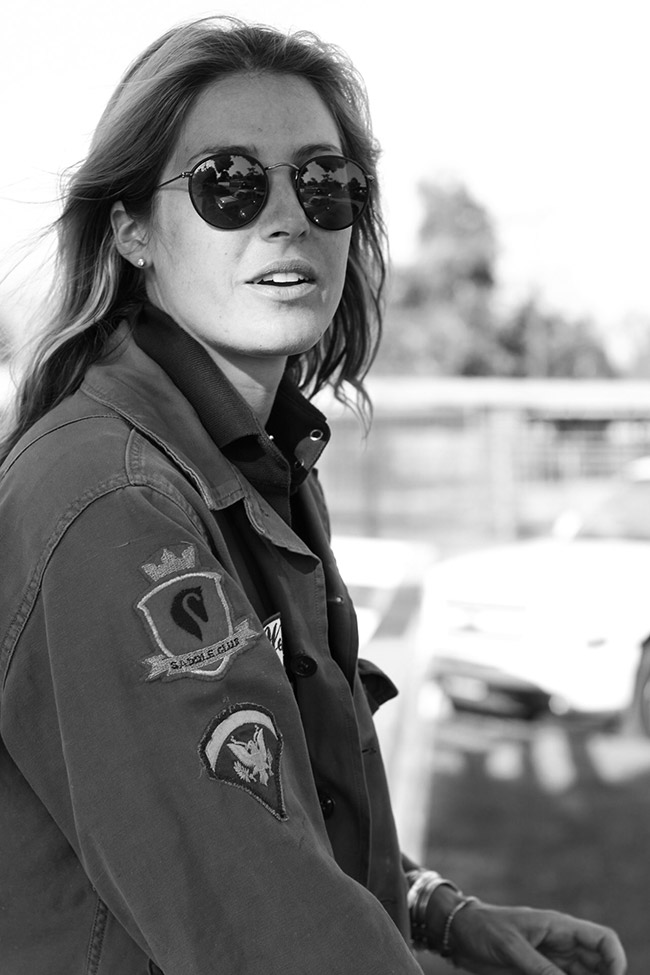 Pairing her Passions for Horses and Fashion
After Lee graduated from San Diego State University and began working in the fashion industry, she felt a strong urge to blend her professional career with her love of horses. So she carried on immersing herself in the horse world, taking positions as an assistant rider at private training stables for grand prix show jumping horses at the Los Angeles Equestrian Center, and organizing events on the side at local race tracks. Her path crossed with many animals over the years and she was happy that she was able to maintain her connection to equestrian culture. These animals would come and go, as would Lee. And over the years she began to look back and wonder about all those horses, where they were and what they were doing. She continued to question and continued to research. Did you know that 85% of first-time horse owners get rid of their horses within five years, and a startling number of horses are shipped abroad each year for human consumption, with the majority of these animals being healthy, 7-10 years of age and in good condition? For Lee, the calling to volunteer began to beckon.
Red Bucket Equine Rescue
"It really all began when I started to volunteer for Red Bucket Equine Rescue in Southern California in 2015," says Lee. A 501(c)3 nonprofit corporation founded in 2009 by Susan Pierce, Red Bucket is committed to saving slaughter-bound, abused, abandoned and neglected horses. Red Bucket Equine Rescue has saved almost 400 horses to date, but rescue is really only the beginning. Lee soon came to understand that there is a level of healing, training, and 'preparation for their forever home' that is essential for these animals.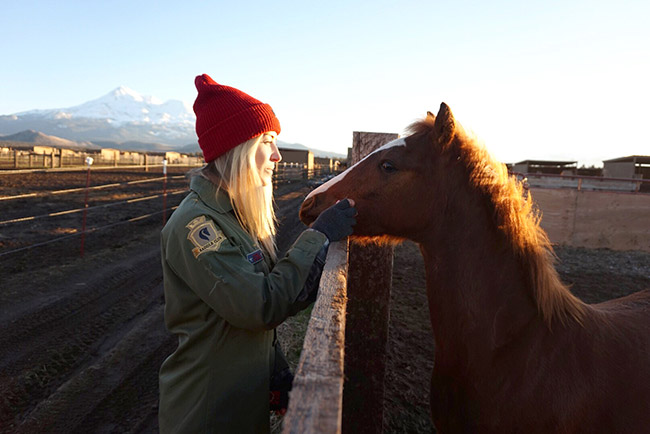 Lee was so moved by the hard work and dedication it takes to rescue and rehabilitate the horses that she knew she wanted to contribute more than just her time. From this, Saddle Club was born. "I knew my personal time and efforts were making a difference for these animals, but I felt the urge to do more. I want to spread awareness and foster a passion for horses in others. Working in Southern California I come across so many wonderful people that express an interest in horses, and light up every time they are around these amazing animals," says Lee.
As with caring for any animal, there comes a great deal of commitment and responsibility, and sometimes this rings even truer with horses. Her search for additional rescue programs continued. In addition to Red Bucket Equine Rescue, Saddle Club came to partner with Humanity for Horses, another 501(c)3 foundation located in Mount Shasta, California. Humanity for Horses has done an incredible job, rescuing over 500 horses to date and providing these animals with a loving sanctuary for the rest of their days.
Extreme Neglect to Movie Star
"The connection that happens with horses through these organizations is deeply rewarding and gratifying," says Lee. And of course, there is always that one horse – rescue or not – that seems to find a way to impact you unlike any other. For Lee, that horse was a thoroughbred mare named Delilah – the horse that stole her heart. "She was one of the original rescue missions Red Bucket carried out with volunteers, rescuing over 30 thoroughbreds abandoned after a breeding scandal in the racehorse industry." Delilah had come into the program suffering from extreme neglect, but the day Lee met her, she was a beautiful, healthy horse. "I was working as a volunteer rider at Red Bucket, and we bonded from the first day she tried to buck me off!" laughs Lee. The trainers at Red Bucket had told Lee that it had been over a month since the horse had been ridden, but when she got on, Lee could feel her thoroughbred spirit. "Delilah was willing to work and had the smoothest gaits. She had a sensitive mouth and would overreact when it came to leg cues. And she loved to gallop! I worked with her every week and she became very soft in the hand and had perfect transitions," she says. Later that year (2015), Delilah performed as an "extra" in the movie 'Emma's Chance' – filmed at Red Bucket Rescue in Chino Hills, Ca. In 2016, Delilah was adopted out to her forever home. "Delilah is the quintessential Red Bucket success story," says Lee.
An Incredible, Ethical Product Line
Using her connections, experience and undeniable fashion wit (she cut her teeth working in sales and marketing at the one and only Ralph Lauren), Lee came up with the concept to create capsule collections using American-made, sustainably-produced, and vintage-sourced, one-of-a-kind reconstructed goods, and donating 20% of net profits to the rescue programs she holds so close to her heart.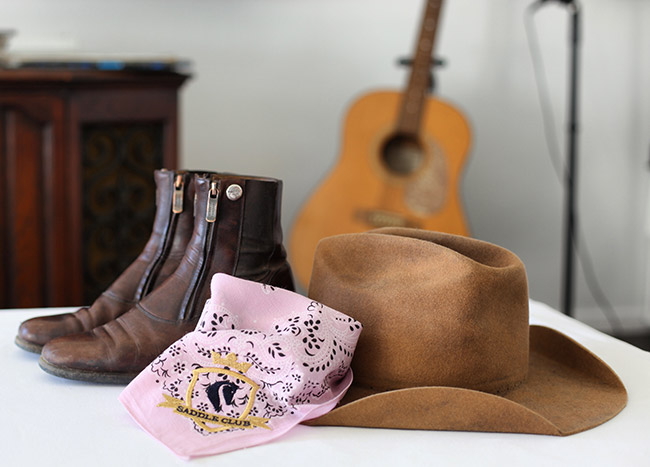 Saddle Club released its first collection late last year, available exclusively through the shopsaddleclub.com website, and at special events. The collection includes the American Legends Bandana, The Last Unicorn Tee, the War Horse Jacket and the Lonesome Dove Saddle Pack, prices ranging from $48-$298.
The American Legends Bandana, made from repurposed vintage bandanas, was the first item Lee created for Saddle Club. "I love the way a bandana completes the equestrian look," she says. "It can be so versatile; from the hair, to the neck, to the handbag. A classic Americana accessory, which we had so much fun sourcing throughout the United States." Each bandana is completely unique, and (much like the horses) each has its own story.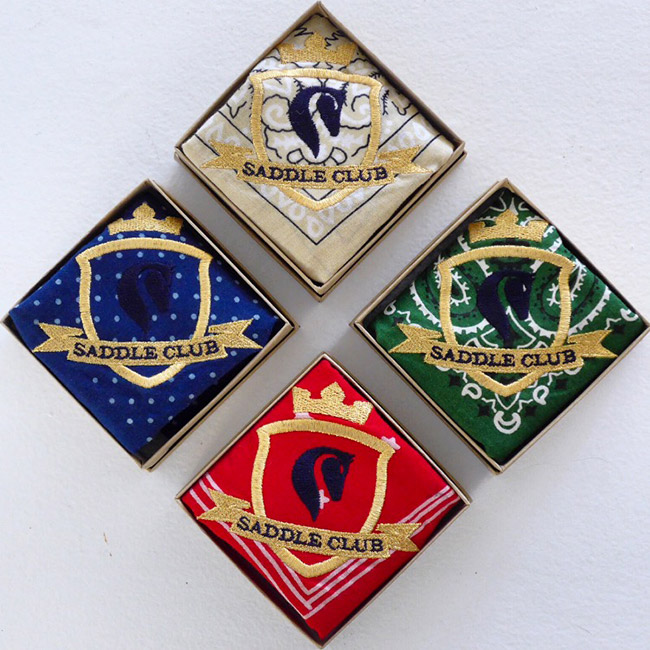 The War Horse Jacket is made from vintage American military jackets sourced in California, New York, Arizona, Oregon, and New Mexico. Each is repurposed with unique patches and custom details, and is entirely one-of-a-kind. The history of this great country was literally built on the back of a horse. As Lee was sourcing the bandanas that would become the American Legends Bandana, she continued to come across amazing and storied military jackets. "I thought it would be cool to honor our American heritage and instill it in the heart of Saddle Club; the style is entirely classic and perfect for the streets and the stables," says Lee.
The Last Unicorn Tee is a Saddle Club original design, made in Downtown Los Angeles, using ethically-produced cotton textile. A classic and sweet "Saddle Club" custom embroidery on the front chest gives this piece a vintage members-only appeal.
The most recent addition to the Saddle Club collection, and soon to be released, is the classic and rustic Lonesome Dove Saddle Pack satchel, made in the heart of Beverly Hills, California by an expert leather craftsman in business on Brighton Way for over 30 years.
Look for Lee on the Show Circuit
As Saddle Club continues to evolve and expand its collections, one might find its creator spearheading the club's success, continuing her work in equine rescue, or tending to her own new project. "This past year, I was fortunate to be contacted about an American Holsteiner mare in need of a home. She had shown as a jumper early in her career, but had been off for the last five years. The owners were looking for a buyer, and were offering an option for a feed lease to the right barn. My trainer and I loaded up the truck and trailer and headed to Southern California. It truly was love at first sight; I couldn't believe my luck. She is big and beautiful and makes for a perfect model for Saddle Club marketing images. We trained all summer and built up trust between us, taking evening rides through the trails of Griffith Park. We competed at the year-end Gold Coast show and took home a red ribbon, which makes us very excited for the 2017 show year to come!"
Make a Difference!
Looking to get involved and make an impact? "Volunteering is the absolute best way to get involved and make a difference for these animals. Start with what is close to you," says Lee. Research local rescue organizations and inquire about volunteering, for none of the hundreds of rescues across the nation would be possible without the help of volunteers. Saddle Club loves to hear stories of volunteer work, and hopes to continue to inspire people that want to work with horses. #RideWithSaddleClub is an original Saddle Club hashtag which is a great place to feature people performing volunteer work, or with their Saddle Club merchandise. So use the social platforms available to you to chronicle your efforts and spread the word to others.
Onward and Trending Upward
And for the club? The future is bright. 'We will continue to pursue collaborations with like-minded fashion brands and rescue organizations. From limited edition merchandise to special fundraising events, our mission will always be to raise awareness for these rescue organizations and benefit them in unique ways." The Saddle Club will continue to extend beyond the product and the proceeds, and have a social component. True to their equestrian spirit, Saddle Club will continue to coordinate group rides as a social meet-up and 'day at the stables' events at barns throughout California, further blending popular culture with equestrian culture. And coming this year, Saddle Club Diaries will be introduced as a platform to showcase these social events.
Saddle Club is more than just a fashion brand and social group – it is a movement for horse-lovers around the globe. Saddle Club offers a chance to get involved, to connect with others who share a similar passion for healing our equine friends in need, to educate and raise awareness for equine rescues, and to look damn good while doing it. As the dream grows, the bigger the difference we can all make. Join in, and ride with Saddle Club.
Learn more by visiting shopsaddleclub.com and get connected via @shopsaddleclub
Red Bucket Equine Rescue:
redbucketrescue.org
Humanity for Horses:
humanityforhorses.org