Geraldine Bidwell brings us this series chronicling the life and times of legendary grand prix rider and trainer Hap Hansen. A longtime rider and owner in the sport of show jumping, Bidwell owns Hansen's current show jumper, the 10-year-old gelding Acer. Read her first post here. 
Hap Hansen has represented the United States on multiple Nations Cup Teams and won over $2 million in prize money. As of today, he's won 99 Grand Prix classes, was the AGA Rider of the Year, has been given the CPHA Lifetime Achievement Award, the USHJA Lifetime Achievement Award, was inducted to both the Show Hunter Hall of Fame in Devon and the Show Jumper Hall Of Fame in Wellington.
He clinched a very prestigious win for the U.S. Nations Cup Team at Spruce Meadows in 1986, on Juniperus, a horse that he'd mortgaged his own house for. George Morris spoke of their jump-off round for the U.S. as if it was the Holy Grail itself: "It was up to Hap Hansen to do the impossible," he said, " and he did the impossible."
In Yuma, Arizona, Hap once rode sixty-four rounds in one day at a pre-Indio circuit "B" show. Riding has always kept him busy, and he saves time by piloting himself from show to show in a twin engine aircraft. Hap has been a licensed pilot for 24 years; he bought his first twin engine plane in 2000 and keeps his instrument rating keen. He relates that his own mother never had any qualms about him taking to the skies. " She was all for it," he said. "She knew it was something I wanted to do."
Though he was named after his father, Ralph Hansen Sr., as a young child Hap was so often smiling that he earned the nickname 'Happy', which eventually shortened to 'Hap' and stuck. Ralph Sr. ran a gas station in Los Angeles, and made a home for his family in the Atwater District next to Dodgers Stadium. A neighbor owned a nearby lot that had horses on it, and Ralph Sr. would exercise the horses for them in his spare time. He taught himself to ride that way.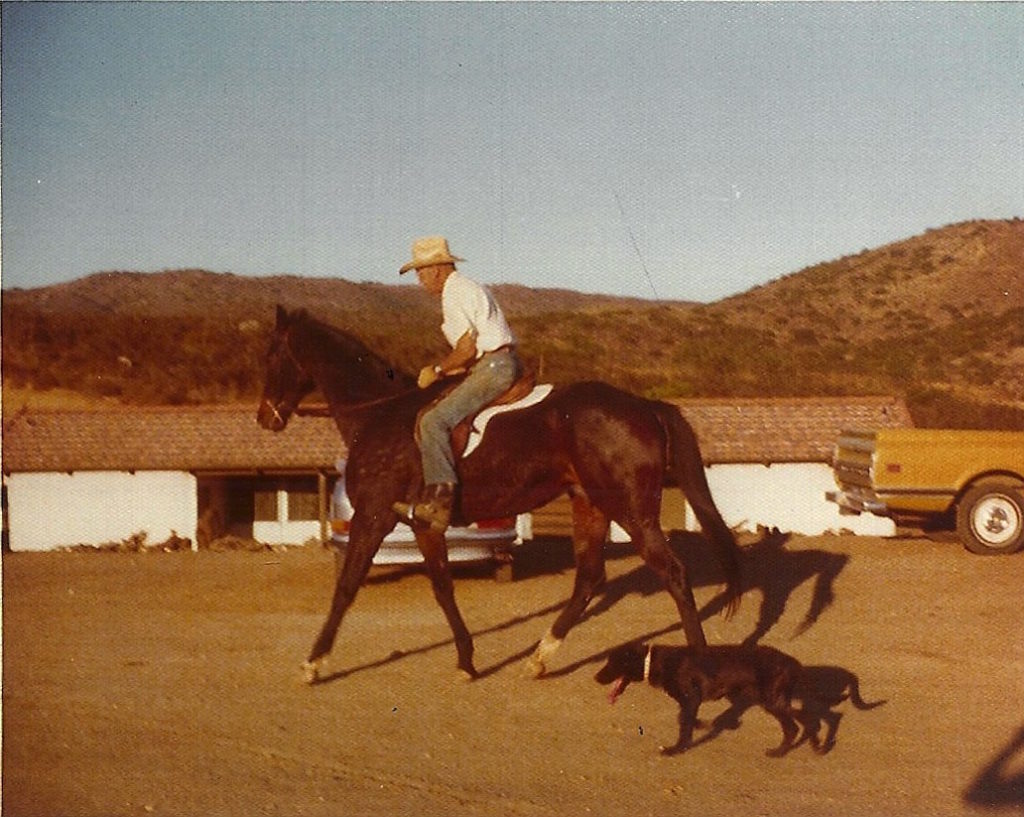 Ralph Sr. riding in Los Angeles
As for Hap, he was seven years old when his parents took him to ride his very first horse on a rental ride. Soon, Hap was asking for the fastest horse in the string, and his parents decided it would be the safer for their fearless son to learn from the experts. The best experience possible came when Hap arrived at the Flintridge Riding Club to train with Jimmy and Marcia "Mousie" Williams. Jimmy was a well-known horseman who usually stole the show, but it was Marcia whom Hap was loyal to. "Mousie was special," said Hap. "I rode with her too." With other stars in the making such as Robert Ridland and Susie Hutchison coming along beside Hap, he was encouraged and challenged almost daily. His parents really couldn't have found him any better place.
He learned that each horse should be respected as an individual, and it was essential not to try to mold a horse into what it is not. Instead, the goal was to accentuate the horse's existing talent. Hap told a story to illustrate this philosophy when he was asked for an example:
"My first Open Jumper class was in Santa Barbara on Hale's Pride. The horse had become so hot that Jimmy made me get on him in the barn aisle. Back in those days, we used to warm up in the barn aisle too, but Jimmy wouldn't even let me warm up. I rode right to the ring; no trotting, no cantering, just right into the ring. I was scared to death. But, it worked out fine and it was on from there."
Hap loved to watch Lindy Patrick and Diane Dixon ride. He tried to learn everything he could from watching how they did it. As he began catch-riding for others, he did not limit himself to hunters or jumpers. Ronnie Richards was a great cowboy, a stockhorse rider, and Hap rode western to learn from him too. He trained with Jim McEvoy and Michelle McFarland, who were masters of Saddlebreds, and so Hap did that too. "Michelle had a particularly powerful horse," Hap remembered. "She wanted to shift it from a harness horse to a saddle horse, and she told me what to do and put me on it. We cleared out the ring."
Hap later went on to work for Bob Bradley and other top A circuit trainers. It was a long way from that vacant lot next to the Dodgers Stadium in Los Angeles when Ralph Sr. had hopped on the neighbor's horses to help them get some exercise. But for Hap, the various riding experiences he had with touches in many disciplines help him mold his own brand of highly polished art in riding.
[hupso_hide]
Related Posts