There were lots of question marks ahead of the only Furusiyya FEI Nations Cup competition that takes place annually in the United States. When sponsorship commitments pulled the Nations Cup league class away from its longtime home in Wellington, FL to three hours north in Ocala, FL, the change caused its fair share of grumbling, but also became a chance for HITS Horse Shows to step up and prove that its HITS Post Time Farm was a fitting venue to host top level, FEI-ranked show jumping competition.
With a little luck (brilliant blue skies), a lot of spectators, and many talented riders, Furusiyya FEI Nations Cup day in Ocala did indeed unfold as a success. From an afternoon full of action, these are Horse & Style's top five moments from an exciting first Nations Cup CSIO4* at HITS Ocala.
Closing Down the Show
What at first sounded like a whacky idea from HITS manager Tom Struzzieri turned out to be a brilliant move that helped put the Nations Cup firmly in the spotlight: stop competition in all other rings at the vast HITS Ocala venue so that all exhibitors, trainers and grooms could gather at the grand prix stadium to watch the class. Not only did this help fill in the background with spectators, it placed more importance on a competition that sometimes is a little tougher for American audiences to "get." Read on: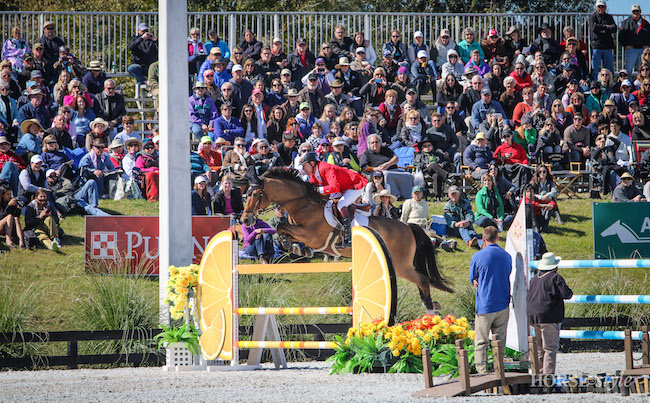 The large crowd made for a great backdrop during the Nations Cup 
A Mid Afternoon Treat
While Struzzieri had the option to schedule the Nations Cup as a night class, he chose the Friday at 1pm timeslot instead. He joked that if he didn't want to stand outside on a February evening in Ocala (the day itself was chilly, with temperatures in the 40s), neither would anyone else. I agree completely and not just because of the weather, the two-round team format is different than your usual grand prix, and in previous years, at Wellington, I'd watched the audience lose interest in the Nations Cup as the night grew later and its long format dragged on under the lights. We Americans like our entertainment in digestible segments, and hosting this Nations Cup in the afternoon went a long way towards holding the interest of the 4,000 spectators who lined the grassy berm around the arena (as did the roster of just six teams, rather than 12.) From 1:00 – 4:00pm, all eyes were on the Nations Cup. And at 4:30pm, after the class? It was right back to business on the showgrounds as classes resumed.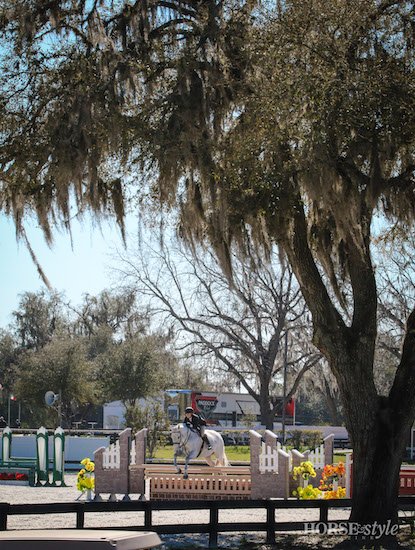 Classes were held in the morning before the Nations Cup
The Irish Cheering Section
No one of any age can match the Irish when it comes to team spirit. It's safe to say that even if their parents hadn't won the day, Daniel Kerrins, Murial and Gwenyth Babington would have enthusiastically cheered their respective fathers on, but when Ireland took first place in the competition, this trio of young show jumping fans decked out in the colors of the Irish flag went into overdrive. Of special note was the end-game style dance that came over young Daniel when he was invited to stand with the Irish team in front of the podium. We should all be so lucky to have such a joyous cheering section.
Georgina and Juvina
It was a day of mixed results for Team USA, but two pairs of double clear rounds from Georgina Bloomberg and Juvina, and Beezie Madden and Simon helped the USA claim second place. While I'm the #1 fan of current H&S cover subject Beezie Madden (don't miss our behind the scenes look at Beezie and John Madden's home base in Cazenovia, NY) and Simon, there was just something extra special about Bloomberg and Juvina on Friday. Maybe it was just the way that the spectacular mare's grey coat shone under the bright blue sky, or the energy with which Juvina carried herself (she was still fresh after two rounds, spooking as she left the arena), but these two were a highlight of the day and a pleasure to watch and photograph. Best of all, down-to-earth Georgina proved that she always has time for her fans, sticking around after the class to sign autographs and pose for pictures with the young riders who look up to her.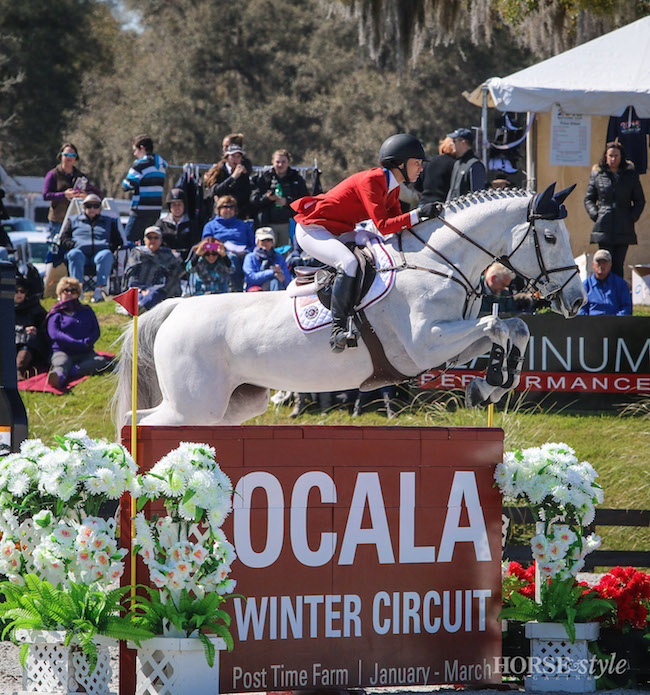 Bloomberg piloted Juvina to two picture perfect rounds
Lorcan Gallagher
Then there was Lorcan Gallagher. The 23-year-old rider is an employee of Shane and Ali Sweetnam at Sweet Oak Farm, and for two and a half years he's worked under Shane, an accomplished international rider himself. Now, with Shane generously passing on the ride of Diktator van de Boslandhoeve, Gallagher is getting a chance to prove himself in a team setting, and making headlines back home in Ireland. Friday's competition was his first Nations Cup ever, and his first opportunity to compete for Team Ireland and sit next to chef Robert Splaine. How does it feel to step up and represent your country for the first time, to listen to the team chef call you most valuable player, and to win? From Gallagher's wide smile, it feels pretty damn good. Thanks to this young man for reminding us that hard work does lead to great things.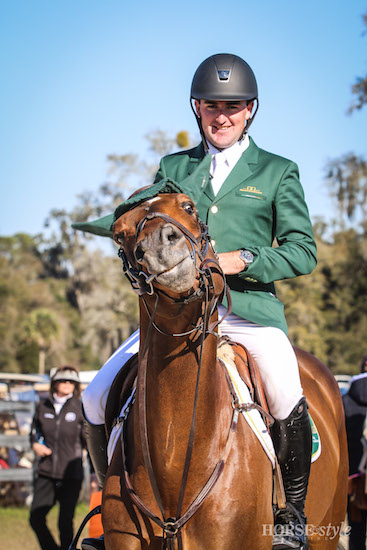 They were both feeling pretty good about themselves
A few more photos from the day Click to enlarge and enjoy!
[Best_Wordpress_Gallery id="10″ gal_title="HITS Ocala Nations Cup"]