Ashlyn Pease founded Equine Fashionistas in 2012. A high school student who lives in Southern California, Ashlyn is addicted to coffee beans, succulents, and hedgehogs. You can usually catch her at the barn with her horse Cadence, or on her phone posting to Instagram as @equinefashionistas. Since 2012, Equine Fashionistas has grown to include 9.5k followers on instagram, a twitter, tumblr, polyvore, pinterest, facebook page, and now a website! Hopefully Ashlyn can inspire you to create some 'pazazz' in your own barn outfits!
Hello, and welcome to #We'reBrokeWednesday! As Equine Fashionistas on Instagram, I combine my two passions of horses and fashion. This column will bring the best part This week, I'm focusing on purples and greys. I think that a nice pair of grey breeches can be the ultimate fashion statement. They can be dressed up and worn with your favorite polo for clinics, or paired with a tee shirt for barn work to hide dirt easily. These two outfits are equally great, but their prices are far from equal. The one on the left costs a total of $526, while the one on the right costs a total of $1,890. Despite the price difference, the actual look of the outfits don't change all that much between the two, just the quality of the products.
The belts, for example, although both are great looking belts, the expensive one, at $125, features Swarovski crystals. Additionally, the helmets both have classic black suede tops, yet the Charles Owen features leather around the back and on the chin strap, while the IRH has cotton and suede chin straps. Contrast, compare, and enjoy!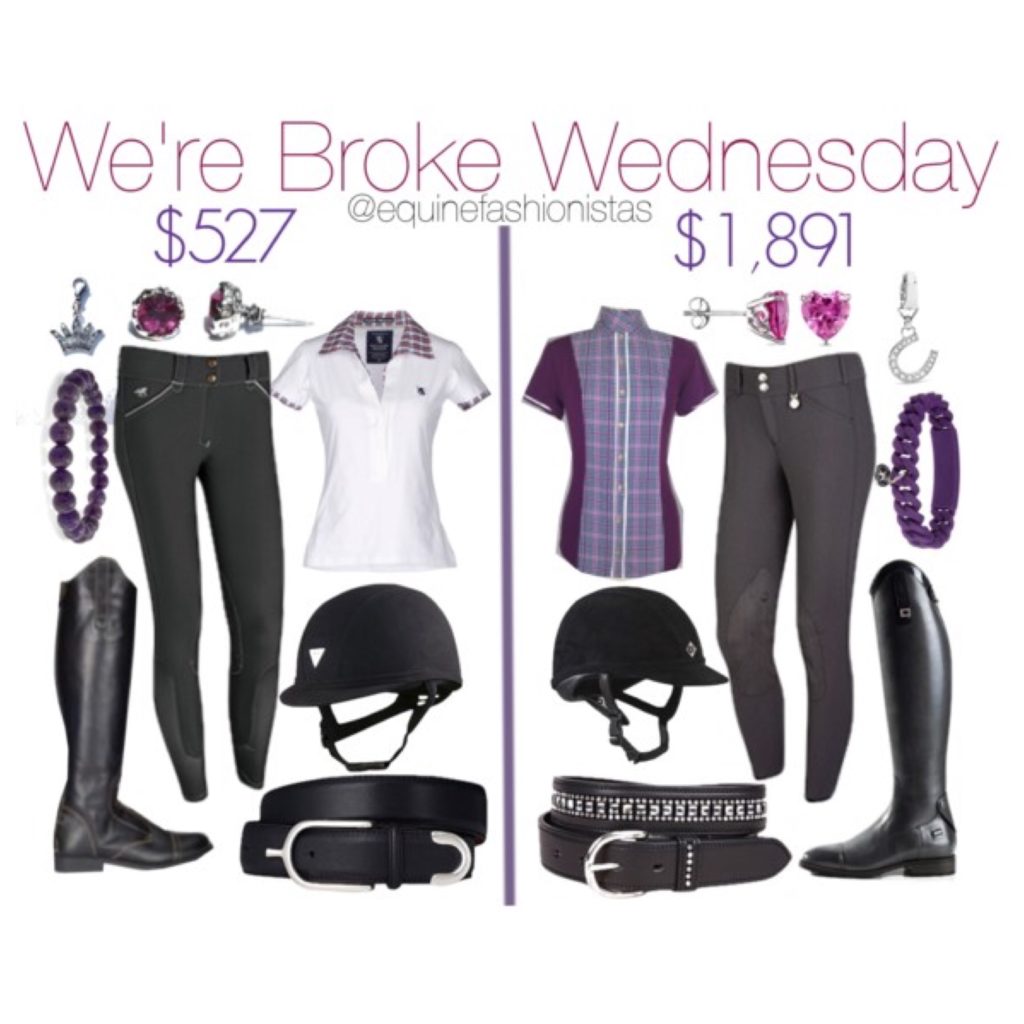 | | | |
| --- | --- | --- |
| | Affordable | Expensive |
| Breeches | Piper knee patch from SmartPak {$72} | Pikeur Ciara from SmartPak {$300} |
| Shirt | Williams Wilson plaid collared polo {$53} | Berry Plaid short sleeve show shirt from LeFash {$187} |
| Earrings | Zara 18K gold plated Austrian crystal earrings from Bridle Bling {$14.50} | Miadora Sterling Silver sapphire heart earrings {$63} |
| Charm | Bling Crown Bridle Charm from Bridle Bling {$12.50} | Fossil Horseshoe Charm {$24} |
| Bracelet | Genuine Amethyst gemstone stretch bracelet {$13} | Marc by Marc Jacobs in purple {$152} |
| Boots | TuffRider Ladies Natasha Field Boot {$144} | De Niro Long riding boot {$700} |
| Helmet | IRH XR9 from SmartPak {$177} | Charles Owen Wellington Professional from Dover {$339} |
| Belt | Ariat English Spur Belt {$40} | Swarovski Crystal Belt from SmartPak {$125} |