Since I last wrote, my little family and I have been to Brazil and back.  The Athina Onassis International Horse show was held the first week of October In Rio de Janeiro. Sophia is from a long line of "Cariocas" (natives of Rio). We are lucky that the biggest show Brazil hosts is in the Pessoa's hometown of Rio. It makes life easier when we can combine family trips and horse shows. This show is particularly special to all of us.
Not only does the entire Pessoa family still live in Rio, but also our great friend Alvaro de Miranda or "Doda" organizes the show with his wife, Athina Onassis. The show was not only beautiful but it offered a million Euros in the Grand Prix, making it a favorite among the riders for many reasons.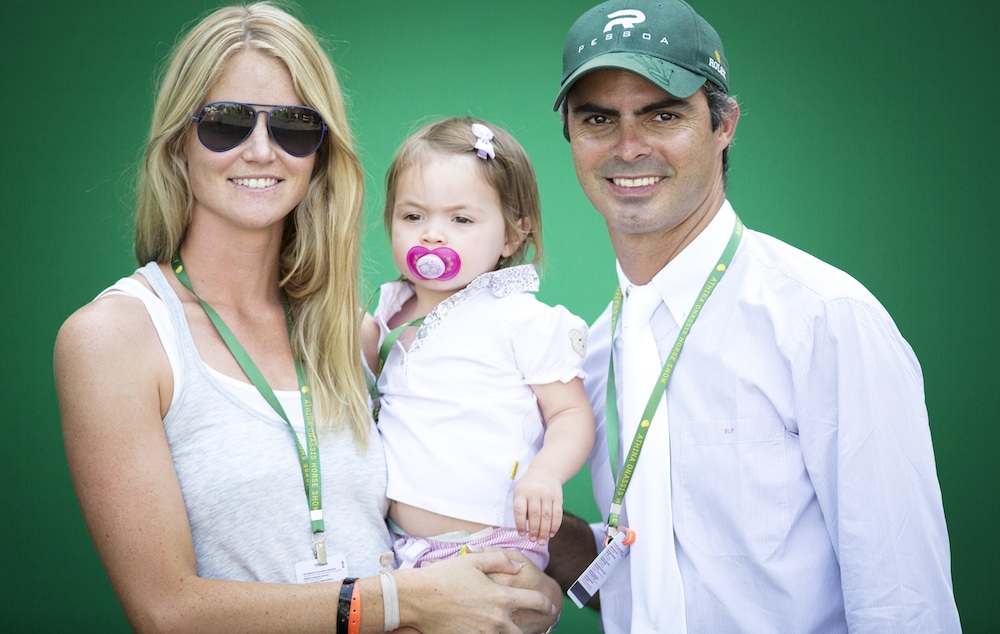 Bringing Sophia with us for the show provides some challenges but is more than worth the effort. Not only does she love the beach and the Brazilian food, but it is a great chance for her to connect with a part of our family that lives so very far away.
Though I may be a WASPy girl from Connecticut, something about Brazil really speaks to me. I feel at home there. It is something that I can't quite explain. The people there are so warm and full of life. It offers a stark contrast to the hard to crack Europeans we are so often surrounded by at our home in Belgium. It is not an observation limited to the horse world. People in general are just more outgoing in South America. In Belgium, if you were to strike up a conversation with a stranger in line at the supermarket they might think you were crazy. In Brazil, by the end of that chat you would be invited over for dinner. There are certainly pros and cons to both.  I just prefer the uncomplicated warmth of Brazilians.
While there I really tried to expose Sophia to as many foods, sights, smells and people I could. If I can give her anything in this life I hope it will be a genuine love of our world and all the different cultures that make it so diverse.
Now back from Brazil the rest of our year will be focused on European shows. This offers us a small chance at normalcy. We will be home for the first three or four days of each week and then travel a relatively short distance to the shows on the weekends. Sophia can go to our local bilingual nursery school and I can start showing again.
I have started working on parlaying my blog into a children's store that will travel with us to the shows. I am ready for a new challenge now that Sophia isn't tiny any more. As hard as it is to sacrifice time with her, I think it is so important for mothers to have something that is their own. A way to feel productive and smart. I am lucky to have a lot of flexibility and I think this is a great fit for all of us.
Also on my agenda is to compete in the Paris Gucci Masters show with my new mare Penny Lane. Penny is a gorgeous 7-year-old dark bay Westphalian mare. We found her through Enda Carroll at Ashford Farm in Belgium and are really looking forward to starting work with this lovely mare. With the opportunity to start showing again (I haven't shown since I retired Madison in May) I will be busier than ever. Maybe you can't have it all, but you might as well try.
Alexa Pessoa is an American rider from Connecticut who married Olympic Gold Medalist and Three Time FEI Rolex World Cup Finals Champion Rodrigo Pessoa in 2009. This column charts her life as a mother to their three year old daughter Sophia, as a rider on her way back to top competition, and as a wife to one of the world's most high profile show jumpers. For more stories on Alexa's travels, follow her blog www.mousemakesthree.wordpress.com
Photo ©Raphael Maeck