When his career took off during his very last junior year, Nick Haness was aware that he was experiencing a level of success uncommon for a rider his age. But he was more than ready for it. Since then he's made wise decisions, quickly springboarding to the next success, and the next. He went professional straight out of the juniors; started his own business in 2009; and has quickly become a well-respected rider and coach in the hunter, jumper and equitation rings.
Nick's Hunterbrook Farms is based in his hometown of Orange County, California, not far from where he started riding at four years old. While his most notable accomplishments as a junior (winner of the USEF Talent Search Finals and 4th in the 2006 Maclay Final) stand out, he's most proud of his more recent successes as a trainer, coaching his students to three medal final wins and being competitive in USHJA hunter derbies.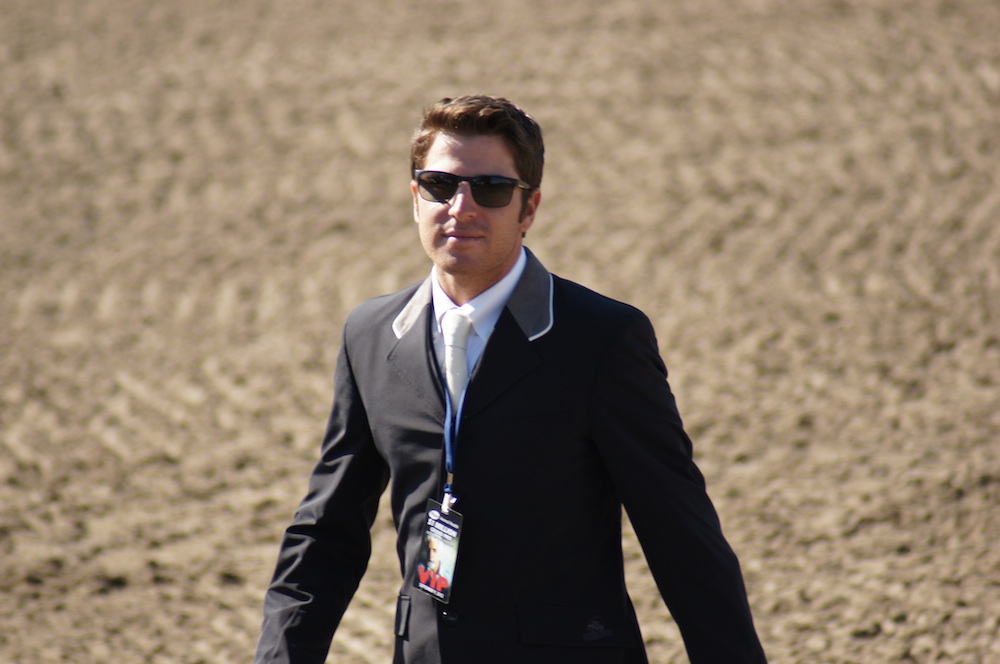 Horse & Style: Describe your riding style:
Nick Haness: My riding style of clothing is pretty traditional and clean cut.
H&S: What is your head-to-toe riding outfit?
NH: I generally tend to wear darker color hunt coats, mostly blue. I always wear a white show shirt and I have a collection of my favorite Hermes ties that I choose from. Typical beige breeches are my favorite, and my favorite brand of breeches would be Pikeur.
H&S:  Do you wear any pieces of jewelry or clothing for good luck?
NH: I also always wear a Hermes belt for good luck. Hermes is my favorite stylish brand because not only is it top of the line, the "H" for Hermes could also be the "H" in Haness or the "H" in Hunterbrook. The boots I wear are custom and are from Argentina. I always make sure to be clean-shaven for a crisper, professional look come show day. As far as jewelry is concerned, I do not wear any special jewelry for good luck, but I do wear my Catena Diamond watch on my left hand.
H&S: What are your favorite equestrian brands?
NH: Other than Hermes, my GPA Speed Air helmet is a favorite.
H&S: How would you describe your non-horse show style?
NH: On days that I am not showing, you can usually find me in a pair of Seven jeans and a polo shirt. Sunglasses are always a good investment for me. I love Ray-Bans and Gucci sunglasses, they tend to fit my face the best. I spend a lot of the time at the beach, so my swimsuit collection is pretty extensive. H&M is one of my favorite stores because their clothes fit me well and are inexpensive. But don't get me wrong – I'm a sucker for expensive shoes.
H&S: What has been your biggest riding accomplishment as a rider?
NH: My biggest accomplishment as a rider was placing 2nd in the inaugural $500,000 Diamond Mills Hunter Prix Final in 2011. I earned $90,000 in prize money. To compete in this huge event was a dream come true but to actually finish 2nd was a huge accomplishment for me.
H&S: What are your riding goals for the future?
NH: My riding goals for the future would be to win the WCHR Professional Finals title and to represent America in World Cup show jumping.
H&S: What do you contribute your success as a professional rider and trainer to?
NH: I mostly contribute my success as a professional rider and trainer to my wonderful mother who has supported my riding career since day one, and has all along been such a mentor and amazing support system for me. From the days when I was a young competitor, she would devote her weekends, time, and finances to make sure I was having fun with my sport. I have four brothers who all played different sports, so my mom had a lot on her plate. I thank her endlessly for what she did for me and my dreams.
H&S: What is the best life lesson riding has taught you?
NH: The best life lesson that I have learned being a competitor in the horse industry is that you can never let yourself believe something isn't possible. Everything is possible as long as you have a vision and a drive to get to the results you want. Ten years ago I dreamed about being where I am today with the clients and horses that I have, and even though I knew someday it was going to happen, I never expected it to happen this fast. Never give up, and never settle for anything.