An Italian company synonymous with cutting-edge safety technology in the motorcycle industry, the Dainese brand is a visionary force with no shortage of horsepower.
Safety Meets Style
Dainese has recently turned its "ingenuita" to equestrian apparel; their tech savvy breeches are newly available in the U.S. (currently offered in their San Francisco store.) With a sophisticated combination of high performance details and tasteful fashion, they embody an Italian design that marries style and functionality. Are they sporty? Very. Functional and innovative? Most definitely. With a fiendish spirit as their brand emblem, these pants are wicked vogue.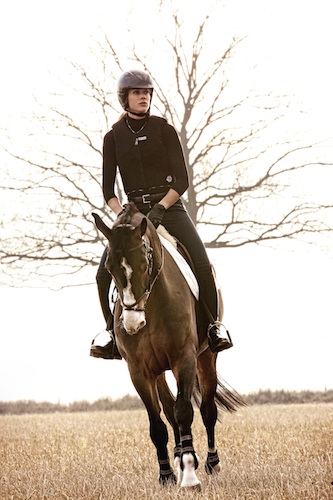 The Forward Approach
"Stay vertical," motorbike speak for ride safe, is the original motivating force behind this company.
"In 1972, Dainese created the first hard shell spine protector for motorcycle racing, and the company has grown into the leading motorcycle apparel, race and protections company in the world," explains Shelli Bohrer, manager of Dainese SF. "The company now has annual collections for ski and snow-sports; mountain and down hill biking and equestrian."
Displaying an unparalleled dedication to dynamic sports, Dainese is an industry leader in celebrating speed, freedom, and mobility while concentrating on increasing overall safety. All collections focus on protection as well as style, and Dainese attests that motorcycling will always play a part in their design.
Because Falls Happen
Everyone knows the importance of a helmet, but what if breeches were designed to help lessen the impact of a fall? With Dainese, this concept is a reality. Water-repellent viscoelastic nitrile rubber is used in areas where possible impact is likely to occur during a fall; the knee, hip, and coccyx areas of the pants are reinforced with the rubber material that acts as a crash absorber. The breeches, however, maintain a show appropriate cut and style, providing a sporty edge without undesired bulkiness.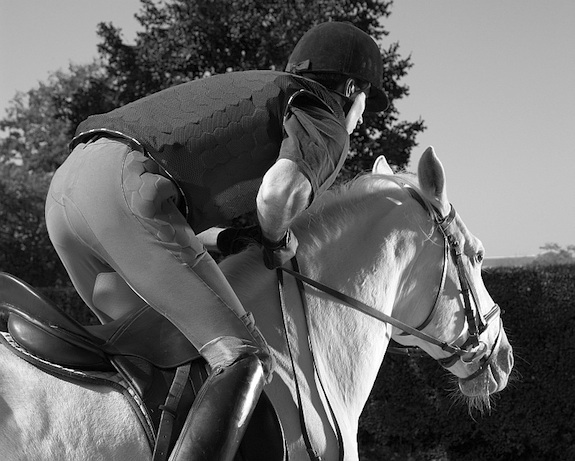 A Secure Fit and Feel
Extra grip on the seat and inner thigh is a result of Lorica® synthetic leather alternative reinforcements with added silicone that provide a superior hold. The bottom of the pant leg has a Lycra® stirrup ending with silicone-lined elastic to prevent any material from riding up inside the boot. In consideration for all elements of design, the rear stitching is done with Nylon HT thread to provide maximum hold under any circumstance.
Without overlooking something as simple as a button, the breeches are also equipped with a heavy-duty fastener to prevent any mishaps, whether in the ring or in town.
Complicated Made Simple
Dianese breeches are designed to be form fitting with an avant-garde edge, without abandoning show appropriate presentation. The breeches are offered in white, tan and other popular colors. Each pair is made with the durable, two way stretch Schoeller® Prestige fabric, which offers breathability and excellent shape retention. Like a good Chianti or fresh antipasti, these breeches are a reflection of the Italian way of life. As Federica Marti of Dainese sees it, "In the breeches you can find the details typical of Italian design culture." A bit of la dolce vita? Bellissimo!
By Katie Shoultz