The Ronnie Mutch Scholarship Foundation offers a unique training opportunity. My daughter Zazou Hoffman won it and it lead to an association with top equitation trainers Missy Clark and John Brennan. It allowed Zazou to experience competitive horse showing at the highest level and ultimately led to her winning the 2009 ASPCA Maclay Equitation Championship at the National Horse Show. This link to their website provides more information. I encourage all riders with ambition to dream big dreams and apply.
The scholarship offers the recipient a two week visit to HITS (Thermal or Ocala), or to a location to be decided with the recipient, to study with some of the world's top equestrians. The junior must be 15 years old or younger showing age for the scholarship year and be jumping a minimum of 3′.
Alessandra Sozzi was this year's winner. Ande is a 12-year-old resident of Greenwood, Colorado. This poised young lady is in the 7th grade at the Kent Denver School.  She started riding when she was five when she was bucked off a friend's retired hunter, and she's been hooked ever since.  She started training more consistently when she was 8 years old, first with Meg Schulman, then with Michael Dennehy and Ashley Keeler.  She rode a green pony and a made pony for her first two years, then got her current horse, Zygo aka Leroy, a 9 year old KWPN gelding, two years ago.  She showed him first in the children's hunters and 3′ Eq then moved to the Junior Hunters and 3'6″ Eq a few months later.  2013 will be their 2nd year in these divisions, and Ande is hoping to qualify for Medal Finals this year. Ande and her horse Zygo trained with the venerable Meadow Grove Farm at HITS Thermal with trainers Susie Schroer, Dick Carvin along with Tara Metzner and accomplished Grand Prix rider Francie Steinwedell-Carvin.
Ande was poised and wise beyond her years, and charmed the entire Meadow Grove staff. Her natural talent coupled with a great attitude earned her an invitaion to come back and train with them. A good academic student, Ande is thinking of enrolling in Stanford's online High School to allow for more flexibility in her riding schedule.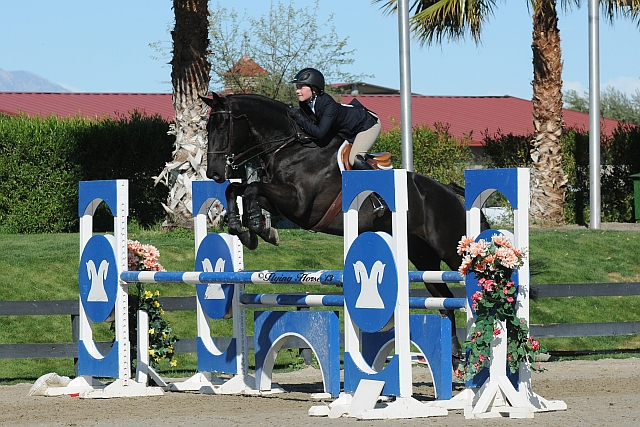 Alessandra Sozzi and her equitation partner Zygo
Horse & Style: What is your day like training with Meadow Grove at Thermal?
Ande Sozzi: I'm usually at the show by about 8-8:30, but it depends on if I'm showing or not, or how busy of a day it is out there. I get ready to ride and catch up on some specifics, then I'm on a horse. I might help hack someone else's horse or I might hack my own horse. Depending on the day, I might show or have a lesson with either Francie Carvin, Susie Schroer, or Tara Metzner. Once we finish my lesson or I finish showing, I usually go and help by setting jumps, doing miscellaneous little things, etc. With many laughs in between, the day is done with that.
H&S: What has been your favorite part of the experience?
AS: I'm not sure if I could pick just one part! I think just this whole opportunity to learn from several extremely high-caliber trainers like Francie and Dick, Tara, Susie, etc., all working together in such a cohesive barn.
H&S: What stands out about the way they train their riders that is different than what you do at home?
AS: What really stands out to me about how they train their riders is how they take different approaches to everything that might just click for that one rider.
H&S: What is the most useful training tip or horse care tip that you have learned from the Mutch experience?
AS: The most useful training tip I have learned is to always be paying attention and taking action in what I and/or my horse need to do differently to make this, that, and another thing that much better.
H&S: What do you like about the Equitation?
AS: What I love about the equitation is that for the most part, the good things that you do are rewarded, and it can really show me as a rider what is correct in my riding, and what needs improvement.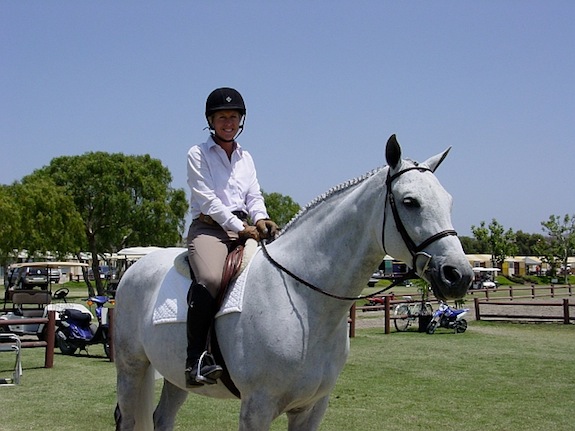 H&S: Where do you see it taking you?
AS: I really see the equitation taking me to the jumper ring. I feel like for me, I'm really going to have to have done the equitation to do the jumpers effectively because of how technical both eq. and jumpers are.
H&S: Do you have a favorite Grand Prix rider and horse? If so, why?
AS: Yes. Reed Kessler and Cylana. Reed is just a phenomenal rider! She is just fun to watch, and she is so young! It just astounds me! Cylana is also just an amazing horse to watch because she tries so hard and her and Reed are such an amazing partnership!
H&S: What's the funniest barn or horse show incident that's happened to you?
AS: Something funny always seems to happen whenever I get on a horse! It's a blessing and a curse!
H&S: Do you have any pre-competition rituals or superstitions?
AS: Yes! I actually have quite a few! One is that I have two lucky show shirts. I only seem to do well when I wear one of those shirts. I also have a bracelet given to me by one of my former trainers, Meg Schulman, that I always wear when I show. Another superstition I have is that if I don't do my hairnet well, my ride won't go well!
H&S: Did you compete at Thermal, if so which classes and how did it go? What horse?
AS: Yes I did. I rode in the Medal Maclay, USEF Pessoa Hunt Seat Medal, WIHS Jumper and Hunter Phases, Marshall and Sterling Junior Medal, PCHA 14 and under, CPHA Junior Medal, CPHA Foundation Medal, 3'6" Performance Handy Hunter, and the Level 3 Jumpers. For all of these classes I rode my horse Leroy.
H&S: What advice do you have for future applicants to the Ronnie Mutch Scholarship?
AS: As far as advice goes, all I have is to just to ride the best you possibly can in the application videos and start videoing earlier than you think you need to!
H&S: Ande, thank you so much for taking the time to share this unique experience with our readers. Good luck to you in the future!
by Winter Hoffman