Horse & Style Magazine spotted Belle and Bow Equestrian on Facebook earlier this winter. Stacie Yellin is the woman behind the adorable bows that can spotted on the bottom of little girls' braids at the pony ring. We sat down with Stacie recently to get to know her and her business better. We learned so many cool things about this entrepreneur, including the adorable requests of pony kids! Be sure to check out Belle and Bow Equestrian on Facebook and like the page.
Stacie grew up in Dover, MA and rode with Dana Hall as a child. Eventually she moved her horses to her family's farm and began her own little sales operation. She recently relocated to FL to be with her fiance and plans to marry in June.  Her primary job is residential real estate with both Prudential Unlimited Realty in MA and Sotheby's International Realty in Wellington, FL. Belle & Bow was born out of a passion for ponies!
Stacie Yellin of Belle and Bow Equestrian
Horse & Style: When and where did Belle and Bow Equestrian start?
Stacie Yellin: It all started because my little cousin Addie was preparing for her first horse show in the leadline at the Hampton Classic last summer and her parents asked for my help to get her all the proper attire for the show. I had seen some girls with the fancy show bows and I wanted to get some for her and couldn't find them. So, I thought I would be able to make them for her. I went to the craft store and started making bows.
H&S: What inspired you to start your own business?
SY: I have always been somewhat of an entrepreneur, selling real estate, breeding and selling ponies and running my parents farm. When I realized I could make bows, it just made sense.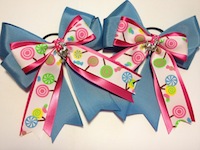 Belle and Bow creation by Stacie Yellin
H&S: Are you a one woman show?
SY: Pretty much! I have some help on occasion, but I oversee anyone who is helping. I am very particular about how they are put together. Quality is very important to me. I want my bows to last and I want them to be noticed for their look and craftsmanship. Customer referrals are so important to me, I have to make sure that I hold very high standards for myself as well as anyone who helps me.
H&S: What's it like catering to the pony world and little girls?
SY: Really fun. Anyone who knows me, knows that the pony ring has always been my favorite, so it's no surprise to see me there riding ponies and helping the kids. The kids love all the bows, so they make it easy. Most of the special requests are for their barn colors. I can really do almost anything they want, one child wanted bees, so I found bee ribbon, it came out really cute. I even have Justin Bieber ribbon!
Belle and Bow in action on circuit…
 H&S: What are your goals for Belle and Bow Equestrian?
SY: I would love to see as many little girls wearing my bows in the show ring as possible. It is the greatest feeling to walk by the pony ring and see my bows bouncing around a course. It makes me really proud.  I would love them to be available nationwide and I am currently adding tack shops to my list of distributors. I have a couple of different collections right now and I would like to continue to add. Right now I have the princess collection, the pretty ponies, sweet treats, and the cowgirls collections.
H&S: Where do you find inspiration to keep your product fresh?
SY: I am always looking for cute ribbons online and in stores, I visit the garment district in New York and other boutique craft stores.  I also try to make different holiday designs for Christmas, Valentine's day, Halloween,  ect..Sometimes the customers give me great ideas too.
H&S: Are there any other interesting tid-bits about Belle and Bow that our readers should know?
SY: I love making custom bows, so just let me know what you like and I can create something for you. All of the bows I make are embellished with a signature pony, that's how you will be able to tell that they are Belle and Bow bows. There may be a signature horse shoe coming soon too.
I also make bows with puppies, dog bones and paw prints that support a great cause, Danny and Ron's Rescue. A portion of the proceeds from all the "Rescue bows" gets donated to the charity
H&S: What makes your business different from other vendors at the horse show?
SY: I think my bows are unique and fun. Horse show attire is very traditional and the bows allow girls to have a chance to have some fun with their outfits and bring in their own personal touch. If they feel like being a pretty princess they can wear their princess bows, if they are striving for a champion ribbon, they can wear their champion bows to let the judges know what they are looking for. The bows can really help bring out the child's personality, and express how they are feeling that day.
Blue and Silver bows…. We think this would look especially adorable on a little grey pony!