We know one fashion designer who credits her riding career for giving her the fortitude to pursue a career in fashion.
"Riding and competing requires a lot of discipline and focus, which are important attributes in starting a business. I competed in the jumpers, which required me to be fearless", explains Rie Yamagate.
Rie is the designer of RHIÉ, a fashion line currently featured at Barney's. As a junior, Rie rode with legendary Meadow Grove Farm trainers Susie Schroer, Dick Carvin and Francie Steinwedell-Carvin, competing in the Junior Jumpers on her horse Lakota. Rie also grew up surrounded by art and spent many hours in the studio of her father, acclaimed artist Hiro Yamagata.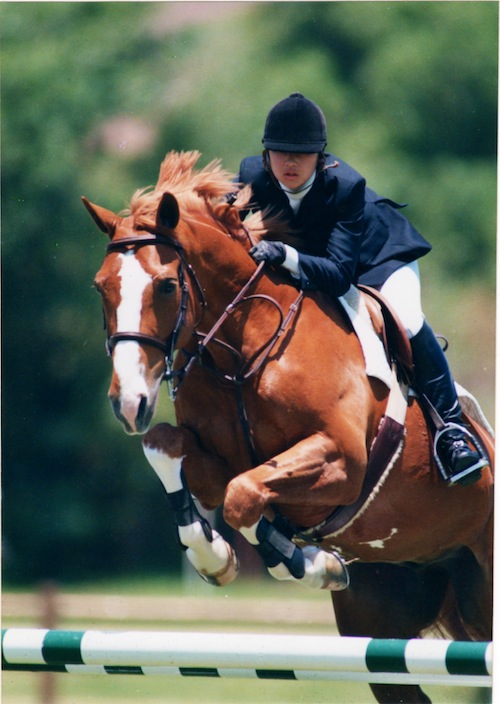 Rie on her Junior Jumper, Lakota
THE PAST
Both of Rie's parents were born in Japan. Their cultural background influenced many themes in Rie's clothing line RHIÉ. "Even though I grew up in Los Angeles, my Japanese cultural background is a fundamental part of my philosophy in design," she says. "I think my sense of aesthetics has a foundation on the concept of simplicity."
Yamagata studied at Parsons New School of Design in NYC and Central St. Martins in London. After working with established designers Philip Lim and Tsumori Chisato, Rie  settled in Manhattan and founded RHIE.  The line distills the image of an intelligent, refined woman who knows the value of detail and quality of materials. Hallmarks of the collection include subtle details, authentic tailoring and quality fabrics. RHIÉ is a brand that speaks in a language of precision while having an element of ease.
CREATIVE FAMILY AND ARTISTIC INFLUENCES
Growing up with an artistic family influenced Rie's career path.  "Both my sister and I have chosen creative fields to study and work in," she says. " I think when you are exposed to art from a developmental stage, it influences you.  I remember visiting my father's studio, which had, and still has, paint splashed everywhere- on the floors, up the walls, and on the ceiling.  It was an incubator of creative thinking."
LATEST COLLECTION – A LITTLE PUNK
For Rie's latest Fall collection she wanted to focus on surfaces, with details of punk influences.  "I was inspired by images of Mr. Pearl, who is a corset master, and the work of Subodh Gupta, an artist who uses kitchen objects like steel pots and pans to create large-scale sculptures."
Details in the collection include small studs for collars and cotton shirting fabric with alluring muted sheen that resemble metal surfaces.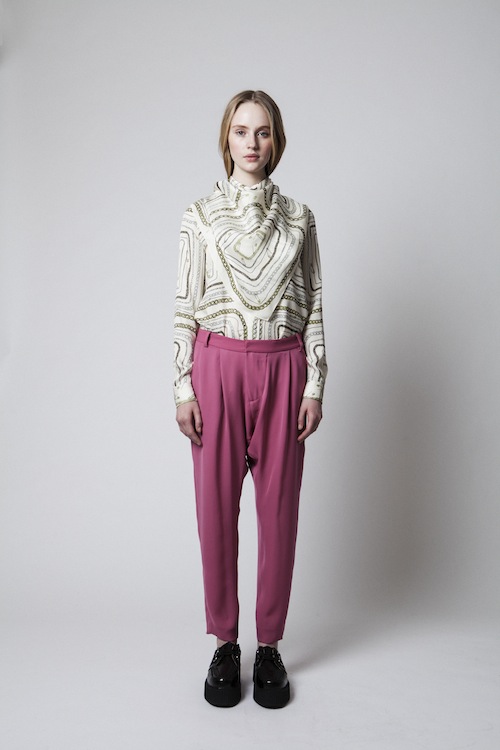 From the Rhie Fall 2013 Collection
"I always use unconventional materials and create custom made prints. We took the punk standard of the safety pin, and married it with the metal chain, which is more bourgeois. "
When asked to name her favorite and least fabric to work with, Rie states astutely "I have two favorite fabrics- I love working with knitwear and prints., I've always liked the concept of starting from a single yarn and manipulating it in various ways to make the desired softness and textures. There is a technical aspect of it I love. Also they're easy to wear. I love developing unique prints.  I think they show our personality and artistic side. We made several custom developed prints for the spring summer 2013 collection. One of my favorites is the Multi Daisy and Cigarette Butt print.  The cigarette butt motifs are so subtle you don't notice them until you look closer, which I love."
Reflecting on what advice she would give aspiring designers Rie says, "From a creative standpoint I think it's important to be a researcher in order to nourish your designs.  For those who want to start their own brand, it's important to understand the financial aspect, or to work with someone who does. A lot of people forget it's a business. I've found that working for others was the greatest education I've experienced. It has helped me enormously with my brand."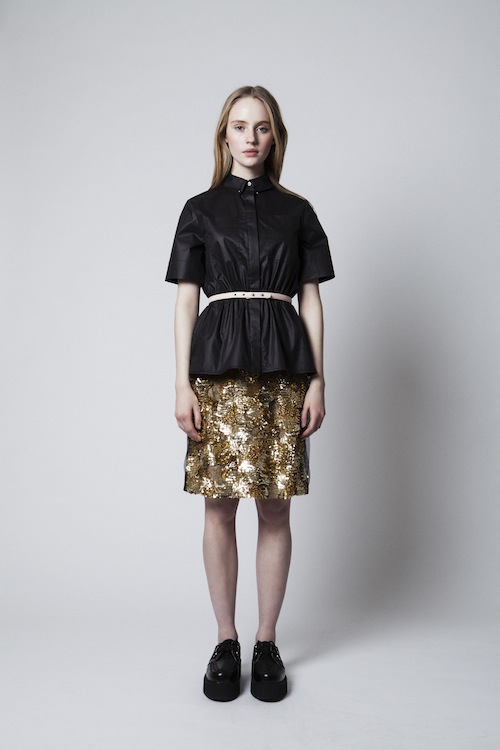 Rhie Fall 2013 
Rie's current work space reflects a calm sensibility in which light and nature have a symbiotic relationship to Rie's designs. "We have a small but very bright studio in a corner space with big windows facing north and west. We have tons of light flooding in.  Natural light is very important to me when working.  Maybe it's the California influence. " She quickly added she 'loves New York and how compressed it is, which creates an amazing energy, unlike any other city I've been."
FUTURE TRENDS
When asked what trends she forsees in women's wear, sportswear, and riding clothes. Rie is quick to note "No designer 'forsees' a trend out of thin air, like a fortune teller forsees the future.  Designs generally stem from a lot of research and observation.  Designing riding clothes would be an interesting project.  As a former avid rider I know how riding clothes are supposed to feel and function so it might be a great project!"
RIDING IN RIE'S FUTURE
"Horses are so beautiful.  I love the feeling of being in sync with a horse when on course or riding in general.  If I were to start again I would do the jumpers..  I love the speed and adrenaline of show jumping.  The horses feel your energy when you're competing and they really go for it."
Rie's creations can be purchased worldwide at some of the best specialty boutiques and department stores, like Barneys New York, Ikram (Chicago), Isetan (Japan) and Plum (Beirut) www.rhiestudio.com
By Winter Hoffman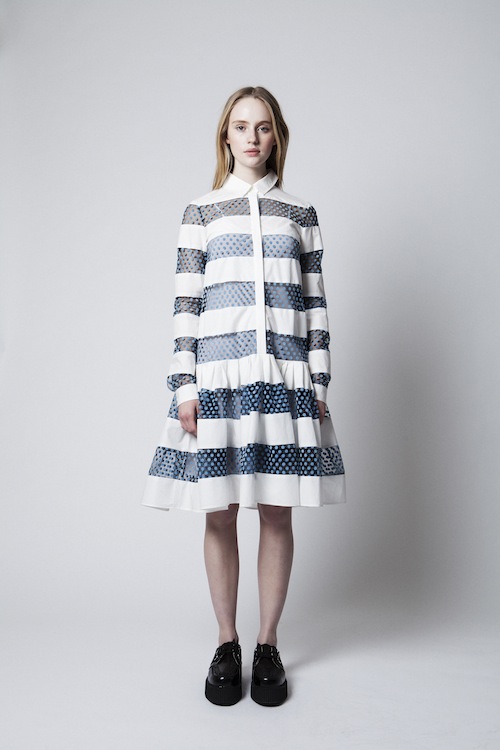 Rhie Fall 2013