"It's closer than you think."
Europe, that is. Competing in Europe isn't an unattainable, pie in the sky dream, says Belgium-based trainer and horse dealer Neil Jones.  It's not just for grand prix riders. And it's not just for those with deep pockets.
The English-born Jones, who has cultivated strong ties with the American horse market during 20-plus years of horse sales from Europe to the United States, recently began providing a sought-after service to riders who wish to experience European show jumping first hand. 
With an intimate knowledge of all levels of the European show circuit and a strong network of available horses, Jones combined his resources to create Equi Lease, a part travel concierge, part riding vacation service that gives riders the chance to compete in Europe at their own level. 
Actually Within Reach
Jones provides the horse and equipment, and offers a virtually unlimited range of shows to target. Planned in advance, Equi Lease trips are becoming a popular option for American riders who are learning that competing in Europe, even for a short time, can actually be within reach.
"We can fit every type of budget," Jones explains. "No matter the level, for people who want to take the chance to come to Europe and ride in a show for the experience, we welcome it."
While one can't exactly lease a grand prix horse, by the same token that's not the level of rider that Equi Lease serves. For the junior, adult jumper, or low amateur rider, there is a whole wealth of classes at shows all across Europe that are affordable and competitive. Jones points out that even the Global Champions Tour shows have lower, amateur-level classes that riders can enter if they wish (that series, however, is not cheap.)
Riders are welcome to bring their trainer, or even non-riding members of their family. Whatever the group dynamic, Jones can arrange a trip that includes an experience to fit all participants.
"It's great fun for a father who would love to see Italy, for instance, and the kids who want to ride at the show," adds Jones. "You've got plenty to do and there is always a great social atmosphere in the evenings."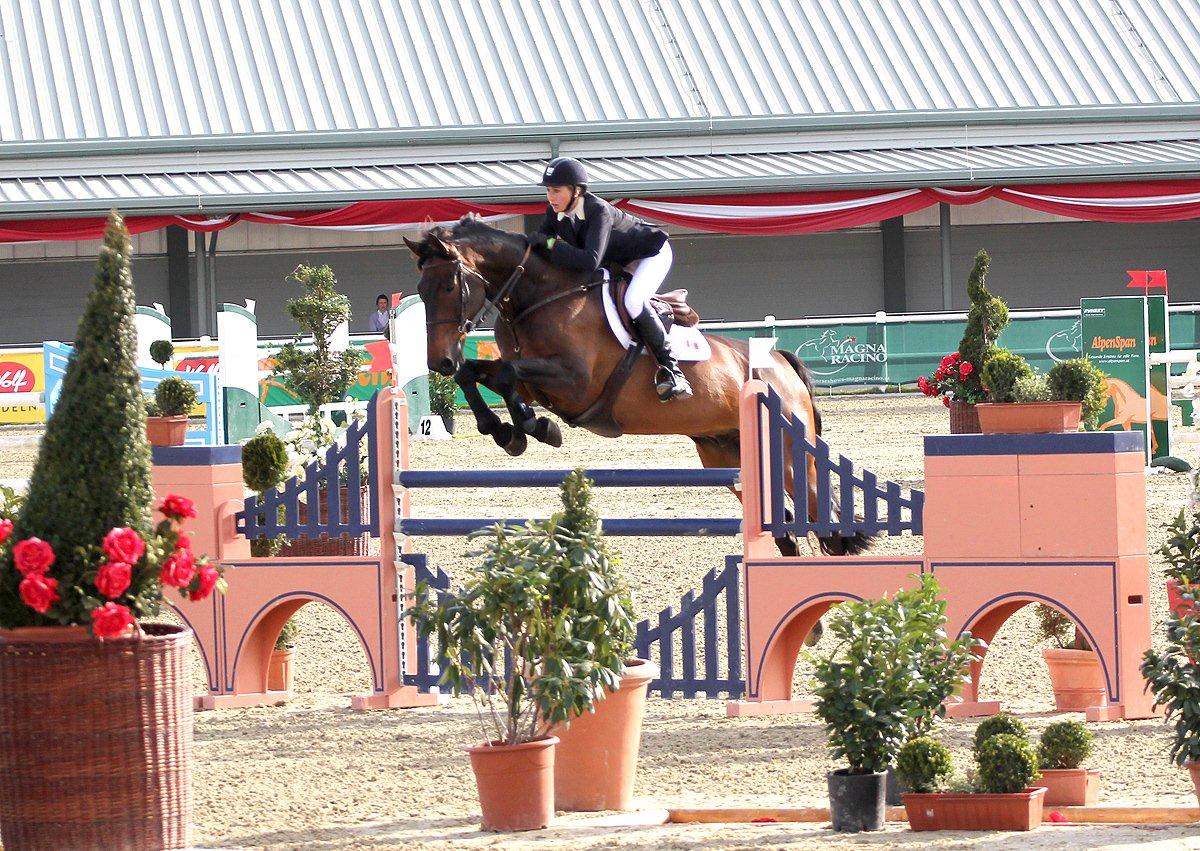 Canadian rider Julia Kucher took part in an Equi Lease trip last summer. Photo courtesy Equi Lease 
Better For It
In 2012, Jones hosted a group of riders at the Magna Racino Spring Tour in Vienna, Austria. After a successful two weeks of competition, he realized that the experience he could put together, from travel arrangements, to pairing a rider with an appropriate horse and arranging show entries, would be highly sought after by the American market. He prefers that riders send video of themselves riding before they come, and if possible he speaks with the rider's trainer to determine what type of horse would best suit. When the rider arrives, a few days of schooling are always in order, and then it's off to a show. 
Show jumping entries for competitions in Europe are a fraction of what they are in America; Jones explains that even a FEI-rated show at one or two stars in Europe costs just 250 Euros for three days of jumping. He's had clients who compete for three weeks and end up with a horse show bill of 1,200 Euros, total. When the cost of the horse, lodging, and sometimes even the airfare is added up, it can equal the cost of a week of show fees for an A-circuit competition in the U.S. 
"It's something that people need to know they can do," Jones remarks. "It's very interesting, and very educational for young riders. They can come here and be part of the team for a week, we can arrange a clinic with a top trainer if they like, and they go home a more well rounded, and competitive rider for it."
This article was published in the  June/July 2013 edition of Horse & Style Magazine. CLICK HERE to read the entire issue online!