Hometown favourite Brian Morton made history at the Thunderbird Horse Park's West Coast Classic, held June 26 to 30 in Langley, British Columbia. Morton won both bonuses on offer as part of the SSG Riding Gloves 'Go Clean for the Green' promotion running throughout the 2013 competition season at the Thunderbird Show Park in Langley, BC.
Now in its third year at Thunderbird Show Park, the 'Go Clean for the Green' promotion sees Canadian glove manufacturer SSG Gloves offering a total of $12,000 in bonus money to reward both hunter and jumper riders for their loyalty to the SSG brand.
Morton of Langley, BC, picked up a $1,000 bonus from SSG Gloves for his win in the $5,000 Cobblestone Hunter Derby on Saturday, June 29, riding Sabina Fey.  He and the 11-year-old Oldenburg mare owned by Kathleen Thomas put in two stylish rounds to capture the win over 20 other competitors.
"SSG 'Digitals' are the best gloves out there, and they are the only gloves I own now," said Morton, who has worn SSG 'Digital' riding gloves since the incentive promotion first started three years ago.  "They are so light but have outstanding grip.  They also hold up incredibly well.  I recommend them to all of my clients."
Returning to the Fort Grand Prix Ring on Sunday, June 30, Morton doubled his changes at winning the $1,000 SSG bonus by advancing to the jump-off with two mounts, Vaust and Spitfire.  Jumping double-clear with both horses, it all came down to time for Morton and another hometown favourite, Laura-Jane Tiball, who also went clear in the jump-off with two mounts, Armus GS and Prim' De Lairaud.
In the end, it was Morton and Vaust, an 11-year-old Dutch Warmblood stallion owned by Melanie White, who had the fastest time of the day, stopping the clock in 34.85 seconds.  Morton also captured second with Sprifire, a 16-year-old selle francais gelding owned by Equimark Farms, with their time of 36.03 seconds.  Tiball took third and fourth with Prim' De Lairaud and Armus GS, respectively.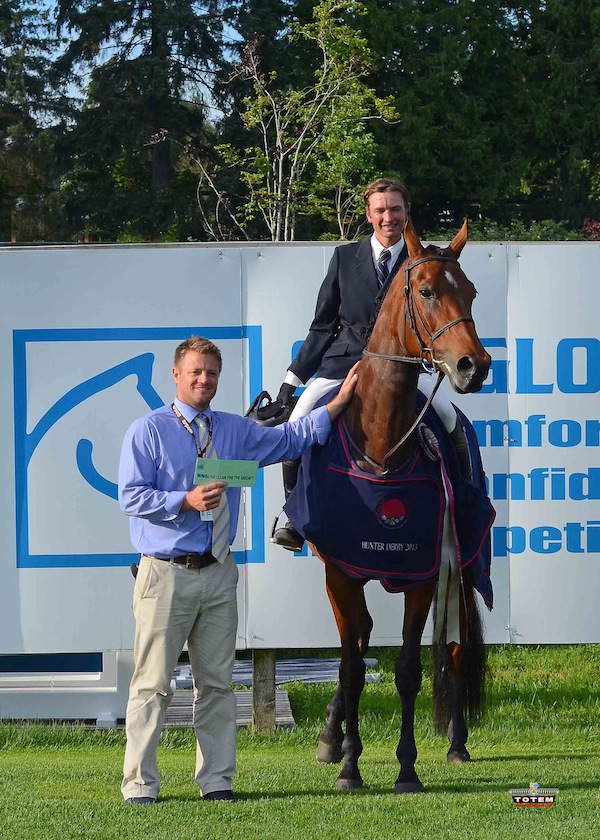 With the win in the $10,000 Super Save Grand Prix, Morton became the first rider in the history of the 'Go Clean for the Green' promotion at Thunderbird Show Park to claim both bonuses offered in the same week, pocketing a total of $2,000 in bonus money.
"The SSG Gloves promotion is fantastic," noted Morton.  "It is a huge help to the sport to offer that kind of bonus money.  Thank you so much to everyone involved in this great initiative, and thank you especially to SSG Gloves."
For 2013, SSG Gloves increased the bonus money offered in Thunderbird Show Park's hunter derby competitions from $500 to $1,000.  As in the past, a $1,000 bonus is also on offer to the winner of designated grand prix show jumping classes.  If the winning rider in any designated event is wearing SSG 'Digital' Riding Gloves with the horse head logo clearly visible in all rounds of competition, they will be presented with a bonus cheque in front of the SSG signature jump during the awards presentation.
The following events are still to come in the 2013 SSG Riding Gloves 'Go Clean for the Green' promotion at Thunderbird Show Park:
Western Family Festival – July 3 – 7
$1,500 Canadian Hunter Derby – Friday, July 5
$10,000 Facet Advisors Grand Prix – Sunday, July 7
CSI2* Fort Classic – August 14 – 18
$15,000 USHJA International Hunter Derby – Saturday, August 17
$55,000 CSI2* Fort Classic Grand Prix – Sunday, August 18
CSI2*-W Fort Festival – August 21 – 25
$5,000 Fairweather Farms Child/Adult-Amateur Hunter Derby – Sunday, August 25
$100,000 CSI2* Canaccord Genuity World Cup Grand Prix – Sunday, August 25
SSG 'Digital' Riding Gloves are available for purchase on-site at Thunderbird Show Park at the Thunderbird Tack Shop, The Dog and Pony Shop, Equestrian Factory Outlet, Equi-Products, and Greenhawk Harness and Equestrian Supplies.
Please refer to the 2013 Thunderbird Show Park prize lists for complete class details.  For further information, contact SSG 'Go Clean for the Green' promotion manager Jennifer Ward, Starting Gate Communications Inc., at cell: 613 292-5439 or [email protected].