It took some audacity.
Jessica Stellabatti Rönner flew into New York City with a cut and dry objective: to convince her sister Carin to drop everything, leave her job in New York, and go all-in as the creative director for a clothing line that didn't yet exist.
Carin gave it a go.
It was a leap of faith, yes, but also a logical step in pursuit of a dream. Carin was creative-minded. Jessica was business minded. They hoped to one day combine their skill sets and create a line of their own. That they had similar backgrounds and different skill sets gave them the ingredients for a well-rounded company with a clear concept. The sisters envisioned a clothing line that drew inspiration from their shared past in the equestrian world. Today, they call that line Rönner.
Equine Impressions
The sisters grew up riding for fun and watching their mother Ines train horses professionally. As they traveled to horse shows on weekends, they basked in the lavish style of their surroundings. Everything about the sights that Carin saw as a child, from the silhouettes of horse and rider to the chic style of the spectators, enraptured her.
"For me it was and always will be a big source of inspiration," she says. "It implicates sophistication and elegance, but at the same time it's sporty and active."
These early impressions of the equestrian scene remain and have been sewn into Rönner's mission.
It was four years ago when Jessica convinced Carin to leave New York for Bogota, Colombia where their family had lived the majority of their lives. Carin had studied at the Fashion Institute of Technology in New York City and remained there for two years after she graduated. Jessica, on the other hand, had attended business school in her home country and went on to help run Equitana, a small tack shop begun by Ines in Bogota.
Carin arrived in Bogota on a Wednesday, and by Thursday, plans to establish Rönner were in full swing. Now that the two sisters and Ines were all in Colombia, they could pull together the structure of the company. Naturally, Carin became the creative designer, and Jessica ran the company from the business standpoint. Ines' connections to the horse world were invaluable and put her in position to be the public relations authority. With their knowledge pooled, they became what they describe as "the perfect team."
Starting Small
All things start small, except maybe ambitions. Carin drew up the first clothing designs on the floor, frustrated that she had neither an adequate workspace nor a store of her own in which to exhibit her new line. It wasn't long, however, before things began to accelerate. The Colombian national show jumping team contacted Rönner to design their competition show coats. This first project, unlike later Rönner designs, was a jacket meant for the show ring, not the runway. However, its importance as a launching pad cannot be overstated. Not only was it the inspiration behind their next high fashion design, the Scarlet Jacket, but it was also an instant success on the market.
Since this first accomplishment, Carin, Jessica, and Ines have worked hard to develop their brand. They design two main collections each year and introduce new creations intermittently. Only the highest quality materials will do justice to their clothes, which are noted for the sharp attention paid to details. Each item, be it a dress or a jacket, is classic yet current, and a certain confidence results from this.
Rönner on the Runway
In 2010 the team opened Rönner's first store in an exclusive shopping center in Bogota. Only a year later, the demand called for another store in the north of the city. Rönner attracted more and more attention, and in 2013, they launched onto the national stage.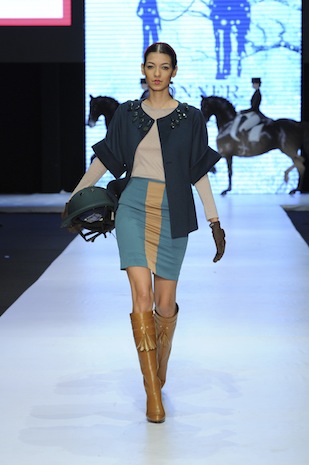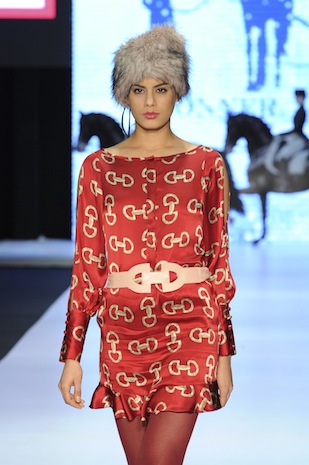 They attended Circulo de la Moda de Bogota 2013, one of Colombia's premier fashion events, and owned the runway with their impressive fall/winter Collection. Even at a mainstream fashion event, Rönner's team didn't hold back in expressing its equestrian roots. Models walked the runway holding bits, riding crops, saddles, and helmets. A dressage horse, mid-passage, glowed on a screen behind them. Fashion boots and breeches, boldly equine-inspired but classically chic, were paired with exquisite hunt coat-style jackets. In some pieces, snaffle bits were replicated in patterns across silk blouses and dresses. In others, they accented subtle details on hunt coat pockets. Rönner's collection held its own among the top clothing lines featured at the event, and it captured the attention of magazines and bloggers around the country.
Carin, Jessica, and Ines were thrilled with the outcome of the runway event. It gave them exposure to a national market that instantly welcomed their arrival on the scene. Maybe it was the attention to detail and quality that won them acceptance, or perhaps it was the appeal of the equestrian designs. Regardless, Rönner has gained a strong reputation throughout Colombia, and has now begun to gain visibility among international markets. Their forays into the US market have already begun: Rönner is now carried by LA Saddlery in Los Angeles, California, and is looking ambitiously towards other parts of the world.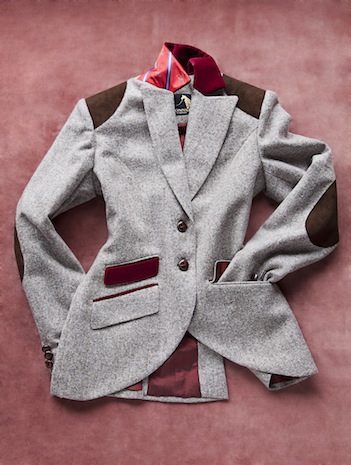 The Scarlet Jacket
A Lifestyle Brand
Carin and Jessica designed Rönner around an ideal customer: she is called the Rönner woman. Designs for her materialize in Carin's mind to fall effortlessly into her lifestyle. The occasions, the activities, and the daily habits of the Rönner woman are attended to. The ideal Rönner woman is an equine enthusiast, and the equestrian market will always be the company's niche. However, to the excitement of the Rönner team, they've found that their designs have a wide appeal. We can all agree: only equestrians truly understand what the equine lifestyle is all about, but that doesn't matter. Rönner has created a brand to show the rest of the world what it means to be equine chic.
Carin and Jessica understand what the Rönner woman wants. Of course they do. As they watched from the sidelines, breathing in the excitement of the horse shows, they became the Rönner woman. They didn't yet know it, but those experiences planted a seed of a dream in their minds: to bring the Rönner woman to life.
-Story by Arden Cone
This article was published in the Dec/Jan 2013-14 issue of Horse & Style Magazine. CLICK HERE to read the entire issue online!