Free falling from 14,000 feet is an unusual way to begin the week, but on Monday, February 24, 2014, eight JustWorld Ambassadors jumped for a just world, skydiving to raise awareness for the non-profit organization.
The tension was palpable as the JustWorld Ambassadors gathered at Belle Herbe Farm in Wellington, FL, early Monday morning to ride out to Skydive Spaceland in Clewiston, FL. Two at a time, the Ambassadors would fly up and take the leap from 14,000 feet, free falling to the ground below.
The Jump 4 JustWorld initiative was designed to raise awareness and funds for JustWorld's global efforts to reduce poverty through nutrition, health, education, leadership and cultural development programs in Cambodia, Honduras, Guatemala and Colombia. The participating equestrians included show jumpers-Alexander Zetterman (Sweden), Daniel Bluman (Colombia), Hannah Selleck (USA), Francisco Arredondo (Guatemala) and polo players-Brandon Phillips (Canada), Matt Coppola (USA) and Steven Michael King (USA) and Nolwenn Lemée (FRA)-all of whom had never jumped before.
After watching a training video, the Ambassadors dressed in their jumping gear and flew the 14,000 feet into the sky. Emotions ranged from calm to terrified, but each Ambassador took their turn.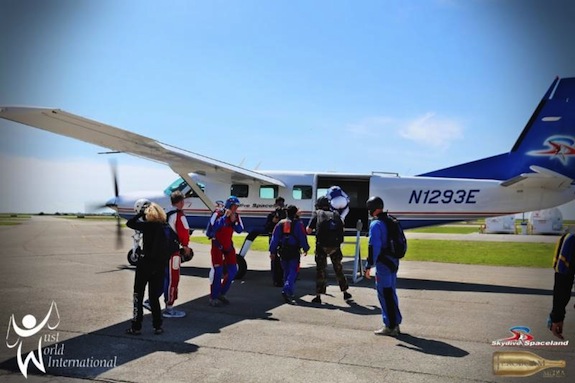 Jump 4 JustWorld was Hannah Selleck's first initiative as a JustWorld Ambassador.
"It was really amazing! I wasn't that nervous because I pushed it from my mind going into it," Selleck, who is pictured at top of page, said. "I was pretty excited until that moment when I was up in the plane, looking down at 14,000 feet and it is your time to jump. Free falling was really exciting. It was a great experience."
"I probably never would have taken the initiative to do this on my own. But when Jessica presented the opportunity to me, I thought it was a great cause. It was a good lead into getting involved, raising awareness and bringing attention to the work they do. Hopefully I will be able to go on their trips. Spending this time with the other Ambassadors helped to really build camaraderie and excitement for the future."
"I wasn't scared at all. I wanted to do this once in my life and I thought that this was a wonderful opportunity," Zetterman said. "I didn't think too much about the flight up. I enjoyed the view, and the free fall was really nice. I thought this was a really good way to get people involved and interested. People are interested in why we did it and that is wonderful for JustWorld; it gets people talking."
"It was very, very high," Phillips recounted. "It was really fun. I didn't actually get nervous until I was standing at the exit of the plane asking myself why I should want to jump 14,000 feet. The free fall was a lot of fun."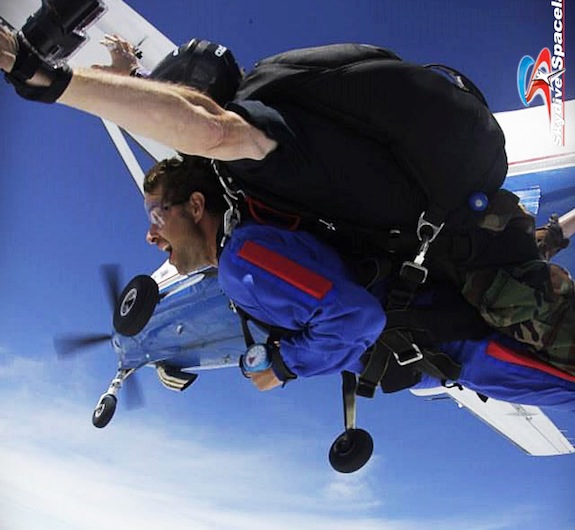 Brandon Phillips
"For the first three seconds you have no idea what is going on because you are falling at almost 120 miles per hour. Until you get to that speed, it feels insane, almost like your stomach is in your head. Afterwards though it feels like you are floating. I could do that all day."
"I had always wanted to do it, and it was one of the things on my bucket list, so I decided that it was the time to do it. It was nerve-wracking, but it helped JustWorld."
"I had never done skydiving before, but the cause is what made me decide to do it. It is a great cause, and we are working on the new project in my country of Colombia. When Jessica asked me if it was something I would be interested in doing, I didn't think twice," Bluman said.
"It was really nice getting to know all of the other Ambassadors. Everyone had a lot of fun and everyone was nice and polite. It was a good time."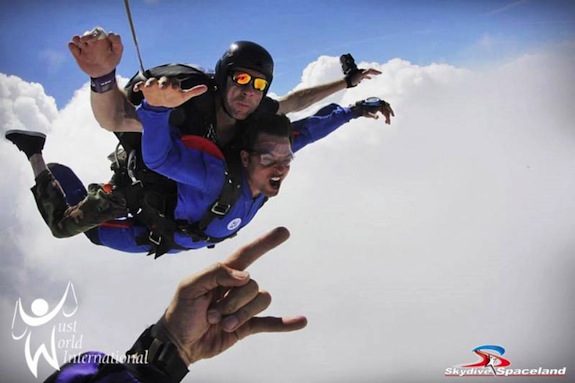 Daniel Bluman
"It was my first time taking part in JustWorld and I knew I didn't have to jump out of a plane, but it was for charity and I thought it would be really fun," Coppola said. "All of the people are wonderful people. We had a great time and it was an exciting day."
"Honestly, I was terrified," Coppola admitted. "Brandon and I were the last two to go up and we had just watched these girls and other riders land; there was no way that I was going to back out. I kind of had to do it. It was unbelievable. It was awesome and I think that maybe one day I might jump again, but for right now I think I will be able to hold onto this memory for a long time. Right now I want to be a part of the trips to their projects; I really want to be part of the charity."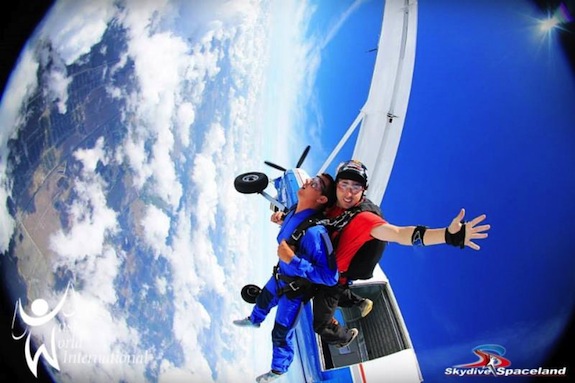 Matt Coppola
Arredondo has climbed Mt. Everest and raced motorcycles in the world's largest races, so jumping out of a plane didn't faze the Guatemalan Ambassador.
"I have been interested in the organization for a long time, hearing about their work with Los Patojos through Juan Andres Rodriguez," Arredondo said. "I spoke to Jessica about it and when she said that she was interested in having me participate I jumped at the chance."
"It was a lot of fun and although I had done it once before a long time ago, it was a great experience; it was a lot of fun. I really enjoyed it and I hope to be able to continue having a large participation. I joined the equestrian community not long ago and I think that these projects are great for our countries, so any way that I can help out would be great."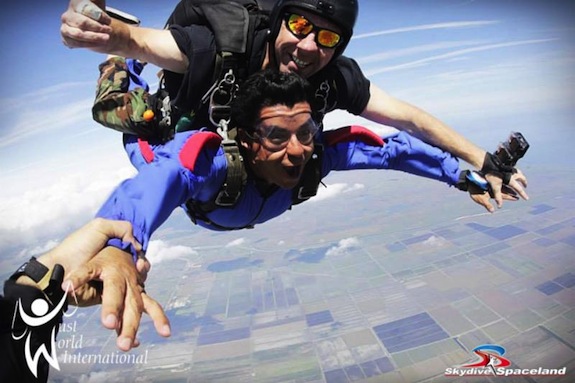 Francisco Arrendondo
Steven Michael King of Jeroboam Media was onsite for the entire adventure, including jumping alongside everyone. He documented the entire day through photos and video. For more information on Jeroboam Media, please visit http://jeroboammedia.com/.
Founded in 2003 by Jessica Newman, JustWorld International is a not-for-profit, humanitarian organization, which funds life-changing nutrition, health and hygiene, education, as well as leadership and cultural development programs for impoverished children in Cambodia, Honduras, Guatemala and Colombia.  There are currently more than 500 Rider and Technical Official Ambassadors representing 40 different countries, whose efforts to support JustWorld's projects have raised in excess of $6 million to date.  For more information on JustWorld, please visit our website, www.justworldinternational.org, or e-mail us at [email protected].
JustWorld International is a 501(c)(3) charitable organization in the United States and a registered Association 1901 in France. Tax-deductible donations are accepted in Canada and Switzerland. JustWorld International has no political or religious affiliation.