Nestled among the hubbub of the Big Easy in Louisiana, Equest Farm ran like a well-oiled machine. After years of neglect, hundreds of thousands of dollars had been poured into its restoration as it was brought back to life. Shining like a bright new penny, it was a dream come true for Leslie Kramer, Ellen Addison and Mary Antonini ("the Sisters" as they're affectionately known) to own a first-class hunter/jumper facility that offered showing, boarding and lessons in a family-friendly atmosphere. Having ridden there as children, like fairy godmothers they were in the business of making wishes come true.
But, stick around horses long enough and you'll learn it's a humbling sport that is a constant balance of risk and reward.
The Sisters could never have predicted that it would only be a few months after their final phase of rebuilding that they would be brought back to square one by Hurricane Katrina.
An Unexpected Opportunity
Acquiring Equest Farm was about being in the right place at the right time. An eyesore that had become a nuisance for the New Orleans City Park Board, it had been discussed to tear it down. But after calling the stables her home away from home for over 40 years, Kramer couldn't stand back and let that happen. "Having a nostalgic attraction to the stables and the ability to invest the time and money into the farm, we purchased
Equest Farm in 2000," Kramer explained. With a hefty dose of sweat equity and financial outlay, Kramer took her lifelong horse hobby and turned it into a career.
Back when Kramer rode as a child at the farm, which is located in the northern corner of the New Orleans
City Park, she would look forward to her trail ride every Sunday morning. "The stables back then were an old cinder block barn with a mix of Western and English riders," she told. But what she enjoyed most were her carefree days during her summers. "I would spend the whole day there riding with friends, washing horses and cleaning up, while never dreaming one day I would own the place," Kramer said. As the middle sister and manager of the daily operations, Kramer's hands on-approach is reminiscent of her childhood days.
The first order of business after taking over the farm was a makeover that took five years, 1.5 million dollars and countless hours to rebuild the barns, rings, riding school and camp.
 Winds of Adversity
Everything seemed to be going as planned, but on August 29, 2005, life in New Orleans changed forever. Hurricane Katrina – one of the deadliest America has ever seen – brought the city to its knees. And with a natural disaster of that magnitude, utter devastation struck the local horse industry as well.
A once thriving metropolitan riding facility, now in shambles surrounded by a city lying in ruins was suddenly the gut-wrenching reality for Equest Farm. When Katrina hit, Kramer was a state away in Mississippi attending the opening weekend of Ole Miss Volleyball. Noting the broadcast warnings of the severity of this storm, she executed the barn's evacuation plans long-distance.
Thanks to foresight and luck on their side, all the horses made it out alive – having enough time to trailer out. But severed communication lines left in the storm's wake caused Kramer to worry as she attempted to monitor the situation from afar. "Finding the staff, owners, and my sisters was a nightmare," she shared. The nightmare was far from over – the town wouldn't even have a grocery store or gas station for two years after the storm.
When the Kramers were issued clearance to return several weeks later, they viewed the damage; everything they owned had been destroyed. As Kramer explained, "The barn was under seven feet of water with tornado damage to the roof. The offices, equipment, men's living quarters, tack shop and the new camp buildings were destroyed. Over 65 trees were down and the jumps had floated all over the surrounding neighborhoods and golf course." In her eyes, there was just no recovery from that degree of devastation.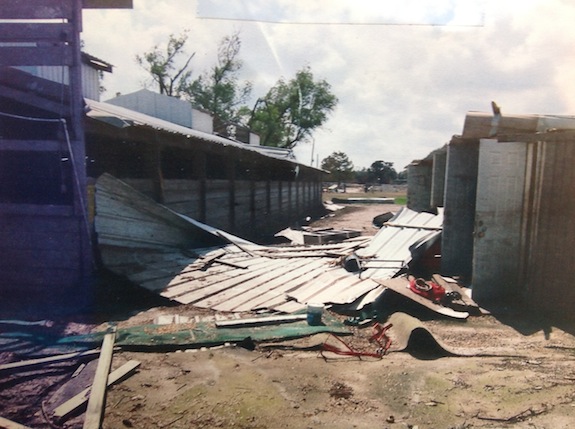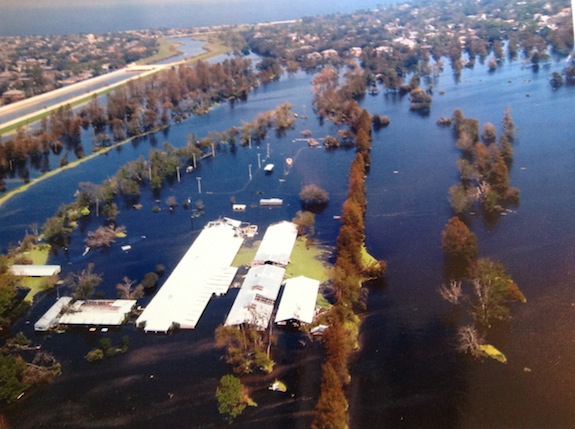 Equest Farm just after Hurricane Katrina in 2005
"I had no intention of going back," Kramer remembered. With 92 horses evacuated from the premise, lesson horses were sold, show horses were sent away and the business folded.
An Unexpected Gift
Once the waters receded, Kramer and her husband walked through the ravaged stables area and found an assortment of rubble mired in the muck. It was her husband, though, who saw past the destruction. "This doesn't look too bad. I think you can rebuild." His assessment took Kramer by surprise. But looking back, Kramer believes he realized the depth of her loss. "I think in that moment, he realized we could not go back to our house, and I needed something to do to keep me going," she shared.
So, the process of rebuilding began. With no flood insurance, "bartering, volunteers, and the assistance of strangers were what brought back Equest Farm," Kramer said. Her vision of a thriving barn once again took shape. But, the need spanned the spectrum; picking up trash, rebuilding structures, salvaging equipment, and planting flowers. The list was endless. The lessons learned from such a catastrophe will always be seared in Kramer's heart. With a renewed faith in her fellow citizens, She walked away feeling that it's harder to receive than to give.
"Before, I was never in a position to have to be the recipient of help; I was the helper. Katrina changed that." Then there is that question of how does a person respond when everything is just literally swept away? Kramer's response to such a cataclysmic event: "as I often say, Katrina got everything but my sense of humor and my work ethic."
Fresh Start – Different Focus
As Kramer had already learned, sometimes the best-laid plans go awry. On the day the stables were to reopen in December 2005, Kramer's former show customers decided not to move back after all. Undeterred, Equest opened its doors with just seven horses and nine boarders. And those doors are still open, but now with a new esprit decorps. Fast-forward to the present, and Equest Farm is once again a thriving, bustling equestrian center in the heart of a city that doesn't give up.
"The focus of the equestrian center has changed from catering to show customers and boarders to catering to the citizens of New Orleans," Kramer declared. "Our mission, as custodians of the land, is to provide educational experiences to the citizens of New Orleans beginning at age four up to 104."
With trainer Rick Harris, who first came to work with some of the boarders in 2010, Equest Farm also has a show string that travels the A-circuit 20-24 weeks out of the year. "Having a barn in the middle of a great metropolitan city guarantees a large audience of new riders each day. Equestrian centers like ours are a dying breed," said Kramer. "There are very few large riding schools in metropolitan areas left in the country."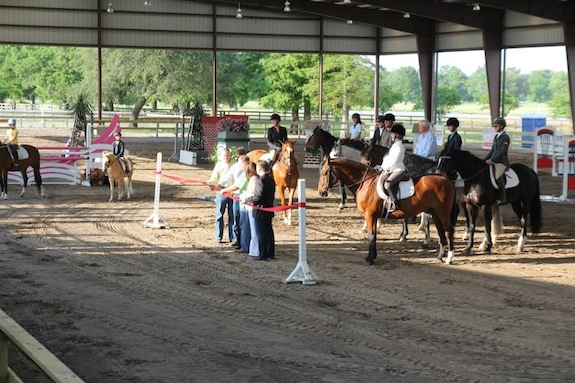 A ribbon cutting ceremony on the day the barn reopened
Kramer also continues to find ways to give back to her community. One of the most successful ventures is the annual gala Tails but No Black Tie. The revenues generated assist in funding operations of the New Orleans City Park, which is the third largest park in the country and receives no city or state funding. The event is structured as a Calcutta style grand prix event where horse and rider are auctioned off to the audience members.
Akin to that great city's grit and gumption, Equest was rebuilt… and then rebuilt again. It was a decision that Kramer believes was life altering. "Oftentimes I am credited with saving the barn, but in reality, it saved me," she said.
-By Katie Shoultz
This article was published in the Feb/March 2014 issue of Horse & Style Magazine. CLICK HERE to read the entire issue online!