Excitement is building for The Longines FEI World Cup Jumping Final, which begins just 8 days from now, on April 17th in beautiful Lyon, France (shown above). After a quarter-century long drought in which the USA couldn't capture the World Cup Final trophy, Rich Fellers and Beezie Madden have made the past two Finals ones to remember, taking home the title in 2012 and 2013, respectively.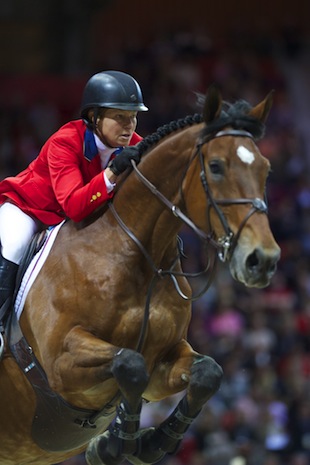 Defending World Cup Champions Beezie Madden and Simon at last year's Final
Will an American rider be able to capture the title for the third year in a row? Or will it be Great Britain's Scott Brash's time to shine? He is, after all, the FEI-ranked #1 rider in the world.
While you ponder that, here are a few fun facts  that you might not have known about the Longines FEI World Cup Final!
~A total of 41 competitors will line out for the Longines FEI World Cup™ Jumping Final 2014
~Riders from 20 nations – Australia, Azerbaijan, Belgium, Brazil, Egypt, France, Great Britain, Germany, Ireland, Latvia, Lithuania, Morocco, Netherlands, Portugal, Saudi Arabia, Qatar, Russia, Switzerland, Sweden and USA – will compete for the honors.
~Lyon presents the 36th FEI World Cup™ Jumping Final. The first was staged in Gothenburg, Sweden in 1979 where Austria's Hugo Simon and Gladstone were the inaugural winners.
~USA has the largest rider representation at the 2014 Final with a total of 12. You can find the full list of US World Cup Finalists here.
~Next highest in terms of competitor numbers is Germany with 5.
~France has only won the FEI World Cup™ Jumping title once before, at Milan (ITA) in 2004 when Bruno Broucqsault and Dileme de Cephe came out on top.
~France has only hosted the FEI World Cup™ Jumping Final once before, at Paris-Bercy back in 1987 when the USA's Katharine Burdsall and The Natural reigned supreme.
~Only one of the three-time winners of the title (the other two are Rodrigo Pessoa and Meredith Michaels-Beerbaum) is entered this year with a chance of making it a record four victories at this year's Final. Germany's Marcus Ehning was crowned champion at Las Vegas (USA) in 2003 with Anka, at Kuala Lumpur (MAS) in 2006 with Sandro Boy, and in Geneva (SUI) in 2010 when riding both Noltes Kűchengirl and Plot Blue.
~Ehning, who will celebrate his 40th birthday on Sunday 19 April, brings both the 17-year-old Plot Blue and the 11-year-old Cornado NRW to this year's Longines Final. Happy almost-birthday, Marcus!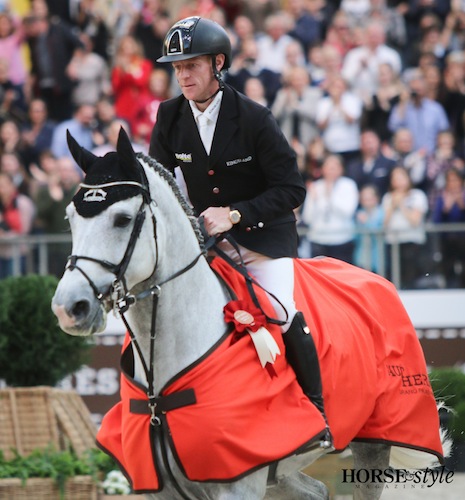 Ehning most recently won the Saut Hermès Grand Prix CSI5* in Paris, France
~USA and Germany have both claimed the FEI World Cup™ Jumping title on 9 occasions.
~Don't forget that in 2015, the FEI World Cup Jumping and Dressage Finals will return to Las Vegas, Nevada at the Thomas & Mack Center! Now THAT'S a reason to get excited!
If you can't be in France to cheer on Beezie and the rest of the US riders in person, sign up for a subscription to FEItv.org, which will broadcast every round online. There's a fee, but it's worth it! FEITtv's broadcasts are always top-notch.