Marilyn Little walked down her barn aisle in 2010, assessing her horses one by one. It wasn't any ordinary wellness check that the established show jumping trainer and grand prix rider was performing. She'd just watched the cross-country portion of eventing at the 2010 Alltech FEI World Equestrian Games on her television, and had had a very un-show jumping-like thought: she was going to give eventing a try.
"So I walked down to the barn and looked down the aisle and thought, which horse wants to be the one?" Little remembers. "I looked at Udonna and said, you would do it."
And just like that, Little's meteoric three day eventing career started right there, in that barn aisle, with Udonna. Little knew that the then 10-year-old KWPN chestnut mare by Madison x Cavalier was bold enough, and brave enough to jump anything. Little had recently returned from Spruce Meadows, where she competed Udonna in the open jumpers and jumper derbies, and she was preparing the mare for the fall indoor shows at Harrisburg and Washington D.C.
After a few schooling sessions, her team folded the Maryland Horse Trials into that schedule, and off they went. The morning after Little's then-husband competed Udonna in the Washington International Horse Show Puissance competition, Little took her to her third event (a small, one-day competition outside of D.C.)
When spring arrived, Little starting training for eventing in earnest, and quickly attracted nationwide attention from show jumpers and eventers alike, none of whom could believe that a show jumper had transitioned so seamlessly to eventing.
But Little quickly proved to be a quick study to eventing, casually commenting that a jump was just a jump if you had the right approach.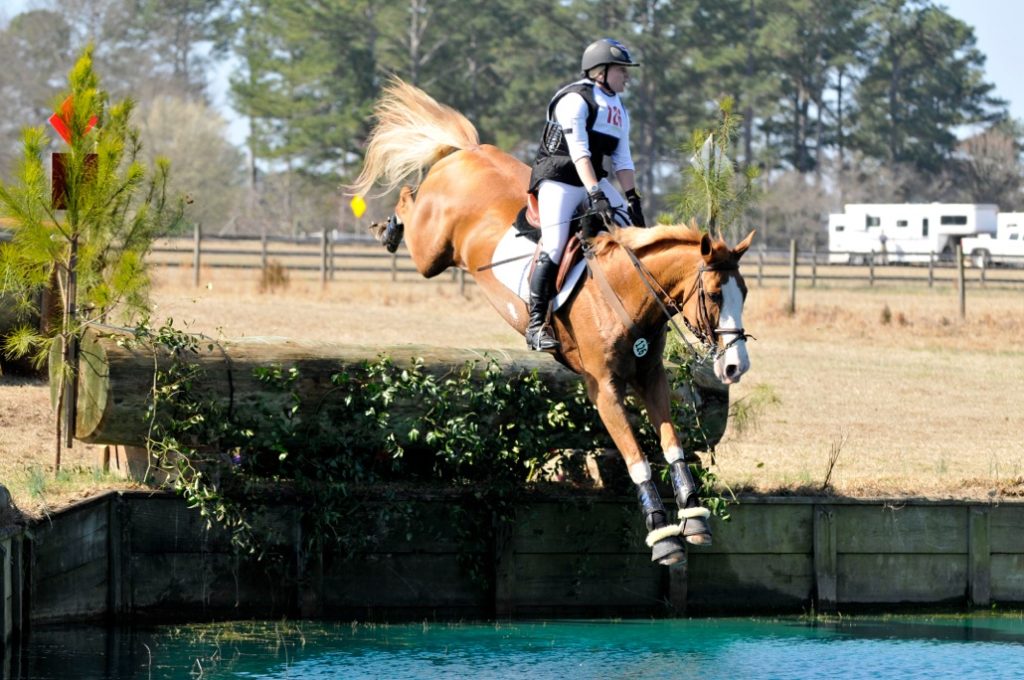 With Udonna, Little competed up to the 2* level in 3-day eventing. This photo appeared on the cover of Practical Horseman Magazine in 2011 (see below)
A Riding School Horse
Little and her mother, trainer Lynn Little, found Udonna almost by chance while on a buying trip to Europe early in 2010. They weren't having much luck in finding what they were looking for, so Marilyn was skeptical when she got a call telling her that she simply had to go look at a chestnut mare that was living in a riding school in the middle of Paris. Despite the fact that Paris was not on the itinerary, Marilyn and Lynn adjusted their plans and flew into the city late at night.
"We arrived at the riding school almost at midnight and out came Udonna," Marilyn recounts. "I rode her for 20 minutes because that's all we were allowed in the indoor. After the second jump I knew I loved her."
Udonna flew right to the winter circuit in Wellington, Florida and starting competing through the 1.40m jumpers. That spring, she and Little won the Bluegrass Stake at the Kentucky Horse Park, and at Spruce Meadows, Udonna shone in the jumper derbies.
So when Little and Udonna started tackling the three phases of eventing, much of it was a natural fit. By 2011, they had competed up to the two-star level, had been featured on the cover of Practical Horseman magazine and were training to step up when Little came to a crossroads.
"Udonna is such an expressive and exuberant horse, that the discipline required in dressage wasn't exactly her cup of tea," Little says. "Inside the dressage boards, she was like a bull in a china shop; they just weren't enough to contain her."
As Little was eyeing four-star eventing, she had to admit to herself that Udonna was almost too brave for the top level of eventing.
"No matter what is there, she believes that she can jump it, whether it's a puissance wall, an eventing fence or a show jump. Four-star cross-country is basically a medal finals course on steroids. Her boldness may have gotten her into trouble at the upper levels," Little explains.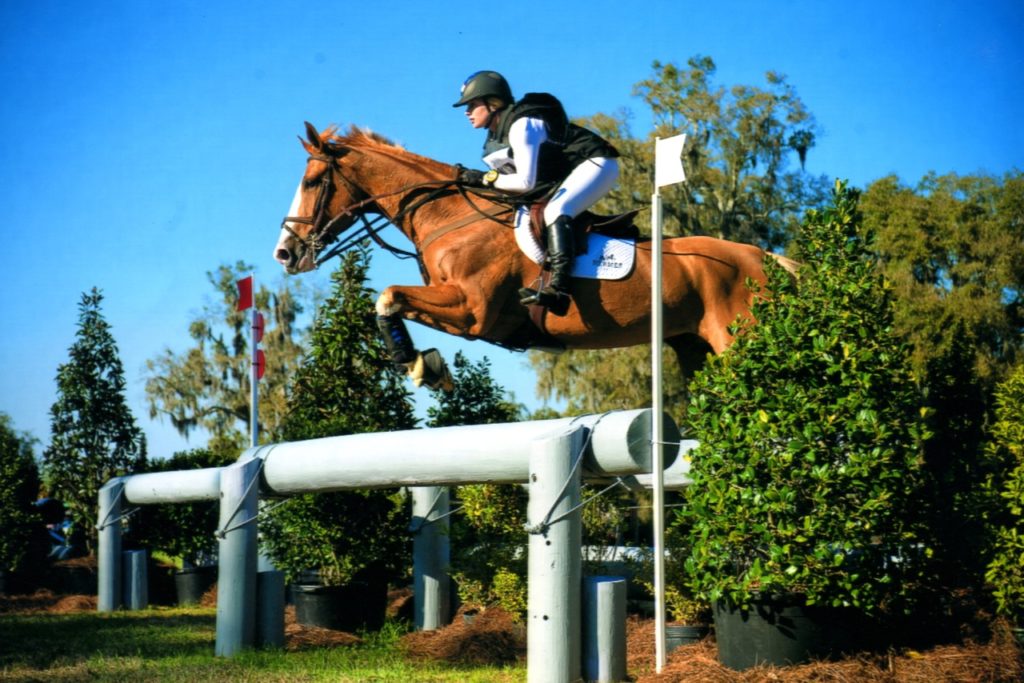 Little and Udonna competing at the Red Hills Horse Trials in 2011
The Next Phase
Still, Little wasn't considering selling Udonna, but while in Germany with Udonna and the rest of her string, the opportunity came up. Young show jumping rider Gabriela Mershad came to try horses, and the decision was made to allow her to lease Udonna, as well as another of Little's jumpers.
Eighteen-year-old Mershad, of New Albany, OH, is on the fast track to a thriving career in show jumping. At 17, she competed in her first grand prix, and that same year she was invited to ride in the New Albany Classic Invitational, the prestigious annual grand prix held in her hometown.
Udonna and Mershad were an instant fit, and after a year of leasing the mare from Little, Mershad became her owner.
"It feels amazing to ride her," 18-year-old Mershad says. "I'm always wanting to go clear, and I'm a big one on trusting the animal. With Udonna, I never feel nervous. No matter what happens I know she has my back."
In 2014, Udonna and Mershad stepped up to compete in the $95,000 Artisan Farms Young Rider Grand Prix Series at the FTI Consulting Winter Equestrian Festival.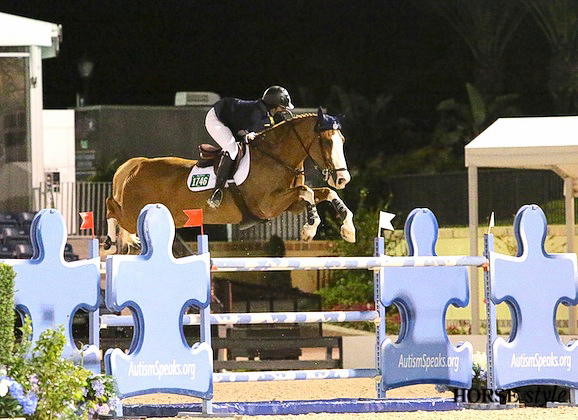 Mershad and Udonna competed in the $95,000 Artisan Farms Young Rider Grand Prix Series this winter season.

The mare's charismatic boldness over every fence is eye catching, and when she gallops into the arena with her flaxen mane and tail flying, she is magnificent.
"She's just one of those super athletes that could have been anything," Little says. "She's just that talented. We always joked that when she was too old to jump we could call Chester Weber and give her a third career as a driving horse."
Mershad is lucky enough to have a string of jumpers to compete with, but with Udonna, Mershad has more fun than most riders her age. When the opportunity arises, Mershad has been known to canter through water complexes with Udonna.
"I never feel nervous like she's going to spook or stop," Mershad says. "She's literally so trustworthy."
In the meantime Little has developed a string of four-star eventing horses, as well as the respect of the eventing community with her solid record of four-star results, and is now an established member of the United States Eventing Team. There's a real chance that Little will be competing at the 2014 World Equestrian Games –on the eventing team- rather than watching it on her television this year. Her Raylyn Farm in Frederick, Maryland is busier than ever, with strings of top-level horses in both disciplines to train and compete.
When she has the opportunity, Little checks in on Mershad and Udonna and always enjoys watches them in the ring together.
"In the moments when Gabriela wasn't as confident, Udonna's confidence has carried her. And in the moments when Gabriela was ready to win, Udonna was there for her," Little describes. "It's a great partnership."
Udonna was a horse that changed Little, not only in her riding, but in the direction of her career. One day, Little hopes that Mershad will look back and say that Udonna was a horse that changed her, too.
This article was originally published in the Apr/May 2014 issue of Horse & Style Magazine. CLICK HERE to read the entire issue online!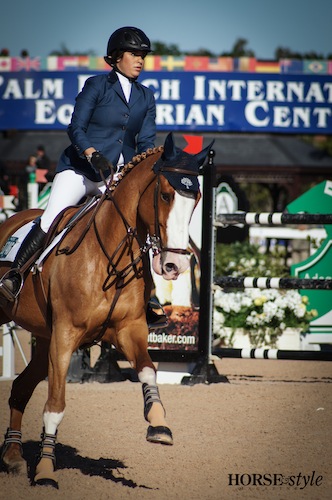 Mershad and Udonna competing in Florida, January 2014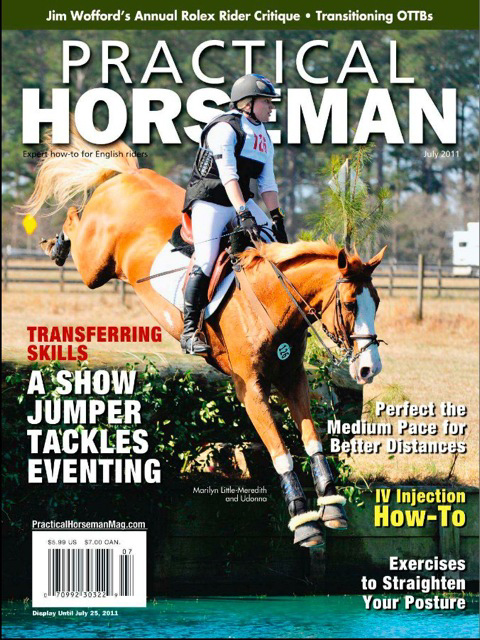 The cover of Practical Horseman, July 2011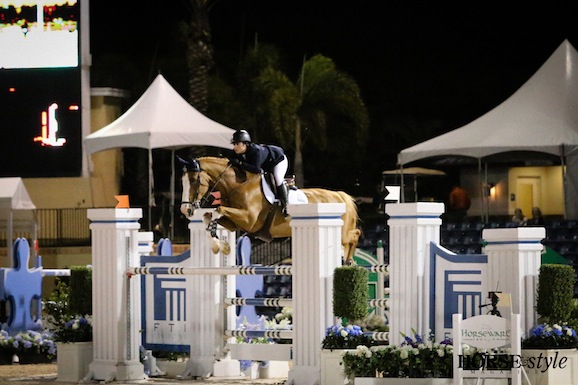 "With Udonna, I never feel nervous. No matter what happens I know she has my back."