After more than 20 years in the business, Guillermo Obligado has learned many things, not the least of which is how to give back to the equine industry as a valuable mentor. With his most memorable horse, the striking bay gelding Carlson, Obligado enjoyed representing Argentina at the 2006 World Equestrian Games in Aachen, Germany and 2006 FEI World Cup Finals in Kuala Lumpur, firmly etching a place for himself in the sport after leaving his native Cordoba, Argentina, in 1990. 
More recently, Obligado has developed somewhat of a reputation for lending a helping hand to young professionals who find themselves in the same shoes that he was in at the beginning of his career. From his Woodgrove Farm in bucolic Rancho Santa Fe, CA, Obligado operates a relaxed, yet high performance program for a dedicated group of clients. With his business partner Lynn Obligado, Woodgrove Farm runs smoothly between stops on the West Coast show circuit, buying trips to Europe, and in its own home ring, where Guillermo enjoys passing his knowledge on.
In a perfect world. he would like to find another Carlson (now 22-years-old, and happily retired) before he hangs up his spurs for good. To that end, Obligado works closely with horse dealer Uli Collee in Germany to source future prospects for himself, as well as suitable sales horses for his clients. 
Guillermo Obligado: Tell us how your first trip to the United States led to a permanent move.
Horse & Style: I came here 20 years ago, with horses for sale. I was in law school at the time, and was going to graduate. In the beginning, I came for just three months to sell a few horses and go back home. Ok, the horses didn't sell quickly, but it was ok because when I got here I realized I could make a living here. The economy here for sure in America is better than in Argentina. There is more money to do the sport.
H&S: So it was from the United States then, that you built your career up to an international level?
GO: Yes, we started doing some sales, we had very good horses and clients, and then ok, everything started building. Then I started building the string for horses by going to Spruce Meadows, and was very successful. I went to Europe and did many Nations Cups, I was the alternate for the Argentine Olympic team in Athens (in 2004) and in 2006, I competed at the WEG in Aachen. I had many placings in Europe, including a 2nd place in the five star grand prix in Barcelona.
H&S: And during most if not all of those competitions, you were riding Carlson, correct? What was the story behind that horse?
GO: Carlson was a Holsteiner, how I got him was a funny story. He was ridden by Vincent Voorn, Albert Voorn's son. He was riding and showing at Valkenswaard, and I noticed him there. When the show was over, it was mentioned that Carlson was for sale; he belonged to Paige Johnson at the time, but she really wanted to sell him because he was a really difficult horse. I offered the money and bought him without trying him. I'd seen him in the small grand prix and he looked super hot, but I thought, 'if Vincent can do it, I can do it.' He looked like he had all the quality, I always rode the difficult horses myself, and I never had sponsors and it was my own money. I went and vetted the horse and bought him.
H&S: Clearly, it was the right choice. How did you gain his trust?
GO: I tried not to change so much the way he went. He was almost like a race horse with a lot of blood. He would go sideways to the first fence, but if you were quiet he would find the distance to the jump. Ok the first six months were not easy… I think he wanted to be number one. And I had the time to do it.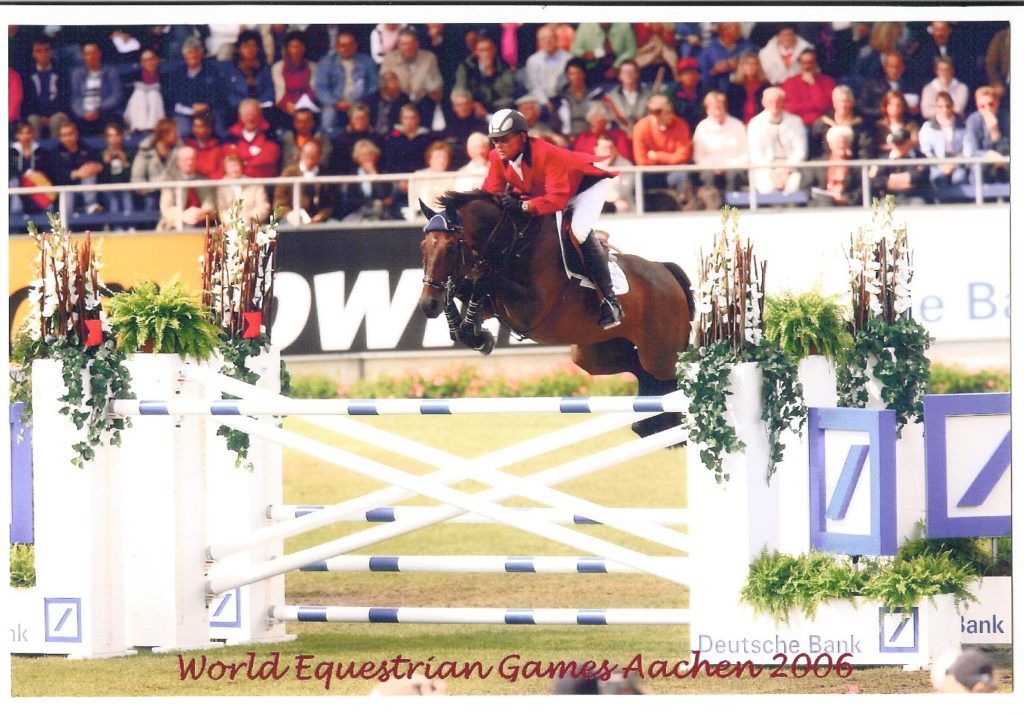 Carlson and Guillermo Obligado went all the way to the 2006 World Equestrian Games in Aachen, Germany
H&S: What has been the biggest challenge in your career that you've had to overcome?
GO: In 2006, I began to have a problem in my back. I had my back injected, went to physical therapy, trying to figure out what was the problem. I was scared to have surgery, and I did everything to avoid it – laser, acupuncture, everything. But the pain was so bad, it interrupted my riding. Finally last year I did the surgery, and now looking back it was the best decision I made. I feel strong again and I want to ride again.
H&S: You've helped a talented succession of young professionals get a leg up in the industry early in their careers. Has that been deliberate?
GO: Well, all these years we had a big stable, for three or four years we had up to 60 horses. So I always needed help, and the first guy I hired was Santiago Rickard from Argentina. Then after three or four years he got married and started his own business, so I hired Mariano Alario, also from Argentina. He worked for me for three or four years also, then Mariano got offered another job and I needed to find somebody so somebody told me about Daniel Ighani, yes, also from Argentina.
I teach them about the horse business. It's normal, you get a young guy to work for you for four or five years and then they want to grow.
H&S: Do you enjoy the mentor role?
GO: Yes, I enjoy teaching a lot and working with all those guys is great. As you go through your career you do so many courses, so many times, and I can tell them how to do it because I'm already done it. And after so many years, I can predict what's going to happen before it happens.
H&S: These days, you have talented young professional Nick Gegen working for you. What's that like?
GO: Nick has been working for me for a year and a half. He's a very nice guy and an unbelievably hard worker. He had already done some grand prix classes before he came here, he just needed to grow, so I give him the tools. And at the end of the day, I let him be himself, and get the experience and go into the ring.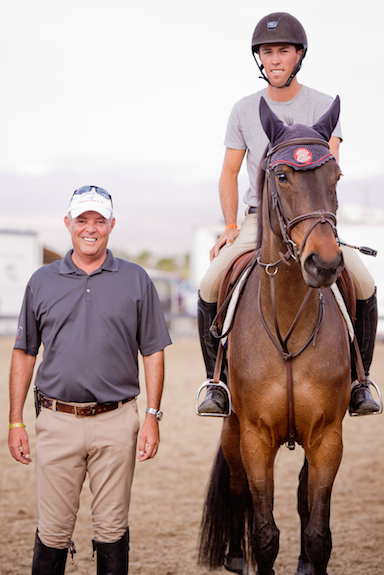 Obligado and Gegen at the 2014 HITS Thermal Desert circuit. Photo ©Cheval Photos
H&S: What's next for you? Do you have a goal that you still would like to accomplish?
GO: To have one more big horse, before I retire or get too old, would be nice. But if not, I think I will be ok. Now, having my son Lucas, he's three years old, he is the most important thing in my life.