[North Salem, NY] Darragh Kenny captured his third victory at the 2014 Old Salem Farm Spring Horse Shows in the $35,000 New York Welcome Stake on Friday, May 9th, this time on Postage Stamp Farm's Prof de la Roque. The pair went first in a 14-horse jump-off to win over McLain Ward, who placed second and third on Zander and HH Cannavaro, respectively.
The Old Salem Farm Spring Horse Shows run May 6-11 and May 13–18 at Old Salem Farm in North Salem, NY. The shows feature over 130 hunter and jumper classes each week, bringing together top competitors, including Olympic show jumpers, from across the country to compete for almost $500,000 in prize money.
The $35,000 New York Welcome Stake had 48 entries, and 14 were clear to the advance to the jump-off over a course set by this week's designer, Guilherme Jorge of Brazil. Kenny and Prof de la Roque were the pacesetters in both the first round and the jump-off. In the jump-off, they were clear and quick in 34.246 seconds. It proved to be a time no one could beat while leaving all of the jumps up.
McLain Ward had a good day, placing second and third. He had a third mount in the jump-off as well, HH Ashley, who placed tenth. On his first horse Zander, owned by Ward and Grant Road Partners, he was just off the pace in 34.997 seconds. He and HH Cannavaro, owned by Double H Farm, had a time of 35.249 seconds.
Fourth place went to Kenny on Sans Souci Z, owned by Caroline Lloyd, who finished in a time of 35.402 seconds. Kirsten Coe and Czardas 30, owned by Ilan Ferder, was fifth in 36.648 seconds.
Kenny has had the ride on Prof de la Roque, an 11-year-old Selle Francais gelding by Kannan, for almost a year thanks to owner Annabelle Gundlach. "I'm just very, very lucky because we actually bought him for [Annabelle] to ride, and he turned out even better than we thought," he remarked. "She was nice enough to give me the ride on the horse. I'm lucky right now that I have a couple of good horses, but at the time I really didn't have that many good horses. It was extremely nice of her to let me use the horse. He's turned out to be great."
Kenny wasn't expecting to win when he went first in the jump-off, but stuck with his plan to "go as quick as I felt comfortable with and as quick as the horse felt comfortable with."
While he has speed, Kenny said that it's the horse's turning ability that helped him to the win. "He's really a talented horse. From (jumps) one to two, I did an inside turn that really was very difficult, but he has so much bounce off the ground, you can get really deep at the jumps and he just jumps even higher. I did the inside turn, and I think that's where I was faster, to be honest. Nobody else did it until McLain went last with Ashley. He tried to do it, and she just drifted a little bit on him. I went with my next horse and went around (the jump), and as I was going around, I was thinking to myself, 'Wow, this is definitely slower!'"
He added, "I turned back really tight to the double (combination) with the oxer jumping in, and he tried really, really hard. He didn't need to jump the back rail. He could have knocked it down, and it would have been my fault. He's a winner."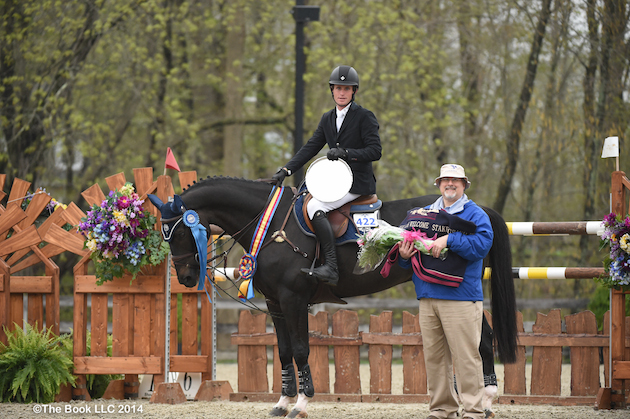 Darragh Kenny and Prof de La Roque collect their awards. Both photos ©The Book LLC
Kenny has built a solid business of his own recently, and he gave credit to the people at his farm as well as the owners who have supported him. "The staff that I have right now is amazing. I couldn't ask for better. The people that I have backing me are fantastic. The sport is so difficult anyways; it makes it so much easier to have people behind you that trust you and that let you do what you think is best," he said. "To have people that trust you and let you have that chance is amazing. I just try and do the horses justice."
Leslie Howard and Whistler, owned by Jane Clark, took home the win in the $7,500 Open Jumper 1.35m class this morning. They were the fastest of 40 entries in a time of 29.054 seconds in the jump-off. Brianne Goutal and Remarkable Farms LP's Mon Gamin were second in 31.661 seconds. Jeffery Welles and Prem' Dollar Boy, owned by Mary Kate Olsen, were third with a time of 31.708 seconds.
Old Salem Farm, located just one hour north of New York City, is one of the best equestrian competition venues in North America, as rated by the North American Riders Group in 2011, 2012 and 2013. Host of the Old Salem Farm Spring Horse Shows, the prestigious American Gold Cup CSI-W 4*, and year-round competitions, the facility offers a state-of-the-art turf grand prix field, indoor riding arena, and two all-weather footing rings. As a boarding and training facility, Old Salem Farm is second to none and home to top trainer Frank Madden. For more information, please visit www.oldsalemfarm.net or call 914-669-5610.