Today I retuned from six days on the road coaching the Stanford University collegiate equestrian team at the 2014 Intercollegiate Horse Show Association National Finals.
I have never been so hungry for so long in all of my life. As all of us who spend days/weeks/years at horse shows know, while we devote a ridiculous amount of time, money and labor to making sure our horses are fed the correct hay, exact amounts of grain, and combinations of supplements that would confuse a GNC salesman, I dare you to find me a single trainer at an 'A' rated show who is existing on anything more than a carrying case of lukewarm Starbucks and a couple of questionably-aged carrots from a pony rider's trunk.
None of this is helped when geography gets factored in. As any Californian knows, the epicenter of Horse Show USA is the East Coast. We could debate the fairness of this point ad nauseam, highlighting the legions of truly amazing trainers and riders who have sprung from our sunny ranks, but many greater horsemen than I have tried and failed. Geographically, we might as well be living in Guam when it comes to horse show scheduling. I have a hunch that they insist on hoarding the Indoor Finals because fall is the one season the East Coast can actually brag about. And, they've now stretched WEF to something like thirty-five weeks because New England in February is like living in an igloo on an iceberg with penguins.
Of course, this means that even college riding is also centered back East. To be fair, it takes most of the Louisiana Purchase to field the same number of collegiate riders as can be found on campuses in upstate New York. So, to find 100 show-quality hunt seat horses (with owners/schools willing to send them to a show, with a complete stranger riding them, for free), it's off to the East Coast we go. Perpetually.
There is the cross-country flight, followed by a multi-hour drive in a 12-passenger van in the middle of an apocalyptical rainstorm, because we get no funding from the University for travel and tickets into Harrisburg are too expensive. One year we flew in on a microscopic regional airline connection and the pilot of our aeronautic Mini Cooper managed to land by bouncing off the runway, taking off again, and trying again. I genuinely love all of my students, but I realized at that moment that I just wasn't ready to go out like that.
But I digress. Please forgive me, I'm still hungry, so it's hard to focus.
You can imagine how it goes: you load up a bunch of college students at the crack of dawn and head to the airport, assume none of them forgot their wallet or their GPA (it happens more often than you'd think), shuttle them onto a plane in a dozen middle seats right in the back by the bathroom, fly across the country, and end up at your destination well after dinner once the airline has tracked down the location of the last missing bag which, of course, has the tall boots of the one rider who is either a size 4.5 or 6'5".
So you scavenge, dumping all remaining power bars, granola and chewing gum into a pile, eat what you can before checking into a hotel, cramming four riders to a room with two beds about the size of a tack trunk and try to get some sleep because your wake-up call is at 5:00am, which is actually 2:00am as far as your body is concerned.
After said wake-up call, it's discovered that the "free continental breakfast" (i.e. six bruised bananas and some fruit loops) doesn't open until 6:00am because no one else is crazy enough to be up at 5:00am.
So off you go to the horse show to watch warm-ups, almost feeling sorry for your poor athletes, if you weren't so jealous that they immediately fell back asleep the moment they got in the van, even though it is only an 11 minute ride to the Farm Show Complex. Even coffee is out of the question, because that would require getting everyone up and out the door 15 minutes earlier for the detour (a deal breaker if ever there was one). Instead, you survive on willpower and hope.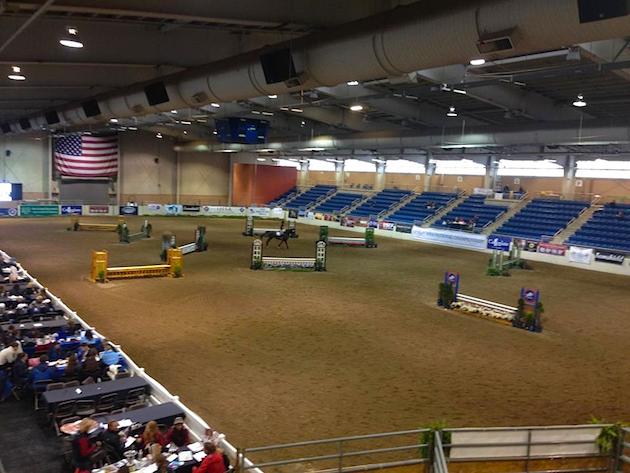 We arrived: the Farm Show Complex in Harrisburg, PA
While I know that the lives of collegiate coaches and professional trainers may have their differences, the physical, emotional, and gustatory taxation of a week(s) at "The Finals," whether they be Maclay or IHSA, are pretty darn close. Trainers have grooms, assistants, and working students, but I don't have horses to tend to on the road. One of the calling cards of collegiate riding is the idea that access to a quality horse should not be a limiting factor in a dedicated rider's success. That means the host school provides the horses, drawn by lottery, and all things are equal. Of course this creates as many issues as it solves given the fact that putting together 16 completely even mounts for any class is about as easy as finding 16 "perfect clients." Good luck with that. The five board members who take on this task deserve a Nobel Prize.
Still, fueled on PB&J and half a Snapple, with the clock edging towards 5:00am back on campus in California, my riders gave it their all and put down some great trips on these unfamiliar horses, competing against East Coast power house teams who had the advantage of drawing horses they knew (or even provided), in their own time zone. After what seemed like 17 hours we staggered outside, marveled at something bright in the sky that looked suspiciously like the sun, and drove 20 minutes to a Chipotle (the only restaurant in the universe that can reliably feed vegans, vegetarians, pescatarians, and the seemingly endless varieties of students represented at a California school) and ravenously devoured burritos like they were the last food source on earth.
We made it back to the hotel in time to proctor half a dozen midterms in subjects that contained a suspicious number of Greek letters while my stomach questioned why we had eaten "lunch" so late, before angrily protesting again at 9:00pm EST when it felt it was time for "real" dinner and I tried once again to explain that it was time for bed.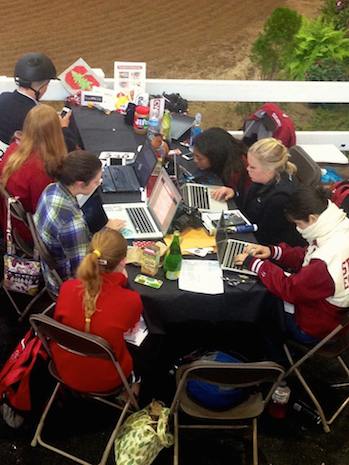 We also studied ringside. Stanford midterms wait for no man (or rider.)
Lather. Rinse. Repeat. We did this again for five more days. Maybe it was more. I really don't know. We're all guilty at times of complaining that our students forget to give us our due, but my students are "givers." So I shouldn't have been surprised when I woke up the second morning with the Harrisburg Death Plague. It isn't important which student gave it to me, but I know exactly who it was, and she's super nice. So I will feel at least a little bad when I take away her stirrups for the rest of her college career. Still, when I stole an entire box of Kleenex from the bathroom and muttered her name under my breath as I blew my nose every three minutes, there was little comfort in knowing that she was about as miserable as I was, compounded as I started to hear the telltale sniffle from one teammate and then another. Because teammates share everything.
Needless to say, you get a little less hungry when you've lost your sense of smell. Or have a fever. But somehow we made it through. While we didn't win, there were victories. Like when my Open rider, who has worked so tirelessly, put in a ride so beautiful that her 3rd place finish made me swell with pride. Or when our Walk Trotter finished 4th after showing for the first time ever in January, and our whole team was there to hug her. Or when someone brought me Afrin, some chicken noodle soup, and let me nap for 20 minutes on the floor of a storage room clutching a bottle of Gatorade. It's the little things.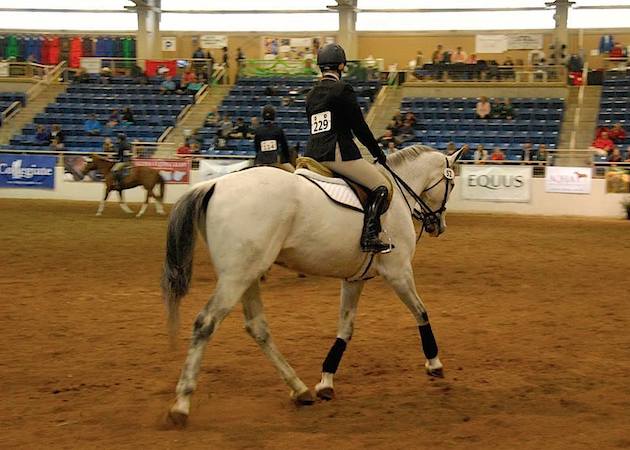 Stanford rider Claire Margolis in the flat.
We started out with the makings of a Cinderella Story: we were competing in the historic Farm Show Arena in Harrisburg for the third time in my tenure at the helm after winning the Reserve National Championship there in 2006 and 2013 (thrilling experiences, even if I have had to explain to my boss – not the least bit a horse person – that "reserve" does indeed still mean "second").
But horse showing isn't a Disney movie, and as much as it would have made a much better Hollywood ending to have overcome the odds and pulled out the win, Centenary College won the Collegiate Cup this year. They deserved it. With 75 riders who are all Equine Science majors, they spend countless hours every day in the barn with their 100 horses under the amazing coaching of Michael Dowling and Heather Clark. On top of it all, they exhibited exemplary sportsmanship and were so nice to our entire team. One of them even offered me bacon on the last morning.
The truth is that being part of a team, any team, but especially a collegiate riding team, has its challenges, and the road to the Finals rides like the third round of the World Cup. Out of 425 teams across the country, split into 38 regions and 8 zones, we had to win the most points in our region, then best the top teams from every region in our zone. To win a horse show, you have to field a team of at least eight riders, sorted into levels from Open to Intermediate to Novice to Walk Trot. You have to be able to find students at your college who A) want to ride and, B) are eligible in a division you need. You have to figure out how to schedule extra practices around classes and work, convince professors to let students take Physics midterms in hotels, work out extensively redundant 1:45am PST wake-up calls for days on end, devise a means to assess 100 unfamiliar horses without ever sitting on them, have amazing luck in your draw, provide just what the judges are looking for, and somehow muster up the finest few minutes of riding of your life—and then hope that your other seven teammates can do likewise.
The hunger, the fatigue, and even the flu made me even more appreciative of my riders. It's easy to be positive when you're winning, but it was moving to see them so kind and supportive, cheering for their favorite riders on other teams after they drew a horse that had trouble changing leads and knew their hopes of a win were dashed. They hugged their teammates and our six "fans" (the brave few parents and alumni who sat for days in the stands) regardless of the ribbon. Exhausted, bleary-eyed, and clutching their own boxes of tissues, my athletes were not defeated. Instead, they were telling funny stories about their earliest memories of riding, laughing until they cried, and just enjoying being there, together on their last night.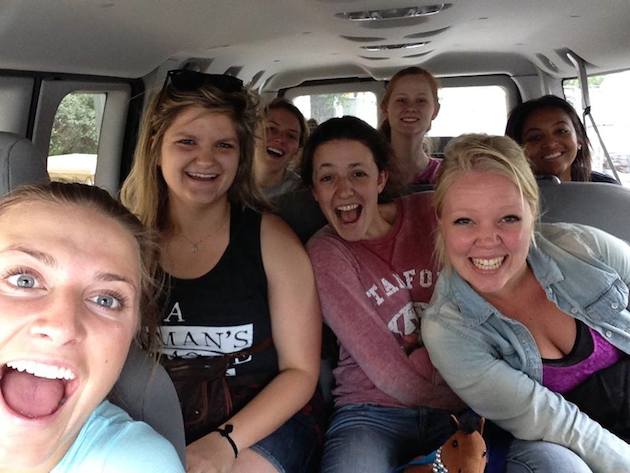 We even enjoyed the van ride.
After missing three earlier flights, being delayed on the tarmac, and once again being relegated to every middle seat on the back of the plane, we all slept our way back to SFO. As we claimed our luggage and I said goodbye to them all, one of my riders said, "Thanks for everything. I can't wait for next year!" As I looked at her, marveling at her resiliency she added, "Well, not right now. But by next year, I'll be ready to do this all over again!" And if you give me a big steak, 14 hours of sleep in my own bed, and a little alone time, I will be too.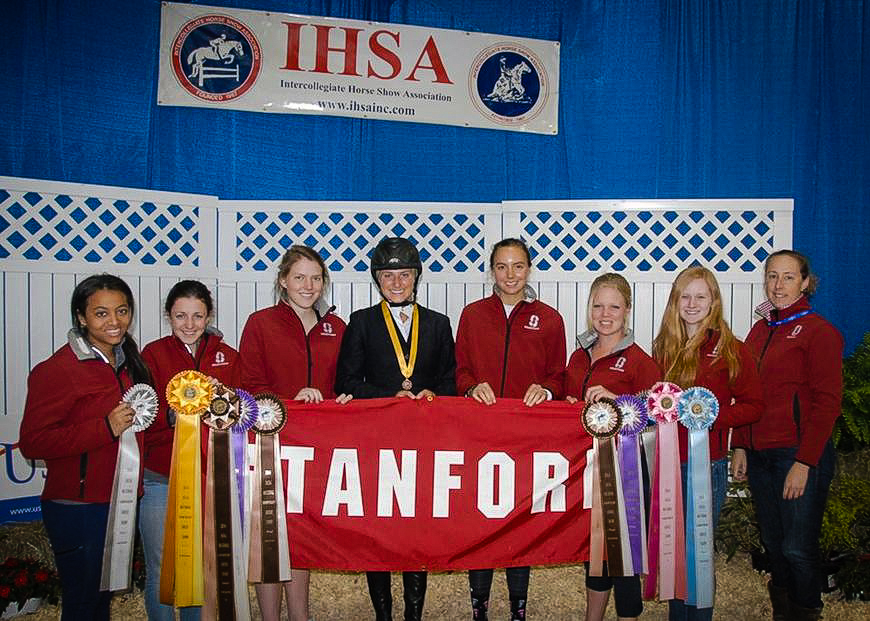 The team with their 2014 IHSA Nationals haul. That's me on the right, still standing! 
-During her tenure as Executive Director and Head Coach of the Stanford Equestrian Team, Vanessa Bartsch has coached her students to eight consecutive Regional Championships, Top-Ten National Championship finishes, and was awarded the IHSA Coaches Award in 2006. When she's not searching for food on the road, she's enjoying life in Palo Alto, CA, where she lives with her husband, who is a willing participant in her ongoing search for the perfect lobster roll.