It was an evening in 2012 when it happened. Cindy Gellerson and a friend were finishing up a night trail ride and were returning to Sunset Ranch, the iconic barn nestled into the Hollywood Hills in Los Angeles, CA. Suddenly, the horses spooked underneath them. "The other horse spun and my horse lost her footing at the edge of a cliff and she and I fell down the hill," Gellerson says.
"When I hit the bottom of the hill, facing upward, I saw her falling toward me in slow motion. Then she hit me. She wasn't injured—she had a soft landing! And she just stood with me until my friend could walk down to us."
Neither of the two riders were carrying cellphones, and her unharmed friend had to head back to the ranch to find help. Meanwhile, as Gellerson lay in the darkness waiting, she found inspiration, not fear. "I was past the point of being afraid," she explains. "I was just laying there, looking at the dark night, thinking it was beautiful."
A broken back and a couple of broken ribs couldn't stop Gellerson from creating, rather than lamenting. From her hospital bed, she sketched out a design for a speed pouch. The small leather bag would hang on all saddles (of the various riding disciplines) to hold cellphones so that future riders wouldn't be in the same precarious position that she found herself earlier that night.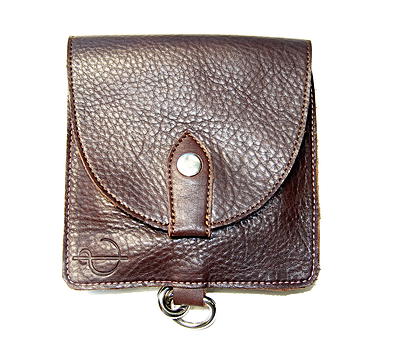 The B.i.t.s. Speed Pouch
Those of lesser ilk may have called it quits on the whole range of equestrian pursuits, but Gellerson refused to give up. "I literally couldn't wait to get back in the saddle," she says. And once her bones mended, she was back at it on the very same horse from that fateful night.
"She and I actually developed a trust from that fall. The first ride back, I do think she was upset with me—as though she was saying that I let her down in some way. But each ride after, our bond grew stronger to a point where it surpassed our trust before the accident."
Gellerson's friend (the very one who witnessed the big tumble) sent her photos of that first ride back, titling them "Back in the Saddle." And so her brand B.i.t.s., Back in the Saddle, was born.
A Girl Who wasn't Afraid to Dream
"I always loved horses," Gellerson says. "When I was a little girl, I would imagine my bike was a horse." But riding was a luxury in former East Germany, where Gellerson was born and raised. Eventually, at age 15, Gellerson started taking lessons with her mom. Her mom didn't continue, complaining to Gellerson's father after their first lesson, "I can't believe I paid for this pain!" But Gellerson did. She rode her bike to the barn almost every day and mucked out stalls to help pay for lessons.
"At that barn [and in that time's culture], if you fell off your horse, you would have to bring champagne the next day," Gellerson remembers with a laugh.
Growing up during the Cold War period, there wasn't much variety in the clothing and fashion that were available. "East Germany was so limited. My mom and my grandma were sewing a lot. Whatever my siblings and I wanted, she would try to make it. I would have visions and tell her. I loved to draw, that came from my dad. He was an amazing artist and a technical drawer [by trade]."
Another influence from growing up behind the Iron Curtain was that Russian was Gellerson's second language. So once the regime fell and Germany was reunified, she headed to Los Angeles to learn English and study fashion computer design. In her senior year at the California Design College (now known as the L.A. Art Institute), she found work as an assistant designer for the junior's line at Swatfame, a fashion manufacturing company.
"I fell in love with L.A. and its approach to life. In Germany, people would always ask me, 'Why design?' Here, nobody asked that. Here, everyone said, 'Sure! Why not?'"
When the opportunity arose to intern for Dior in Paris, France Gellerson packed and left for the city of lights. But when she arrived, the woman who had hired her had left the company and Gellerson was out of a spot at the luxury brand. Instead, she freelanced for fashion boutiques, and learned a major professional lesson along the way: to never give away designs without being paid.
Gellerson pieced together enough money to return to Los Angeles, and eventually went to work for YMI Jeans as an assistant designer. It was the owner and VP of YMI who encouraged her to follow her visions and to start her own business. In 2009, Gellerson and her husband launched Bagstil, a handbag and accessories brand made completely in California.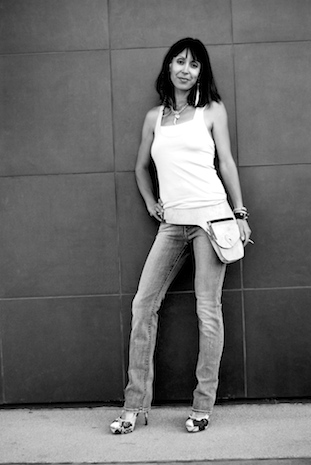 Gellerson models one of her designs.
The Equestrian Thread that Ties
Sunset Ranch and its miles of trails were Gellerson's riding outlet even from her earliest days in L.A. But while she poured her efforts into launching her career in fashion and design, she placed her horse activities on hold. It wasn't until Bagstil was progressing nicely that she returned to riding. "In 2011, I met a lady who had a horse at Sunset Ranch, and she brought me back to horseback riding," Gellerson says.
"After that first ride back, I realized that I didn't want to stop horseback riding ever again."
After the accident, Gellerson contemplated purchasing her trail-riding companion. But while she was resting after re-fracturing her ribs from a fall down the stairs, the owner had moved the horse to a different barn. Never wanting to feel the same pain again of losing a treasured and trusted mount, Gellerson – with the help of her two children (ages 7 and 4) – bought a red dun Quarter Horse mare named June to call her family's own.
"My horse is my inspiration," Gellerson says. "The B.i.t.s. JR Equestrian Bag is named after her and then I designed the JR Messenger Mini once we found out she was pregnant."
The production of B.i.t.s. is done by the same factory that manufactures Bagstil. But while her first brand met resistance in infiltrating the higher end market, the equestrian angle of B.i.t.s. helped the brand gain entry into boutiques (of both horse and non-horse persuasions).
"L.A. Saddlery picked the line up right away and really helped spread the word. At first, I wasn't sure if my designs would sell because equestrian fashion is so much about tradition. But the products actually sell really well. Even a menswear store in Downtown L.A. picked up the horsebit keychains.
The B.i.t.s. collection may not be conventional, but the designs are based on timeless aspects from the equestrian lifestyle. For example, the holster bag was inspired by an old Western gun holster. And the intricate details on the cuffs and belt are fashioned after bits, stirrups, and other tack.
"I noticed and liked the tightness from horse boots, which is what inspired the tightness of the cuffs—it's also good for riding," Gellerson notes.
It's the time spent around the horses that influences Gellerson the most. And whatever the experience, she can magically transform her knowledge into art. Wearing the B.i.t.s. collection is like wearing a piece of Gellerson's strength and history. From the Cold War to the Hollywood Hills, there's beauty in it all.
This article was originally published in the April/May 2014 issue of Horse & Style Magazine. Read the entire issue online RIGHT HERE!