An American living outside Paris, France is the unofficial godmother to Nougat du Vallet, Katie Dinan's phenomenal show jumper.
Petite with a pixie hair cut, 57-year-old Sandy Kofmehl trained and competed Nougat de Vallet, better known as "NuNu" in the stable, to great success over five years in France before McLain and Barney Ward spotted the horse in 2011 as a prospect for Dinan, their then-client.
NuNu's journey began when he was born on a cow farm and failed to sell at a horse auction because he jumped poorly in the free jumping portion of the auction. Sandy cleverly purchased the Selle Francis by Scherif D'Elle x Jalisco B after the auction and took the initial training phases in stride with the hot, spooky youngster who was very difficult to ride. But she persevered and was rewarded several years later when he demonstrated enough talent to compete successfully at 1.50m with Sandy in the irons. From that moment on the phone started ringing with offers.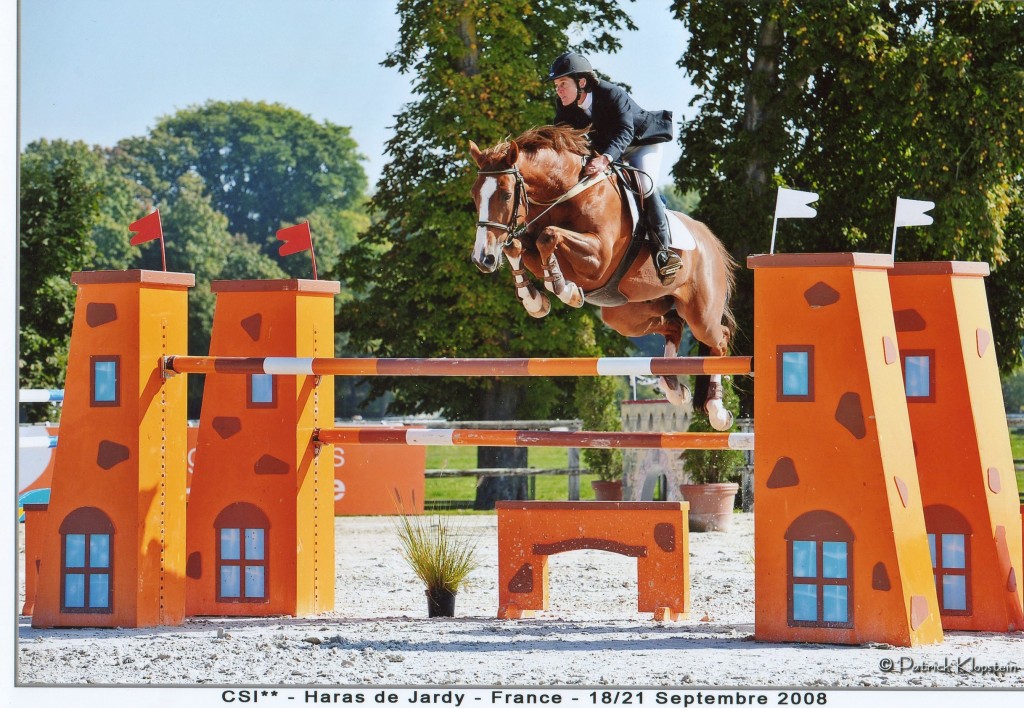 Sandy competing Nougat du Vallet, here and above, in France
Her quiet manner belies the inner strength and discipline that has garnered Sandy the respect of top French breeders and trainers, including that of her husband, French horsebroker Ludovic Pignon. Sandy and Ludovic met when Sandy was a student at the American University in Paris, and their mutual passion for all things equestrian have kept them together ever since. Ludovic's father ran a boarding and lesson stable and Sandy and Ludovic have carried on the family business with a commercial stable just outside of Paris
In addition, they have a private training facility for Sandy's prospects on the farm where they live in a secluded forested area in Lamblore, France, near Verneuil-sur-Avre. They work closely with the surrounding farmers, processing their own grain for the horses and hosting a local show jumping competition on their farm in the summer.
The menagerie on the farm includes an exotic sulpher crested cockatoo, rare species of hens and a proprietary rooster, companion dogs and more than 40 horses. The Norman stables once belonged to a nobleman's chateau, and the romantic, patinated hand hewn stone walls complete with espalliered Anjou pears is the setting for a love story worthy of a movie.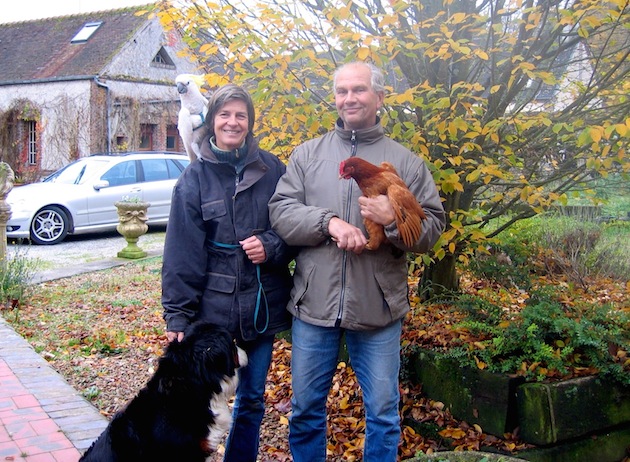 Sandy, Ludovic, and the menagerie
Discovering NuNu
Sandy remembers Barney Ward coming to her farm to preview Nougat du Vallet, later Katie and McLain came to try the horse and purchased him (Katie now trains with Swiss rider Beat Mandli.)
Katie graciously credits Sandy for  her amazing horse. "She did an amazing job bringing him up, and by the beginning of 2011, was jumping him in some 1.50 classes in France when we heard about him," she recounts. "She took her time with him, and he was never rushed up the ranks. She really produced a horse that was very confident and also very trusting of his rider."
Katie was looking for a horse that could be competitive at the grand prix level; she'd  always dreamed of competing on the U.S. Team, and in the past two years, NuNu has helped that dream come true. Katie has had the opportunity to compete on Nations Cup Teams and at World Cup Finals, and through it all, she's kept in touch with Sandy, always making sure to update her on NuNu.
Partly French
As a child, Sandy moved every two years to a new location with her family. Her father, an executive at IBM, was eventually assigned to Paris and they relocated. She had a truncated background of horse showing as a young girl in the U.S. and has tremendous respect for the American style of riding.
When asked about the differences between French training and American training, she credits d'Equipe George Morris for indoctrinating a generation of American riders. His emphasis on equitation created a fluid style of riding and has produced an extremely talented field of upcoming American young riders as personified by Katie amongst others. "The French riders have only the jumper division and tend not to have coaches or trainers, so they flounder after they reach a certain level," observes Sandy.
Sandy has other jumper prospects at her farm, all of which meet her very specific criteria in prospects, starting with conformation, suppleness, free jumping form and attitude. She and Ludovic work as a team; he often does the groundwork and she does the mounted training.  Each horse was started methodically, has a competition record, and has had time off before the show season starts up again. Sandy and Ludovic do all the work on the farm and trailer the horses to the shows themselves.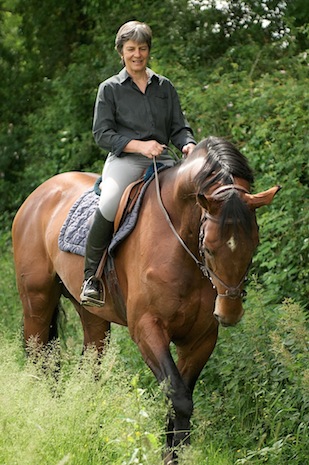 Sandy riding at home on the farm
Their formula for success includes complete autonomy; "own" your facility, "own" your horses and train them yourself. This is her way of avoiding the politics of a horse or ride being pulled as we have seen in the recent rash of  "musical chairs"; changing riders, changing horses, and changing trainers at the upper level of the sport.
Of the current state of horse sales in Europe and the exorbitantly high prices, Sandy says that the "known" super good show jumpers in France, indeed in all of Europe, are no longer affordable and the unknown prospects are too affordable. In other word just as in the U.S., there is a pricing chasm with no middle ground that grows larger every day.
We can look for three of their young talents in the months to come:
Zacopane is 9-year-old Dutch 1.50m horse, a large stallion. Escudee by Escudo, is a 7 year old ebony 1.30m horse with a German pedigree. He is a prospect that Sandy says is exceptionally talented and intuitive. Her third young hope is Rafale, an 8 year old chestnut Selle Francais 1.40m mare. They take great pride in watching their prospects come along, all the while monitoring super star NuNu's international accomplishments with Katie.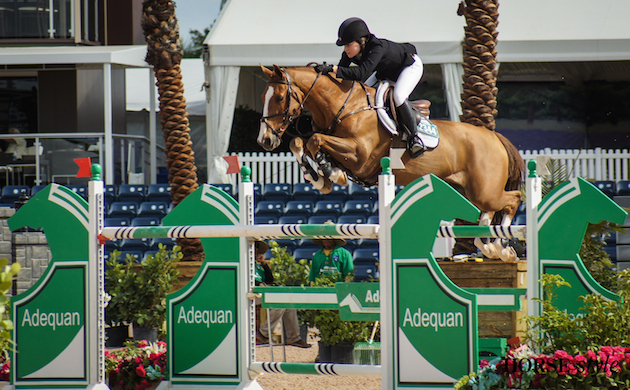 Dinan and NuNu, competing at FTI WEF in 2014.
"NuNu is the best competition partner — he always tries his heart out and is such a smart horse," Dinan adds. "He has been the most amazing horse and has allowed me to realize many of my show jumping dreams."
 -By Winter Hoffman