Alexandra Crown is poised for next level success
Most teenagers only dream of visiting an elegant castle in France. But in 2013, 18-year-old Alexandra Crown got to show jump at one! The seductive Château de Chantilly, complete with verdant emerald grass field and moat, serves as the setting and backdrop to the very prestigious Global Champions Tour, which hosts a phase of its annual tour there every July.
Last summer, Crown made an impressive international debut at Chantilly, winning the CSI1* circuit on Soul Sister, her 11-year-old Dutch mare by Gentleman. It was an accomplishment, and a moment that Crown won't soon forget.
Crown trains with célèbre superstar Kent Farrington, currently one of four riders short-listed for the 2014 Alltech FEI World Equestrian Games, to be held this summer in Normandy, France. Crown can thank Farrington for providing her with an instruction manual for international success.
If her parents ever doubted her dedication to show jumping, Crown has assuaged them with her enthusiasm for the sport, and focus on continuously reaching for higher goals. It doesn't hurt that her grandfather Lester Crown, part owner of the Chicago Bulls and a great sports enthusiast, as well as a venerated industrialist and philanthropist, is one of her biggest supporters. As President and General Manager of General Dynamics, he is revered in the world of business and politics, as was Crown's maternal grandfather, Bertram Podell, a three-term New York congressman. She credits Lester and his mandate to "find a passion and use it to give back to the world" as her inspiration to become a JustWorld International Ambassador. All JustWorld Ambassadors donate a portion of their prize money back to the organization to assist causes in developing counties around the world.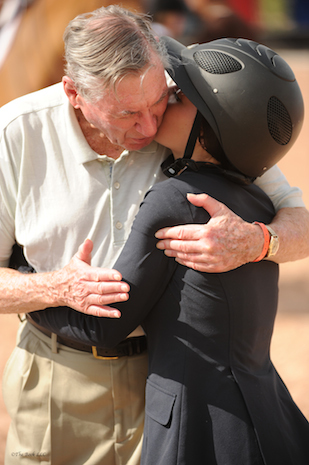 Crown and her grandfather, Lester Crown.
Fitness Beyond the Barn
According to Crown, her family was never a very "horsey" family. The Manhattan resident was introduced to riding at a lesson barn in Easton, CT, only showing for fun in schooling shows. Her first "show"trainer, Suzanne Fisher at Tashua Farms, provided a great introduction into the world of competitive riding and built up Crown's confidence.
Later, Crown trained at Rivers Edge Farm with Scott Stewart and Ken Berkley. To make her a stronger rider, Berkley emphasized personal fitness and Crown rarely saw her stirrups, which would later benefit her greatly in the ring.
Fitness is an ongoing theme with the ever-nimble Farrington. It was humorously revealed that he entertains the children of well-known grand prix rider Jimmy Torano by walking up and down the stairs on his hands. As a trainer, Farrington is very tough and demands excellence, but in a very subdued manner. In December 2013, Crown purchased Zafira, one of Kent's top show jumpers, with whom he won the 2013 $250,000 FTI Consulting Hampton Classic Grand Prix WCQ. It's with this nine-year-old Belgian mare by Nassau that Crown hopes to move-up to the grand prix level. After riding Zafira for three years, Farrington knew that she would be an ideal match for Crown, and her experience in the bigger classes would be very helpful to Crown as she moves up.
Zafira was actually the first horse Crown ever rode at Farrington's stable. During her first day training with him last May, her horses hadn't arrived yet, so he let Crown flat the mare. She remembers feeling so excited to be able to ride one of his top horses – little did she know that she would one day own Zafira.
Crown is truly blessed -and she knows it- to not only have the opportunity to own a mare like Zafira, but to have a full string of top quality show jumpers behind her. With half a dozen horses that range from competitive jumpers in the lows, mediums and highs to a younger prospect currently showing with Farrington, each of Crown's horses teach her something, and improve her skills in the saddle.
"I have had Star, a 10-year-old Hanoverian by Stakkato, the longest," says Crown. "We purchased him during WEF in 2012, when he was doing the young horse classes with Margie Engle. He is truly a freak of nature, I don't think I will ever ride a more careful horse. I was fairly new to the jumpers when I got him, but he took great care of me!"
Sticking to the Plan
Currently a senior in high school, Crown attends the Professional Children's School in New York City, which is designed for students who need to have a flexible schedule.
PCS' guided study program accommodates extended absences, and works hand-in-hand with Private Tutoring Services in Wellington, Florida during the winter season. PCS sends Private Tutoring Services Crown's course work and exams so the Crown never falls behind in her schoolwork.
Altogether, it is a lot of work, and it took a while for Crown to learn how to balance both school and riding. Crown has a schedule that is enviable for any rider, her age or otherwise; on weekdays she rides her horses in the morning and then goes to school in the evenings.
With seven horses to ride per day, and gym sessions three to four days a week, Crown's days are very active, but that's the way she likes it. She's always prepared for the rigorous schedule of back-to-back showing and riding on the weekends.
She usually flats her horses in the morning and heads to the show for the rest of the day. Depending on that day's schedule, she may go back and forth to the barn to ride some others. When she finishes riding, she tries to watch as many of the professional classes she can. Farrington is helping to make her goal of competing internationally at five-star shows a reality, and she takes all of his advice to heart. She is working on trusting her eye more, and Farrington has stressed the importance of making a plan and sticking to it.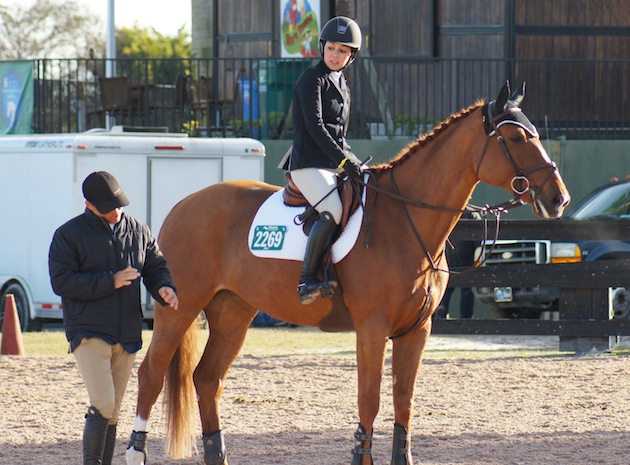 Crown listens to her coach in the warmup at WEF
"I watch all of the professional classes that I can, I go to the schooling ring and watch the riders warm up or watch live feeds of big grand prix classes if I can't be somewhere in person. You can learn so much from just watching," she explains, and astutely adds, "competing in the jumpers has been the most beneficial to my riding. It forces me to make quick and definite decisions."
That winning playbook of fitness, focus, and fearlessness is paying-off for Crown.
With the solid support of the Crown dynasty, and the stellar coaching skills of Farrington, her decisions will continue to payoff. Poised for a successful debut in the grand prix ring, the odds are high that Crown will be making a return trip to Chantilly one day – tackling greater heights all the while.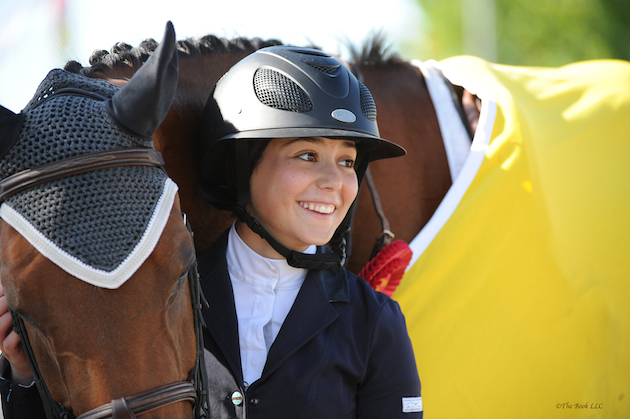 -Article by Winter Hoffman
This article was originally published in the Apr/May 2014 issue of Horse & Style Magazine. CLICK HERE to read the entire issue online!