You can't help but do a full stop, double take when this pair gallops into the ring. After all, it's not every day that a horse takes on a course, no less a grand prix wearing a . . . halter.
That's right, a halter. When I saw that during Saturday's $10,000 BayFest Grand Prix in Woodside, CA, I had to find out the reason behind this very unusual choice of tack.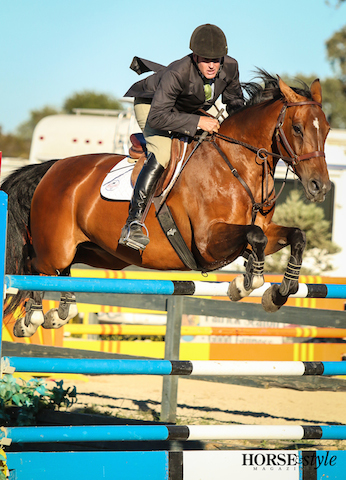 Kelly McKnight guides Zan Chin out of the grob combination during the $10,000 BayFest Grand Prix.
When Kelly McKnight found Zan Chin while on a shopping trip in Ireland two years ago, he knew she was a sensitive mare. The now nine-year-old Dutch Warmblood mare with Chin Chin bloodlines was being ridden in a hackamore when he tried her, and once he got her home to his McFarm in Pescadero, California, McKnight experimented with different bridles to see what the mare would be most comfortable with.
"Ever since I got her, I tried pretty much everything," McKnight says. "And everything was pretty sharp (for her), no matter what I used. I tried the hackamore, then I put her back in a bridle for awhile."
Then, McKnight watched video of himself and Zan Chin in a derby – and really noticed the mare's constant head tossing, even with the hackamore.
"I said to myself, that's too much, that's too sharp, I need less," he adds. "So I started to play around with the halter, and she liked it a lot better, and with it, I seemed to get an extra ten centimeters out of her jump."
After a few successful schools at home, McKnight took Zan Chin to the Sonoma Horse Park early in the season, and had success there in the 1.40m division. That inspired him to enter the $10,000 BayFest Grand Prix during the Bay Area Summer Festival, at the Woodside Horse Park in Woodside. The 1.35m grand prix is notable for its use of natural obstacles; a berm, down bank, grob, and water jump as the final fence in the first round were all part of the course.
Zan Chin's halter has reins securely attached to the brass squares on each side, and a leather browband to help hold everything in place. It's clear that McKnight is having fun with the hot, handy mare, and he gratefully credits owner Jane Hind with allowing him to make choices in Zan Chin's training that, while perhaps unconventional, are in the best interests of the horse.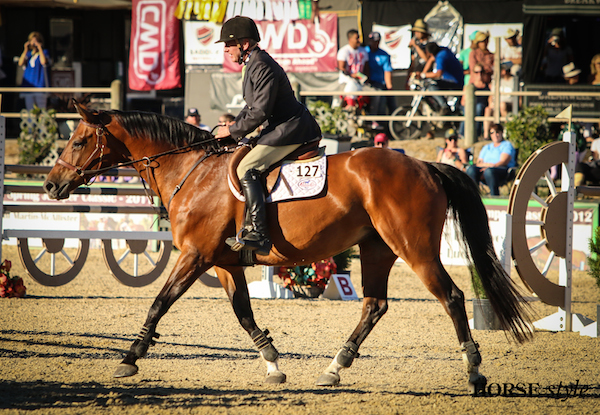 Zan Chin and McKnight trot out of the ring after a successful round
So, what's next? Will we be seeing more of Zan Chin and her halter in the grand prix ring? Perhaps, says McKnight. "I do want to differentiate it a bit," he explains. "I don't want her to just go in a halter, so I school her in a plain snaffle. We'll keep banging away at this for now, anything under a 1.40m, speed-horse kind of class."
So keep your camera ready the next time you see this horse on an entry list. Jumping a 1.40m course with the control of just a halter is a lesson in communication between horse and rider that is wholly inspiring. Well played, Mr. Mc Night, well played.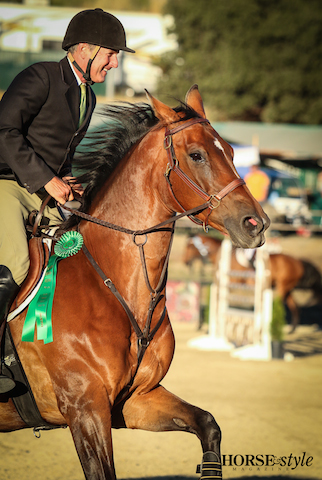 Circling the arena for the victory gallop after placing 8th in the BayFest Grand Prix