"They look like two little tanks."
That description accompanied a very good hunter round I had just completed on a stallion pony I was catch riding at the Carousel Horse Show, in Antioch, CA in the mid 1990s. That line, written on the judge's card, made it no big mystery as to why I placed second to the other rider, who had chipped a few fences. I was 13 years old, 5'2″, and if I remember correctly, around 135lbs. I wasn't a skinny kid, but I wasn't exactly obese either.
All the same, those were some fairly scathing words (coming from the judge, no less!) and they reinforced the notion that riding was all about how you look. It was clear that I would rarely beat other riders in the hunter ring because of my "look." Thankfully, I loved to ride, so I kept going, and kept enjoying my burritos.
It is almost impossible to know where to start a story like this. Do I start with my own family's chronic struggles with weight? Or when I was finally in great shape, only to have a major fall and spend eight months on my butt, wherein I discovered a love of video gaming and Ben & Jerry's.  I think perhaps, the best place to start is where it ended. Recently, I attended a mini-family reunion and by no exaggeration and to be quite blunt, I was easily the fattest person in the room. That was my mental turning point, and the wheels began turning…
I have known for a long time that I needed to get rid of my extra weight. But there was always a reason why I couldn't. Busy. Work. Kid. A friend told me there was no reason I couldn't set aside an hour everyday for myself to get healthy, but why go out and sweat when I could stay right on my couch and read the news?
I never meant to stop riding. I had a moderately successful junior career. I regularly placed second to the better-known juniors in my area, including Hope Glynn (then Hobday) and others. I grew up on my family's Thoroughbred farm, and ponies were always available to me. Of course, growing up all I wanted to ride were my mom's young Thoroughbreds, and I finally got the chance with Mr. Bill, a wonderful, sweet TB gelding. I had a ball with him in the low hunters, but part way through my senior year of high school we lost him to a pasture accident. It was a bad time to start over again with a new horse, so I decided to focus my energy on what I was really good at: art and design.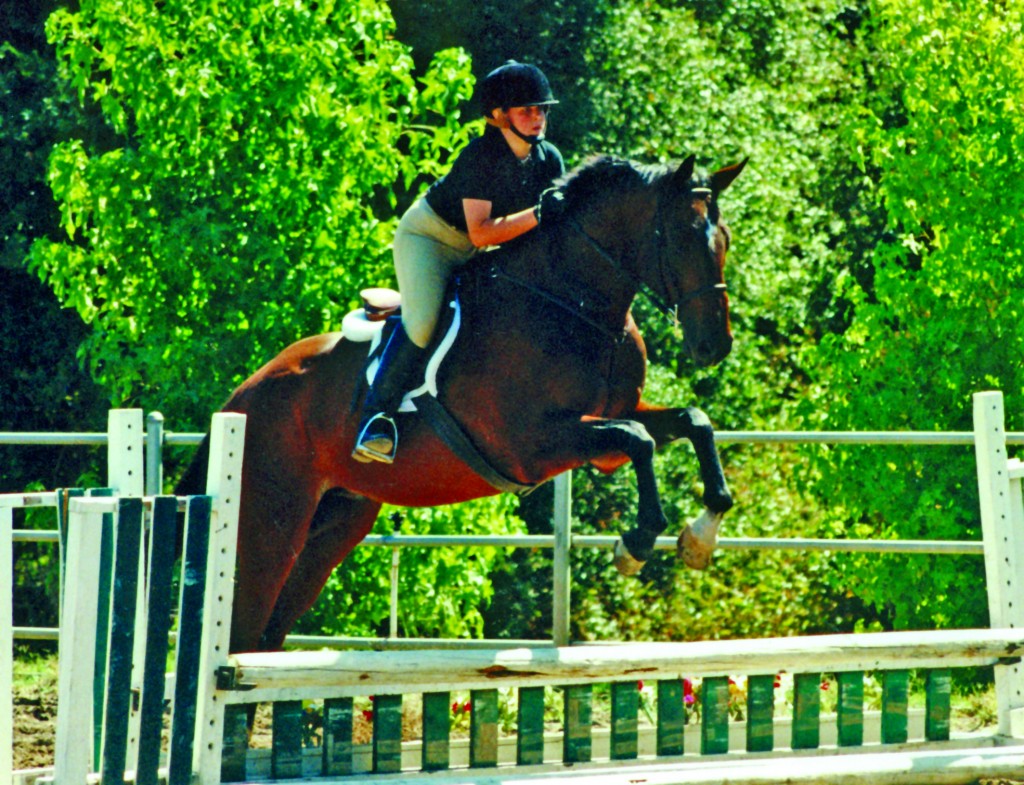 Mr. Bill and I showing in Sacramento, CA when I was 15 years old. 
Fast forward ten or so years. I haven't ridden on a regular basis since I was in my early 20s. It's one of the things I miss the most in the world. But at my present weight of 235 pounds, and height of 5'2" I would be far from comfortable in a pair of breeches and tall boots. I know my center of balance is skewed, my stamina is shot, and the idea of trotting in general makes my calves cry. But I want to get back to a body frame that will allow me to chase after my 3-year-old daughter without getting winded after 10 steps. And one that will allow me to get back in the saddle, after too many non-riding years.
So here I am, on the fitness trail in a big way, and with an even bigger dose of accountability. Not only because I've chosen to chronicle my journey here on horseandstylemag.com. I've also got an acounntabilitibuddy, a fellow rider and friend, Erin Critz. Erin is a three-day event rider, and writer for EventingNation.com. She too wants to get down to a trimmer, fitter frame to further her abilities on horseback. I approached her a few weeks ago, having known her from her hunter jumper days when I worked at the shows she was riding at. We live close to each other in Northern California, and I threw out the idea of starting this path together. Thankfully, she is up for it, and we'll be co-blogging our respective progress, me here on Horse & Style online, and her over on EN. Check out her first post here. Having someone along for the ride means everything!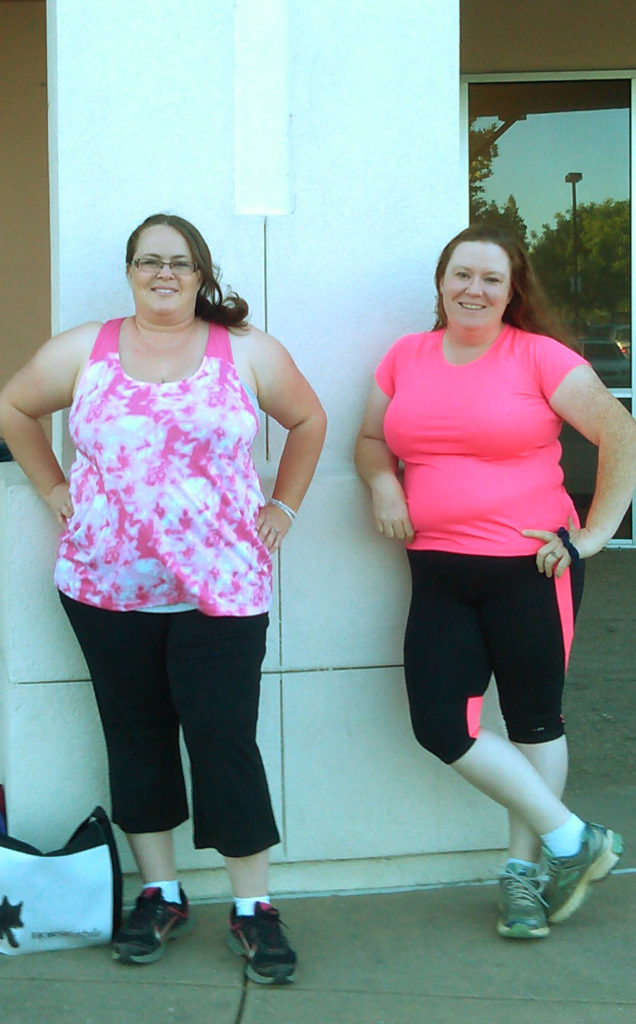 Consider this the "before" picture. That's me on the left, Erin Critz on the right. We're outside California Family Fitness in Elk Grove, CA, our new second home.
It is not that myriad friends and family haven't told me for years that I should try shedding some weight. But anyone with some extra weight can attest that it doesn't matter how many times you are told that you are too fat and unhealthy; if you don't care about the accountability, and the consequences of that extra weight, you'll just keep carrying it around.
So, herein marks the beginning of a fitness blog in which failure is not an option. Today only marks Day 15, but so far, I've lost seven pounds. A combination of weight training, cycling and miles on the treadmill have done wonders to get the ball rolling in the right direction.
The time has come for me to care. I am missing out on fun hikes, being comfortable in a pool, sailing with my friends, riding horses, and being a good example for my daughter. This time, it will work.