[Traverse City, MI] Although Scott Stewart is temporarily grounded after breaking his collarbone last week, his absence provided a unique opportunity for Amanda Derbyshire during Horse Shows by the Bay Series II, July 9-13.
Derbyshire, 25, a grand prix jumper rider from Leyland, Lancashire, England–who rides and trains for the Gochman family–had competed here and there in a hunter class, but before Horse Shows by the Bay she'd never competed in the Regular Conformation section.
Aboard David Gochman's Fredrick, pictured above, she claimed both blue ribbons over fences and won the under saddle. Fredrick also topped the model on his way to a sweep today in the section, sponsored by Black Star Farms & Winery.
"I'm a jumper girl! It's nice when you get to do a horse as nice as that. He's fun, so smooth and nice. I'm glad they gave me the chance to do him," she said.
Derbyshire took over Fredrick's reins during the second day of competition last week after Stewart's injury, and she had an instant rapport with the 10-year-old Belgian Warmblood (by Coluer Rouge).
"I've done the kids' hunters a couple of times, and I did a little hunter derby in Saratoga [New York] one time," she said. "This is the first full hunter section I've ever done."
When asked if she might be a convert to the hunters, Derbyshire smiled. "I guess doing both is fun," she said. "Becky just got this beautiful new horse, and he's amazing. I'm glad I got to have a go.
"I guess I kind of like it," she continued. "It's different. What I really love is the ponies; they're my favorite. Now, if I get to show in this once in a while, I'll be happy."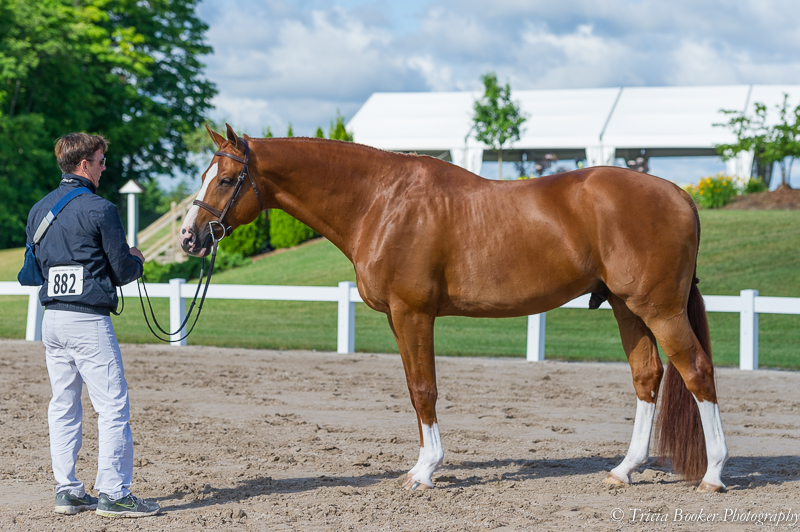 Stewart admirably handled Frederick in the jog – in sling and all!
Greg Crolick, of Top Call LLC in Auburn Hills, Michigan, was also happy today. He piloted two new horses to top calls in the High Performance/Second Year Green Hunter section, sponsored by Missy and Doug Smith and Top Call LLC.
Aboard Zack RVR, owned by Apollo BM Enterprises LLC, he jumped to victory in both over fences classes with scores of 86 and 85, and with Adrienne Marciano's Aeroplane, he claimed second and third.
"[Zack RVR] is a lovely horse," said Crolick. "I've had him now for 3 ½ weeks. I have a client who leased him for last week and this week, so this was my second time showing him. I saw him do a derby in Kentucky, and he was brave and honest, which is just what we wanted."
Crolick's student will also show Zack RVR this week in the Children's Hunter section, and if all goes according to plan the 10-year-old Dutch Warmblood will become a member of the Top Call family.
Aeroplane, an 8-year-old Hanoverian (by Embassy), is a newcomer to the hunter ring and to Top Call LLC.
"This is my second show with him," said Crolick. "I got him from a friend of mine in Pennsylvania. He was doing the jumpers, being a low to medium amateur jumper. He's really big and he moves really well, and he really wants to be a hunter. So, last week was my first week with him. He definitely wants to be a derby horse."
Aeroplane earned scores in the low to mid-80s in the Regular Conformation and High Performance/Second Years today, becoming more consistent as the day progressed.
"This is his second week of being a hunter, so he's still trying to figure out the whole job and how not to go fast and how not to be in a jump-off," said Crolick laughing. "But he does the job easy, and he'll figure it out. Once he takes a big deep breath, he'll be even better."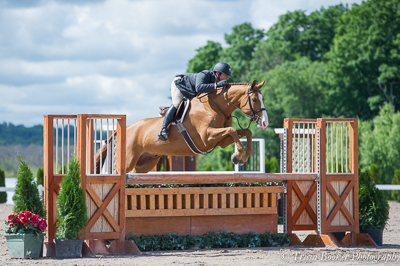 Greg Crolick and Revival
Crolick also guided Orchard Lake Farm LLC's Revival to first and second places over fences in the First Year Green section, for a very successful day.
For daily updates and photos, visit the Horse Shows by the Bay Facebook Page.