By and large, horse people are dog people too. For most riders, no barn is complete without a loyal dog for companionship and comfort. Dog overpopulation around the world is a true tragedy, and every single canine out there deserves a loving, secure home for life.
So believes longtime Southern California horseperson Cece Bloum, who has been actively involved in rescuing at-risk dogs in her spare time, since her retirement from training at her show barn, Newmarket Farm, in 2010. Being an animal lover and advocate for animal welfare, she recently founded Thrive Animal Rescue, a non-profit, full time animal rescue, in the greater SoCal area, summoning her industry peers and partners for support.
Cece has loved animals since she was a child, with a particular fondness for horses and dogs. Having become aware of the horrifying conditions that shelter dogs must endure and realizing their need for help, Cece decided to tap into all the horse show people who share her love for animals. In doing so she has put together a team of volunteers committed to making a difference for dogs in need.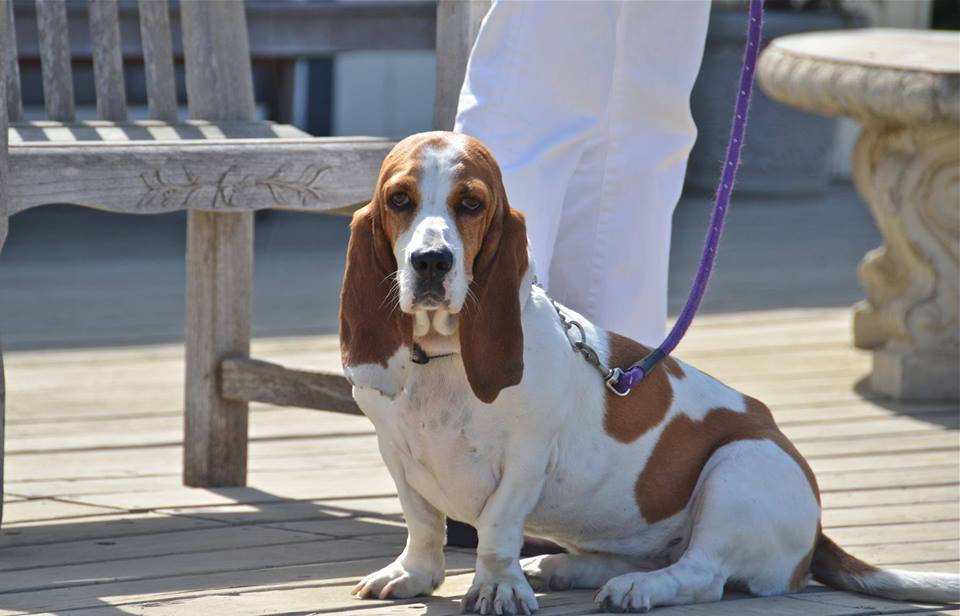 Because who could resist a face like this?
Danny and Ron's Rescue, an East-Coast based dog rescue that is run by two trainers and is extremely well-known in the h/j world, served to inspire CeCe. Having spoken to Ron on a number of occasions, Cece was advised on everything from day to day operations, to how to avoid "rescue burnout," a malady not uncommon in the world of animal rescue.
Cece's small but mighty group of Thrive Animal Rescue board members all have deep roots in the horse world. These horsepeople all deserve a tip of the hat for their efforts. Actually, they next time you see them at a show, just go ahead and give them a hug:
Georgia Spogli is the mother of Caroline Spogli, who rode with Newmarket as a junior. Georgia is a passionate dog lover, who in addition to fundraising, is rolling up her sleeves and going to some of the most underfunded and overcrowded shelters in Los Angeles- rescuing dogs who's time is running out.
Kate Anderson rode with Hap Hansen and is now a full time teacher for Del Mar Union School District and part time animal rights activist. Kate is in charge of all administrative duties in addition to the more hands-on task of rescuing and fostering homeless dogs.
Susie Saladino of Social Call Media has donated her agency's services for all of the online marketing, copywriting and media communication and will be attending horse shows with dogs on an as needed basis.
Trainer Marc Grock is in charge of fundraising and fostering dogs when the need arises, both in his home and at his North County San Diego equestrian facility, Highland Farm.
Troy Christiansen, part-time equestrian and full time attorney, donated his law expertise to get all of Thrive Animal Rescue's legal matters in place. Thrive is now fully licensed as a non-profit with a 501(c)(3).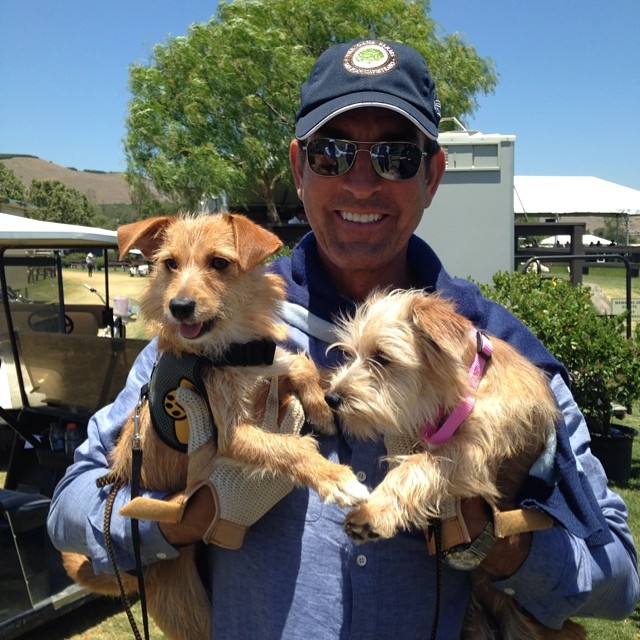 Marc Grock hanging at The Oaks with two Thrive Animal Rescue Dogs
And guess what. Thrive Animal Rescue placed 11 rescue dogs into loving and permanent homes, in its first five weeks. And they're just getting started. So the next time that you see Thrive Animal Rescue at a Southern California Horse Show, give them a whole round of hugs. And find it in your heart to bring a new dog into your home.
"Our primary goal is to help save animals and find them loving homes," says CeCe. "When you rescue an animal, the life you save may be your own."
Support, contact and follow Thrive Animal Rescue on Facebook: https://www.facebook.com/ThriveAnimalRescue, via email: [email protected], on Instagram @thriveanimalrescue, and Twitter @thrivedogrescue