The powers that be must have known that this weekend was my first-ever visit to Spruce Meadows. Not only did the sun shine brilliantly every single day of the week, the stars of American show jumping dueled it out and won nearly every class between them, continuing a "love-hate relationship" (McLain's words, not mine) down to the final, and biggest competition of the week. Kent Farrington continued to reign with Uceko, who's been making quite the comeback after several months off.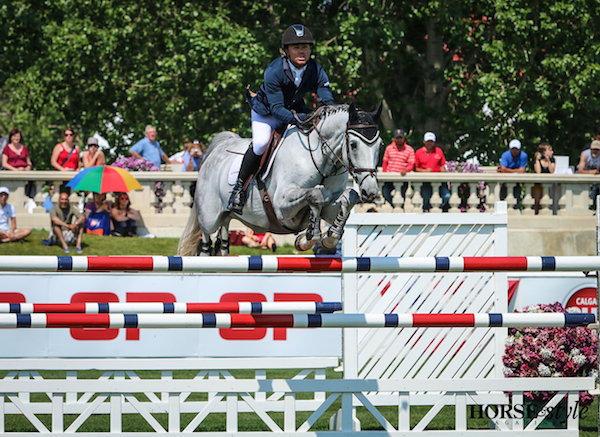 Farrington and Uceko, flying in the jumpoff
Sunday's $400,000 Pan American Cup, presented by Rolex, further proved why Spruce Meadows is leagues ahead of every other show jumping venue in North America, if not the world. Families strolled underneath walkways shaded by poplar trees on the way to the Meadows on the Green, where the sunken competition arena provides a million-dollar view no matter where one chooses to sit. For a child, there wasn't anywhere better to be than the ice cream stand, a life-size chess set, and two miniature horses that were arranged in one corner, within view of the course.
I could go on, but you probably want to know about the competition itself. But hold on a minute, let's talk about how from my vantage point, less than eight feet away from fence 2, I could feel the ground shake a little under my feet as the horses galloped by, how I could see the look in the riders' eyes as they sighted in on the next fence, and how there was a shade umbrella and water in the middle of the field for photographers, thoughtfully provided by Spruce Meadows. Yes, this life in media, it's a good one.
Thirty-three riders saddled up for the class, and just four others joined McLain Ward and Kent Farrington for the jumpoff after their early clear rounds. John Perez of Colombia was first clear with Utopia, and he pounded his horse's neck in gratitude as he exited the ring.
Another early clear was Sameh el Dahan, an Egyptian rider who had a fantastic week of finishes with his Irish Sport Horse mare Sumas Zorro. El Dahan jumped a double clear round to finish in 3rd, and will now head back to his base in Europe to prepare for the upcoming Alltech FEI World Equestrian Games. Egypt is competing as a team at WEG for the first time ever. Stay tuned for more from us on this talented rider.
But how about those 1-2 finishers? Farrington and Ward are the best riders the United States has got, there's no doubt about that. Of the four FEI classes in the Meadows on the Green arena this week; Ward won two of them and Farrington won today, and the two of them were 2nd when the other was first (Colombia's Daniel Bluman won on Thursday.) Full results from today's class are here.
Farrington's win today pushed his career earnings at Spruce Meadows above the $1 million mark. When that news was announced in the press conference, Farrington didn't react, but that's pretty much his trademark. He takes everything in stride, and his concentration, at all times, is uncommon to say the least.
"Last week we had a good win in a big class, and he feels great," Farrington said of Uceko. Last week they won the $400,000 RBC Grand Prix, presented by Rolex. That's two $132,000 paydays, if anyone's counting.
"He feels better than he even did last year, and I look forward to the rest of the summer," Farrington continued. "I'm thrilled with him, he took a long break, and he's gone great here at Spruce Meadows."
For Ward, anything less 1st place sets his mouth into a thin and serious line, but then again, he could have just been mentally counting up the prize checks he earned this week alone. These two riders have managed to do the near-impossible: stay in the black at a horse show, week after week after week. Their talents and abilities are awe-inspiring.
Look for much more from H&S on Spruce Meadows, both online and in our upcoming issue. There's much more to tell about my week at the North American Riders Group's #1 rated venue. Now I know why it's earned that distinction for three years in a row, and you can bet I'll be back again soon.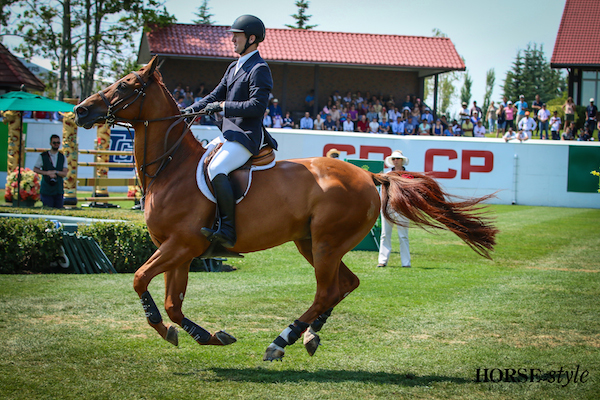 Ward and Rothchild in perfect balance on the approach to the triple combination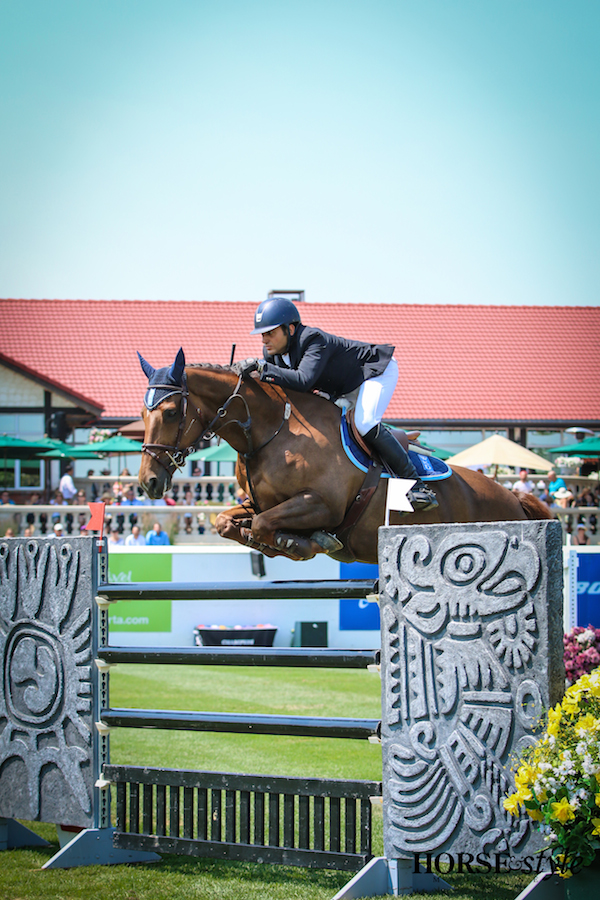 Sameh el Dahan and Sumas Zorro, impressive over this skinny vertical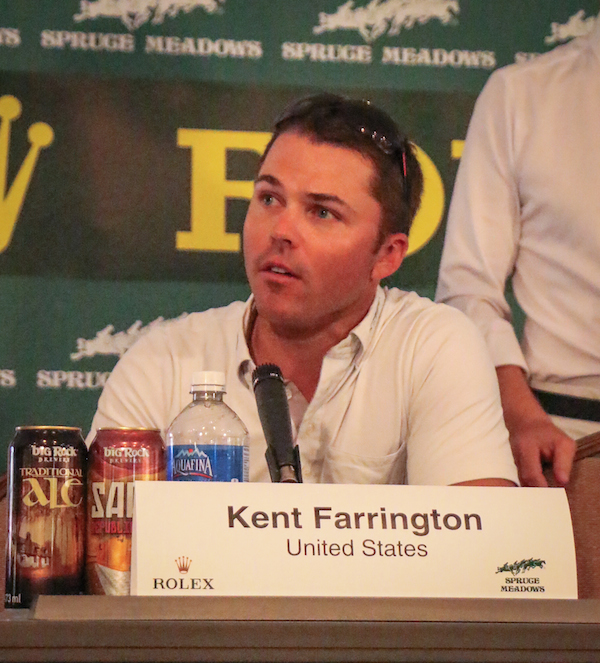 Our winner, who clearly appreciates showing at Spruce Meadows! Farrington was sure to thank the sponsors and the Southern family during the press conference.