As Nation's Cup season comes into full swing here in Europe, the path to the 2014 Alltech FEI World Equestrian Games this September in Normandy, France begins to narrow. For some, the preparations for a championship like the WEG began years ago. For others, the prospect of actually being able to compete at such an event may have just come into focus within the past year. The short list that the Americans released is a perfect example of the veteran guard blending with some relatively new up and coming talent. A championship should draw the best team that each country can put forth at that moment. That inevitably means there is possibility for change in that roster as the year ebbs and flows.
In order to arrive at the championship in great shape, Rodrigo's program for his top horse Status was traced back about nine months prior to the event and mapped out from there. Every show he will enter, every class the horse will jump, every vet appointment and so on has been planned in preparation for that week in Normandy. It is a balance of tremendous pressure and patience. To prove and spare yourself at the same time is no easy task.
The Pressures of Performing
I think that most riders (or athletes in general for that matter) would agree that the program of a championship year is different, more focused, than others. The priorities shift towards building your horse towards that main event. In our sport, we ask our horses to peak several times a year. In a championship year, often a horse must have a strong showing in the beginning of the year to be noticed, then maintain consistency throughout the year, hopefully peaking just in time for the big week. Depending on which country you are trying out for, the pressures of performing at certain moments are also measured with the varying contenders. For example, a rider who hails from a less competitive national pool may have more control over when and where they decide to jump their horse; whereas an American or German rider may have very specific requirements that need to be filled before even being considered.
In January of this year we had two horses that were being aimed at the WEG. The year was laid out on the calendar in front of Rodrigo, and with the help of Brazil's chef d'equipe, a well calculated plan was mapped out for Status and Cadjanine. The two horses were very different, nearly opposites, and they would flourish in different settings. Their strengths and weaknesses were carefully considered in this plan. The idea was to let each horse develop respectively as the year unfolded, and then decide by the end of July which one would be better suited to this year's championship. Unfortunately, our plans were cut short by an impatient owner who just "had" to know in March if his mare would be jumping in Normandy this September. It was not a promise that Rodrigo was willing to make. With horses there are just too many variables, and while we do our best to have a desirable outcome, in the end you cannot control everything.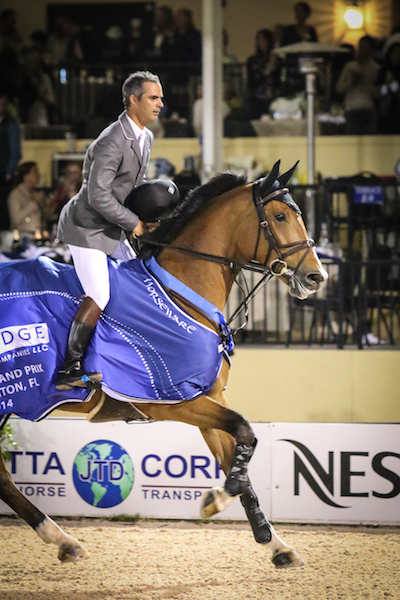 Rodrigo and Cadjanine's win of the $280,000 FEI World Cup Qualifier Grand Prix at FTI WEF on March 9th hinted at greater victories to come. However, they would part ways just four weeks later. Photo ©Erin Gilmore
Victims of Our Spoils
These championship year programs may seem extreme, but they are actually more horsemanlike than other years can be. When the focus of the year is to become a top ranked rider in the world or win an overall series, the horses can be the victims of our spoils. Prioritizing winning classes week in and week out can sometimes mean burning the candle at both ends. The riders who make the right choices for their horses will be the ones that arrive in Normandy to try to make history. As always, our sport is a combination of hard work and luck. The decisions made over the past six months can impact your result as much as those made on your big day. It is a slow and arduous climb with horses, but when it all works out, there is a great view from the top.
Writer Alexa Pessoa, an amateur rider and business owner, is an American rider from Connecticut who married Olympic Gold Medalist and three time FEI Rolex World Cup Finals Champion Rodrigo Pessoa in 2009. Her column for H&S charts her life as a mother to their daughter Sophia, as a rider, and as a wife to one of the world's most high-profile show jumpers. This column appeared in the June/July 2014 issue of Horse & Style. Read the entire issue online here!