It was a lucky elderly lady who happened to wander up ringside and stand next to me last night at the Menlo Charity Horse Show in Atherton, CA. With something like stars in their eyes, they watched the horses gallop by and asked questions out loud to the air in front of them  – "what level is this?" "where is the judge?" "how fast can they go?" It was easy to join their enthusiastic chatter and provide some insight. Not only could I answer their questions ("a top level derby," "the judges are in their stands, over there," "not that fast") I was suddenly a fount of information about the difference between hunters and jumpers, the 44-year history of the show, the horses, and their riders. Go find a chatty media person the next time you're lost at a sporting event. We love to talk about our sport.
Sure, perhaps a few eyes glazed over when I detailed the difference between round one and the handy, but by then it was time to get back to the business at hand – watching and photographing all 38 entries in the $10,000 USHJA International Hunter Derby as the sun sank lower and lower in the sky.
That's the thing about Menlo; year after year, so many "regular folks" wander onto the grounds from the surrounding neighborhood and nearby community to take in an afternoon of "horse jumping" (their words, not mine.) Even in this Silicon Valley town where the air of the hoity-toity tends to be extra thick, at Menlo, the average person who doesn't know the difference between jumpers and hunters, who doesn't stop everything to watch when John French is in the ring, can simply enjoy beautiful horses and appreciate our sport without the added layer cake of politics and drama.
As a matter of fact, sometimes I wish I were one of those elderly ladies.
It was refreshing to see Nick Haness win the UHSJA Derby last night on the super flashy Banderas (owned by Ecole Lathrop, of Valencia Sport Saddlery) over Hope Glynn on the gorgeous King's Peak. Four, four-foot options added flash and excitement to this derby, which has only held international status for a couple of years. This level of hunter competition is new to Northern California, and at Menlo, it always draws a crowd. By the time the handy round began, the casual spectators had mostly abandoned the competition for the day, but if they'd asked me, I would have told them to stay. The handy provided plenty of options, which the top 8 riders took full advantage of, giving us die-hard horse people who stuck around quite the show. Enjoy the photos, Friday is a new day, and it's a sure bet that there will be more inquiring minds lined up to watch the horses jump at Menlo.
Full results of the $10,000 USHJA International Hunter Derby are here.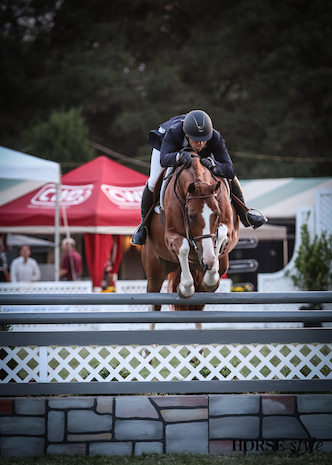 Haness and Banderas over the handy round 4′ option, and pictured above, absolutely owning the trot jump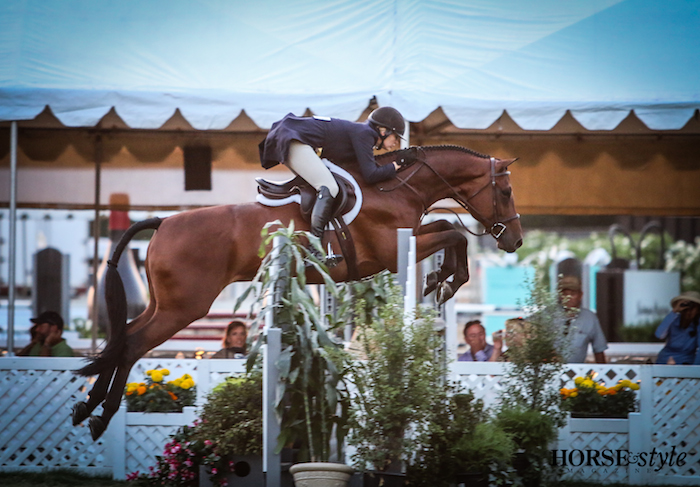 Hope Glynn won this class last year with King's Peak, and she laid down a perfect two rounds this year. It served as great warmup before she heads to Derby Finals in Lexington next week.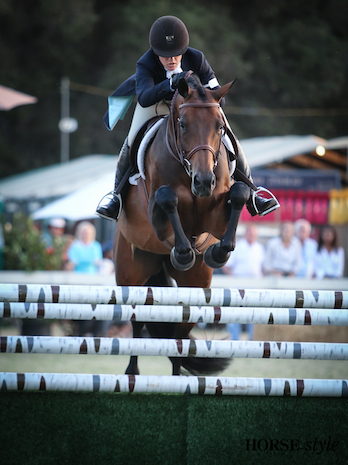 Haley Robinson, the only junior rider to make it through to the handy round, finished an impressive 3rd place with Captiva
Hope was also 4th with Crusader – here she is in Round 1 over the final, high option fence.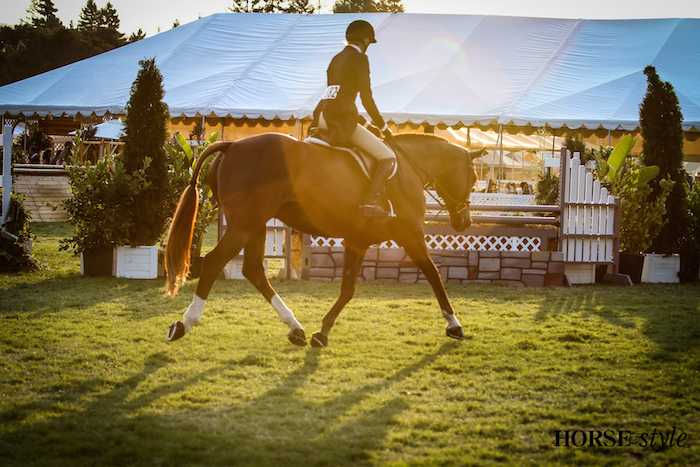 Not an action shot, but probably my favorite shot of the evening – 5th placed Jenny Karazissis and Tuscany show off the classic step of a hunter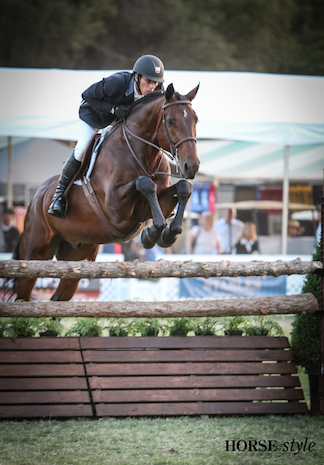 Hugh "Bert" Mutch, who took two horses into the ring, can always be counted on to display smooth, bold form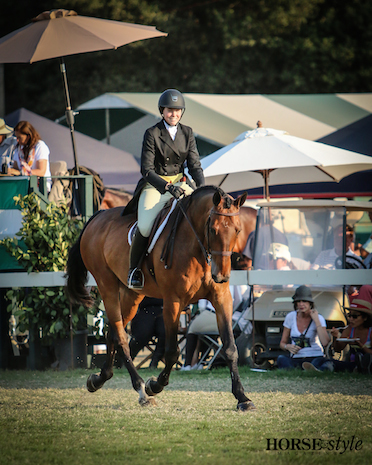 Now that's how to enter the ring for your first-ever international hunter derby – with a confident trot, and a smile on your face. Maude Frye rode a solid round with Candetto, and pulled off a last minute ride to the high option with style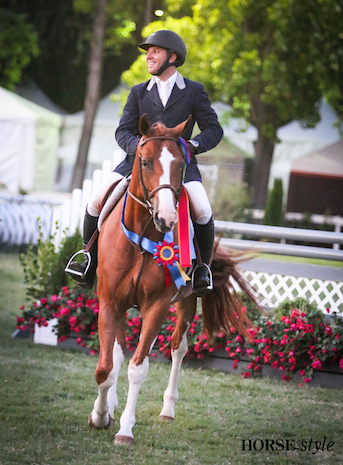 Haness and Banderas cheese for the cameras, as this photographer looks for best "light" in the awards ceremony that was held nearly in the dark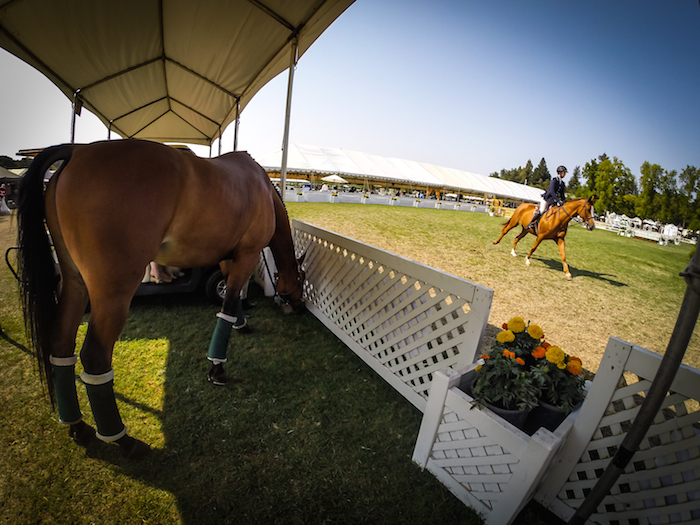 Why we love Menlo – ringside handgrazing with a view.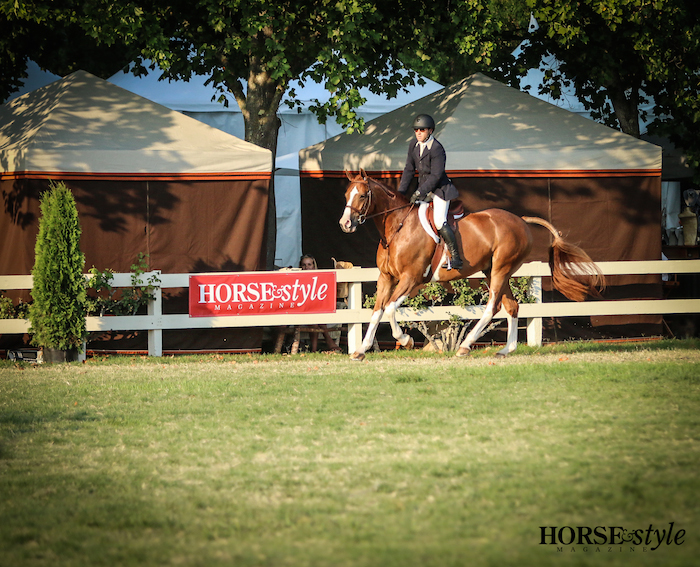 Congratulations again to Nick Hanes and Banderas, giving the H&S banner some extra flash as they cantered by.