It's been an adjustment living in Ireland, but not for the reasons you might think. Whenever I hear the clip clop of hooves I rush to my window to catch a glimpse of a carriage horse trotting down my street. So for me, and the other horse-deprived souls, the Discover Ireland Dublin Horse Show, held August 5 – 10th, was the best week of the year. A mere stroll from the city center and you can see the best horses in Ireland as well as the world.
Five glorious days of international show jumping, top hunters from across the country and a billion ways to spend all your money makes this the highlight of the Irish equestrian calendar. It seems like everyone comes to the show, horse people or not. It's the only place I've ever seen crowds of four people deep around the ring to watch a hunter flat class. You have to get good at elbowing and apologizing if you want a chance to see the judges get on each horse and put them through their paces.
There are some similarities to American hunters, but I don't think any of our horses ever have to jump a wagon of peat. It reminds me that there are incredible horses being bred and developed in Ireland and we certainly don't see enough of them across the pond.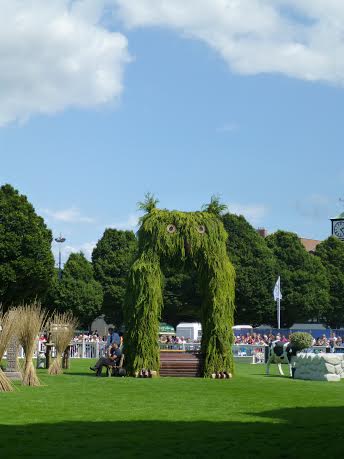 Jumping over peat wagons (not shown) and through monster hedges (shown!)
There is something here for everyone: Pony Club games, carriage driving, future event horse classes, working hunters, stallions, mares and foals. But the top class show jumping is in the main arena. Despite the pouring rain, the stands were packed on Friday for the Furusiyya FEI Nations Cup. Huddled out of the downpour and in my weeklong seat I had a perfect view of Ireland's President Michael D. Higgins arrive. The opening ceremony had each team parade in—clearly on horses they weren't competing on—behind an Irish pipe band and then they had to try to stay still for each country's national anthem. A big ask for even the most seasoned of horses. The class got off to a very rocky start when Germany's first rider, Ludger Beerbaum, was eliminated when his horse refused into a challenging triple combination.
After the first round, Great Britain and the Netherlands led. But for the second round the sun came out and it was like a whole new day for those of us huddled under umbrellas. With just four faults in round one and with three clear scores from the youngest riders on the United States team—Charlie Jayne, Jessica Springsteen, Katherine Dinan—they sailed into first place without Beezie Madden even having to go around again.
Two women seated in front of me offered me congratulations (my California surfer accent sticks out in Ireland) but it wasn't all smooth sailing for us Americans. I watched Charlie as he held onto the Aga Khan Trophy for a victory lap behind the pipe band until his horse reared, dumping him and the gleaming trophy into the soggy grass. Horses sure do know how to knock even a Nations Cup winner down a peg.
On Saturday evening, Pink Floyd's Another Brick in the Wall echoed through the main arena. The jump crew raised the puissance wall from 1.80m (6′) to 1.95m (6'5″) to 2.05m (6'9″) to 2.15 (7'1″) and finally 2.20m (7'3″). Of the 14 starters only three horses made it to the final round. Ireland's Billy Twomey and Michael Hutchinson shared the win. Twomey only had his horse, a puissance specialist, for one week. I can now say that you haven't lived until you've seen a 19 hand horse canter over a 7′ jump like it's cavaletti.
Sunday's Longines International Grand Prix of Ireland was not for the faint of heart. Fifteen minutes before the class started rain deluged the RDS. This was not the steady mist Ireland is known for, but full on pouring. At least eight riders scratched, including Beezie Madden, and even more retired mid-round. But eight determined riders made it to the jump-off, including Americans, Kent Farrington and Jessica Springsteen. But it was the 19 year old Irish phenom, Bertram Allen, who edged out Farrington to win.
Rain or shine, or mostly torrential rain, it was a wonderful week at the Dublin Horse Show.

An endless parade of equine pursuits. 
Christina Dowling was raised in Los Angeles, CA. She recently completed a M.Phil in Creative Writing from Trinity College Dublin and has worked as an entertainment journalist for E! Online. As a junior, she competed in hunters and equitation. Thank you Christina for writing!