The brand new book Sandsablaze, by Kimberly Gatto, pays due deference to the amazing partnership between rider Buddy Brown and one of the greatest American Thoroughbreds of the past century. Their achievement, which will probably never be repeated, demonstrates an equine versatility that is 100 percent unheard of in today's horse world. Together, Buddy and Sandsablaze traveled the path from equitation medal finals to Olympic Games, with epic grand prix victories and even a puissance win along the way.
In 1973, Buddy and Sandsablaze won the AHSA (now USEF) Medal Finals. The very next year, they won the Grand Prix of Ireland, an explosive international debut for a teenage rider and his equitation horse, and from there, Sandsablaze and Brown represented the United States Equestrian Team in multiple Nations Cups, the 1976 Olympic Games, and the 1979 Pan Am Games.
Sandsablaze chronicles this journey with meticulous accuracy, opening a window into the annuls of American show jumping. Brown, who continues to train horses and riders with his wife, Vanessa Brown at their Derby Hill Farm in Palo Alto, CA, was honored when a book about his most memorable horse came together. H&S caught up with Brown to find out more about their partnership, and how the book came to be.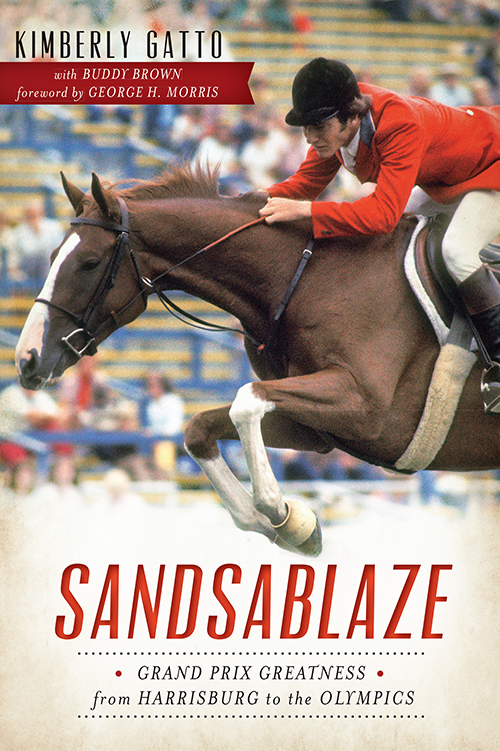 Horse & Style: How did this book happen?
Buddy Brown: It actually kind of happened by accident. I've told the story a thousand of times to people and, it's been said that I should write a book about it. But I never got organized to write one myself, and last spring Kim called me about doing short stories on Thoroughbreds in the '70s. I said to her, 'do you want the Reader's Digest version of Sandsablaze, or the story behind the story?' I asked her if she'd be interested in writing a book about Sandsablaze, and she immediately said yes.
H&S: How involved were you with the process when the book was being written?
BB: Kim and I communicated through calls and email while she was writing the book. She gets a ton of credit for all the research she did; she found out things about Sandsablaze that I didn't even know! It was a labor of love for both of us. I also have to give my dad my a lot of credit; he is 82 years old and he was able to recall some of the things from those days that I couldn't remember. I'm very pleased with how it all turned out.
H&S: What single thing do you remember most about the years between 1973 and '79?
BB: Well, the biggest thing that Sandsablaze represented to me was that he and I did so many firsts together. Our first medal finals, first junior jumpers, my first good ribbon in a grand prix. To me, those seven years, represented my molding as a horsemen and as a rider. In going to Europe and things like that, I proved to myself and to him that we belonged there.
H&S: What lessons from that time did you carry forward with you for your career?
BB: With him, and with all horses since then, I try not to give up on them. If you put the time in and teach your horse, and allow them to learn and progress, there's an amazing bond that develops. He and I didn't have anything else except for each other, so we kept pursuing it. To this day I try to deal with every horse as an individual. Sandsablaze was an individual who meant so much to me, and he still means a lot to me, to this day. He was the biggest part of my education.
This article was originally published in the August/September issue of Horse & Style Magazine! To read the entire issue online, visit this link.