There is no grander welcome than a stable of horses stirring from sleep, nickering for your attention in the soft morning light. Mornings like this create a feeling of complete serenity, serving as a reset button for the chaos of modern life.
On this particular day, I was fortunate enough be the first to arrive at an estate in Old Mill Creek, Illinois designed by renowned architect David Adler. It is a picturesque stable in the shape of a horseshoe, with Dutch door stalls facing inward to a courtyard. A stately club room and living quarters stand proud at the top of the horseshoe, and green pastures surround. It is a stable I often passed as a child and dreamed of what it would be like on the inside. Now, having been graciously welcomed by Mill Creek Hunt Club for a weekend of foxhunting as a guest, I am confident that if we had stopped in years past to satisfy my curiosities we would have been wholeheartedly welcomed.
As the sun rose, I set to work caring for my horse, preferring to get him fed before the day's hustle and bustle. Before I knew it the courtyard was busy with riders strapping on field boots, horses tied to trailers and everyone enjoying a taste of the stirrup cup in anticipation of the thrill of the chase. It was my first foxhunt. Terms such as, "hound left," "ware hole," "tally-ho," and more swirl through my head as I donned my hunt coat and swung up into the saddle.
The 20 minute trot out into the "territory," as it is referred to in foxhunting, was breathtaking in and of itself. As I settled into the my spot among 40 horses marching with a purpose behind a pack of 30 hounds, all eager to set out and do their jobs, I was in awe of my surroundings. The territory boasts everything from a historic meeting spot of the Underground Railroad to the mesmerizing estate of Tempel Farms.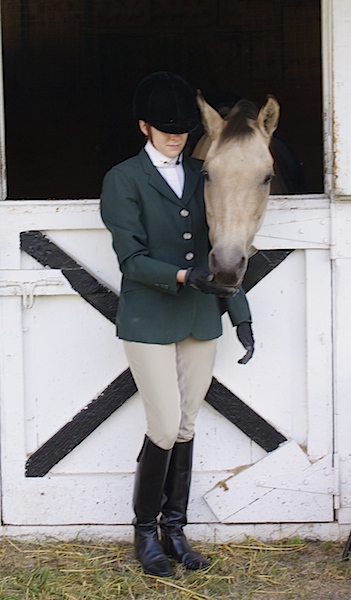 A foxhunt is all about the chase, and watching the hounds work as a pack under the guidance of the master huntswoman is truly humbling. It feels as if you are transported back to 1837, when Mill Creek Hunt Club was originally established.
The master huntswoman blows her horn to signal to the whippers-in where the field is. These days, she could have just as easily picked up a cellphone to communicate the message, but of course, that is not what foxhunting is about. The sport of the hunt and the tradition of it dates back to the 1600s. Respect for the hounds, tradition and paying due deference to the senior members who have mastered both is the core of the sport.
We traversed hills, creeks (to my mount's dismay), bridges and corn fields that stood taller than my horse and me. It is (almost) always a blissful experience to ride at a full out gallop through the countryside on horseback, but to do so in a group of 40 horses is truly elating. The thunder of the hooves punctuated by the cries of the hounds on a scent was outstanding. There I was, fully immersed in an age-old institution, decked out in show attire from head-to-toe with a list of rules a mile long to follow, and yet I couldn't have felt more free.
Unfortunately, by the time 11 a.m. struck, I was snapped back to reality. Our group crossed the busy highway, a Sunday morning spectacle for the residents of this north Chicago suburb. As the motorists pulled out their smartphones to photograph us I realized that we were only five minutes from the local shopping mall. What a privilege Mill Creek Hunt Club has afforded us to have kept a sport like foxhunting alive in Chicagoland for almost 180 years. What a privilege I had to be a guest of the club and the sport.
If you should be afforded the opportunity to join a hunt, I encourage you to take it. But know foxhunting is not for the faint of heart! Be ready to learn a lot about yourself and your mount, prepare for a workout to put crossfit trainers to shame and know you will be outridden by both an eight year-old and an eighty year-old. A man who could be your grandfather may just pass you by, scolding, "no stretching in the hunt field!" I guess you can't complain about joint pain to a man who is six decades your senior! A large part of the hunt is respecting experienced members, so bite your tongue, remember your etiquette, put your boot back in the stirrup and schedule a massage for both you and your horse the week following the hunt. You have earned it – and the Bloody Mary bar awaiting you back in the club room.
Happy hunting!
Jessica McCoy grew up in the equestrian community north of Chicago as a hunter jumper. Today, she balances her equestrian pursuits with her career as a digital project manager for a hotel and resort company.