Injuries and unexpected conclusions can happen in a spilt second – it's the nature of the sport of show jumping. But when Meagan Nusz landed wrong off a fence while competing in the 1.40m division at the American Gold Cup this Wednesday, she was not happy that the unexpected result was a broken right hand. Unexpected, and certainly unwelcome at the beginning of an important week of competition.
But the 26-year-old rider is no quitter, and her doctor reluctantly accepted the fact when she told him that she would be continuing her riding schedule this week, with or without his permission. She was fixed up with a generous hard cast –plastered in hot pink, no less- and she headed back to the competition.
With her injury less than 48 hours old, it made Nusz' finish in the $100,000 Hermès AGC Qualifier Grand Prix on Friday afternoon significant one as she entered the ring and rode with style, grit and grace.
It was her composure, her classic equitation and her riding style in and out of the ring that earned her the first annual Horse & Style, Style of Riding Award – East today at the American Gold Cup. The Style of Riding Award is a distinction that recognizes a competitor who stands out by displaying an extraordinary level of style, horsemanship, riding skill and  positive attitude in trying situations.
Nusz, who trains with Kent Farrington and is a regular in the grand prix ring with Dynamo, her own 11-year-old BWP gelding, did scratch her entries for the week on her other horses, who tend to ride a little strong. But with Dynamo, it was different. She trusts her talented partner "with my life," she says. Today she proved that, and Dynamo stepped up for her, jumping one of just five clear first rounds over a tricky, trappy course that foiled the vast majority of the entry list.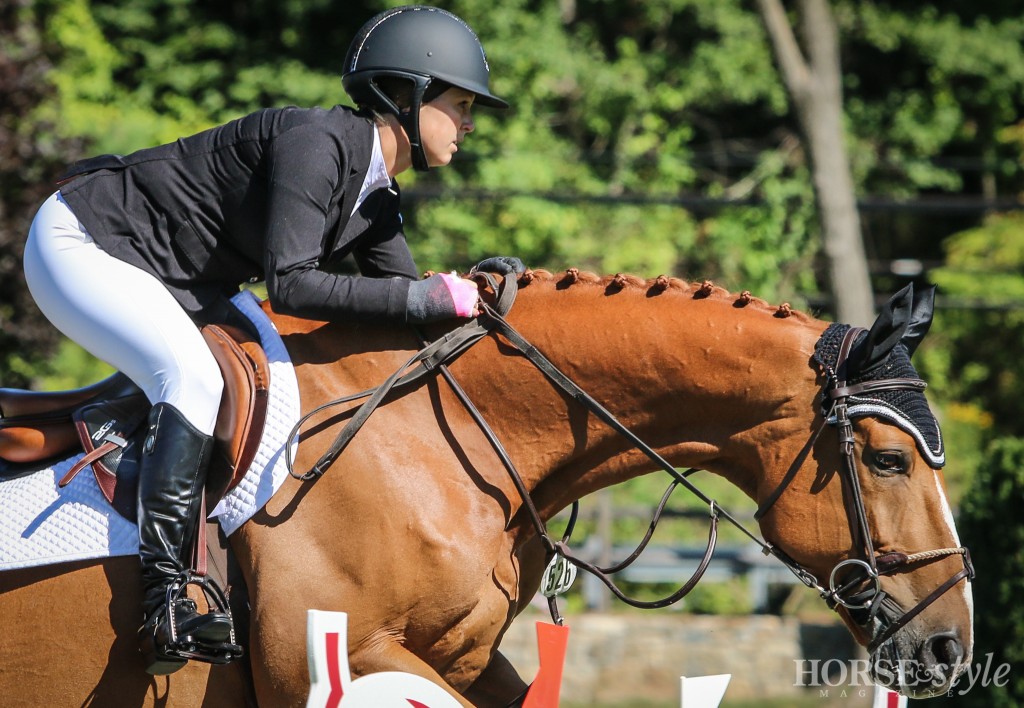 Nusz competed in the $100,000 Hermès AGC Qualifier Grand Prix – pink hard cast and all.
In the jumpoff, Nusz and Dynamo rode through the start timers with confidence and completed a brilliant track, albeit with an unlucky rail at the last fence for an eventual 4th place finish.
"I knew if I just put my horse where he needed to be, he would do it for me," Nusz explained. "He was there for me, and he helped me out. He was feeling so good today, I didn't even think about my hand when we were in there."
Congratulations to Meagan for a brilliant ride today at the American Gold Cup and for earning the Horse & Style, Style of Riding Award – East!