Anne-Marie Deschamps, they should have given you the job. From the very first moment I met this heroine of a Frenchwoman, it was clear what a force she was. She strode out of her garden gate, indignantly arguing with the taxi driver who was trying to triple the fare for delivering me to her house because of supposed nighttime rates (it was 7:05pm.) She negotiated a better rate with the "gangster" driver (her words) and ushered me into her house, put a glass of rosè champagne into my hand and assured me that everything would be ok from here on out.
From that moment forward, Anne-Marie, a retired communications director who lives just outside the city of Caen, was my advocate, my host and my new best friend. Connected (i.e. rescued by) through EquestriSol's Jackie McFarland, a friend and colleague from Lexington, it was clear that there was no better place for an American to land than in the house of Anne-Marie.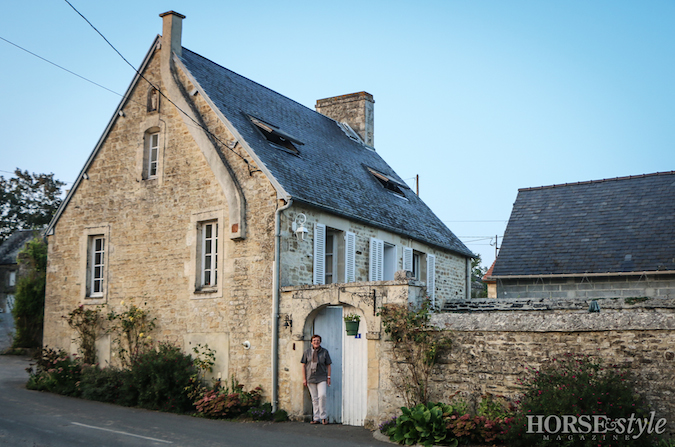 Anne-Marie in front of her beautiful home outside of Caen.
If only the World Equestrian Games organizing committee had hired her to run this year's WEG. There's no doubt that she would have had the whole operation running like a top.
Instead, it was a pity that so many elements seemed to be lacking in the infrastructure around this year's WEG. Caen, France is a gorgeous region of the country, with stunning history and a beautiful city center, yet I was booked by Games organizers into a hotel that resembled a pay-by-the-hour establishment on the edge of a highway, far outside of town (more on that here.) That's not how visiting international media should be welcomed to a city they're meant to tell the rest of the world about. I was much, much luckier than most of my media comrades in finding a silver lining to that situation, by ending up with Anne-Marie in her village of Maizet, a place so magical I hardly wanted to leave it to go to the Games at all.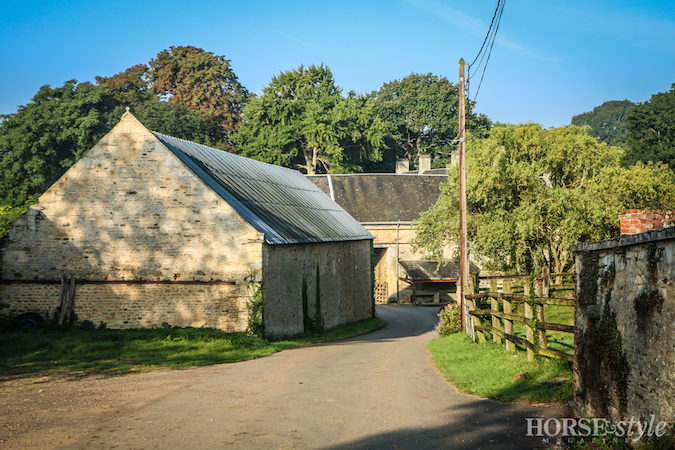 Just your average village in the French countryside…
After reading the reviews that came out of the first week of the Games (did you catch this searing account by Pippa Cuckson?), I also felt extremely lucky to have missed the first half of the Games. The first week's complete lack of food and water in the media center was counteracted in week two by constant handouts of sandwiches, croissants, and at the end of the day, wine, cheese, and enough Kentucky Bourbon Barrel Ale to sink a ship (thank you, Alltech.) With free food and fast Internet, the D'Ornano Stadium media center room was my happy place, even if the lines were long for the single, dingy bathroom.
I arrived the day before show jumping started, and for all the disorganization surrounding in the infrastructure of the event, the show jumping itself was top notch. If only the venue could have matched the quality of the competition…. stone-faced, unsympathetic security guards dictated where one could pause to take a photo, cutting off most access to behind-the-scenes shots. The soccer stadium in which the show jumping was held featured little in the way of amenities for spectators (can you say non-alcoholic beer?), almost no trade stands, and actual, literal holes in the ground as toilets. In lieu of a photo of that bathroom gem, just imagine a square, plastic hole inside the stall, slanted downward with slippery foot-rests. Now imagine trying to use that if you're elderly and/or infirmed. Got the picture?
Unlike in Kentucky 2010, the different venues were quite spread out (are you listening, Bromont 2018?) which wouldn't have been a problem if there'd been frequent and easy shuttle access. Unfortunately, shuttles were rare and hard to find, making one's own two feet the best transport. With at least a mile between each venue, it was difficult if not impossible to experience more than one discipline, and us reporters had to make hard choices when choosing which discipline to watch, and which to forgo entirely.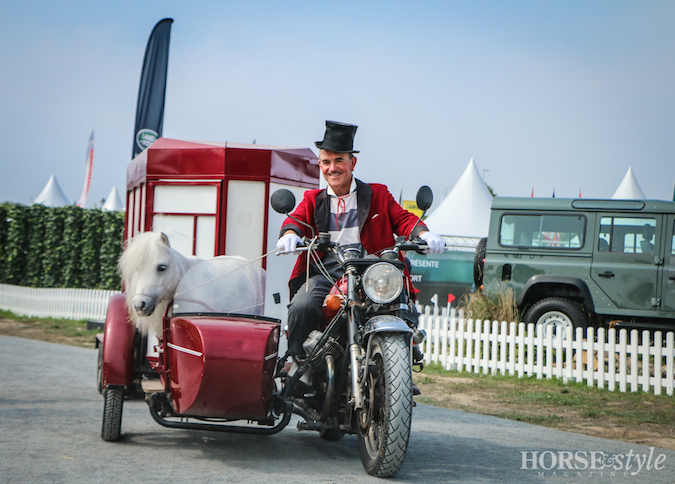 I did walk over to the WEG Village during a free morning, a one-mile trek that was made entirely worth it when I spotted this gentleman.
And so, show jumping it was for me. Inside the arena, the Games got it right for those nine rounds of competition. The jump designs were spectacular, some of the best that I've ever seen. The footing was great and every round ran efficiently. The most exciting day was Saturday afternoon's Individual Final, jumped over two rounds to determine the Final Four riders that would come back on Sunday. Beezie ruled. McLain Ward and Rothchild jumped two clear rounds and moved all the way up to fifth place, heartbreakingly close to the Final Four. I marveled again at the love showered upon Morocco's Abdelkibir Ouaddar, who also jumped two thrilling clear rounds to finish the weekend inside the top 15 individuals.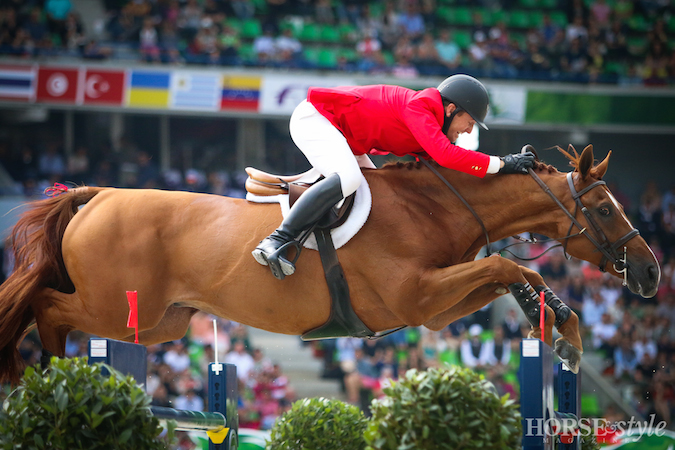 McLain and Rothchild, earning an "A" for effort.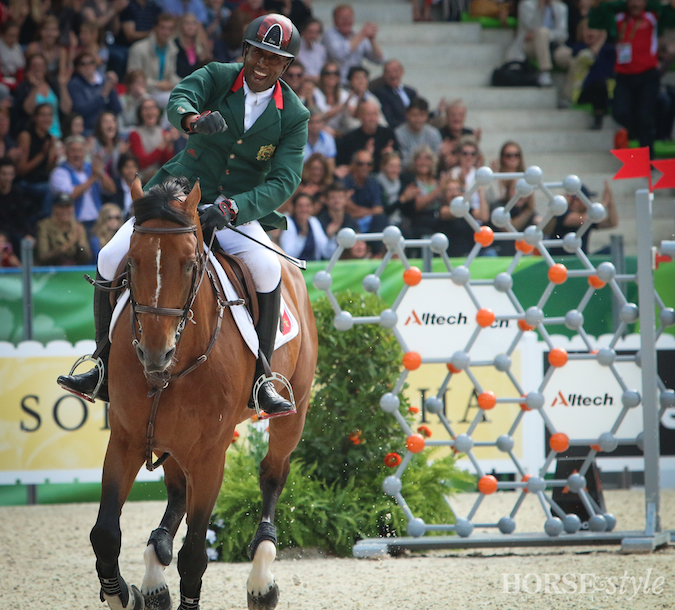 Abdelkibir Ouaddar was joyous after his two clear rounds.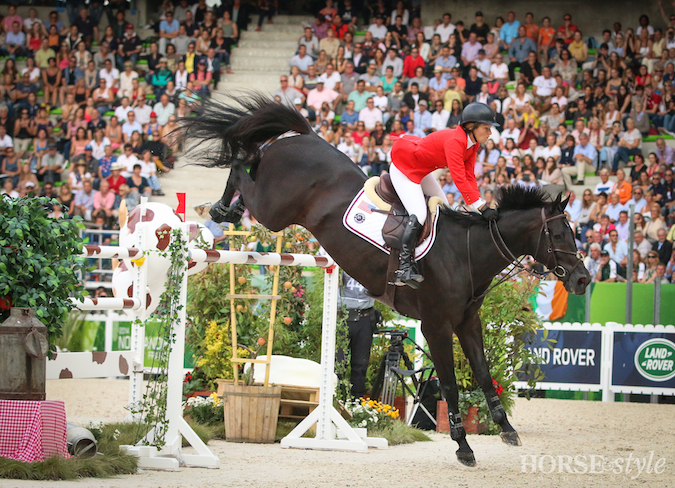 Beezie – our American hero!
As for the rest, you know how it all ended up. The WEG format makes horses work hard, sure, but it does a fantastic job of pitting the best four riders in the world head to head. While this year's Final Four was a bit anticlimactic, that was only due to the fact that four consummate professionals rose to the top, and they all capably guided each others' horses around the Final track. And that is as it should be.
Looking back on this trip to Normandy, France, it will be easy to remember the best of times – which for Horse & Style, will always be when I walked through Anne-Marie's garden gate at the end of the day to warm greetings and another amazing, home-cooked meal at her table. It will be walking down the lane to the three-story house where I stayed, and stumbling over a few words in French to express how grateful I was to have found the village of Maizet.
On Monday morning, we reluctantly left Normandy and our newfound friends in Maizet. Anne-Marie packed us lunches and walked us into the train station, shepherding us through the ticket buying process and jumping onboard when the train pulled up to claim the best seats for us. The people of France are welcoming, friendly hosts who want nothing but the best for those who visit their country. You've just got to find the right ones.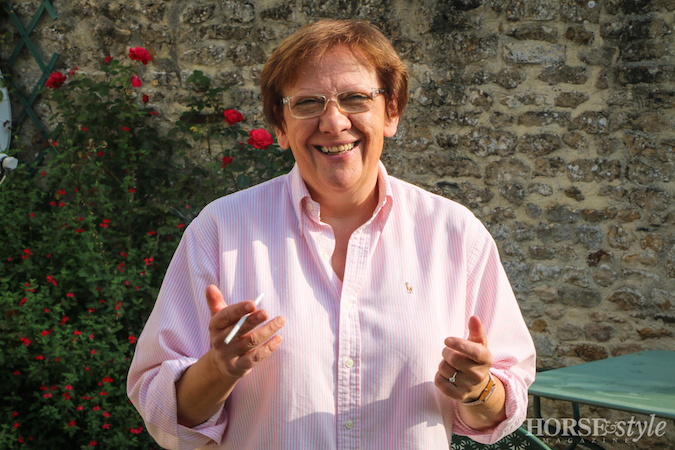 The wonderful Anne-Marie, mon ami, merci beaucoup!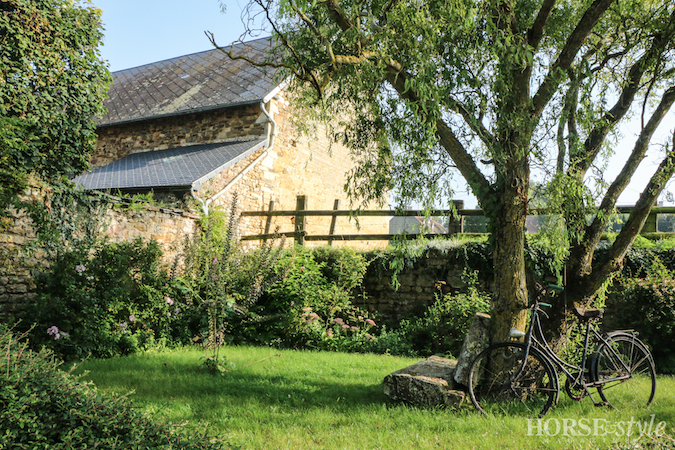 Maizet, gorgeous at every turn.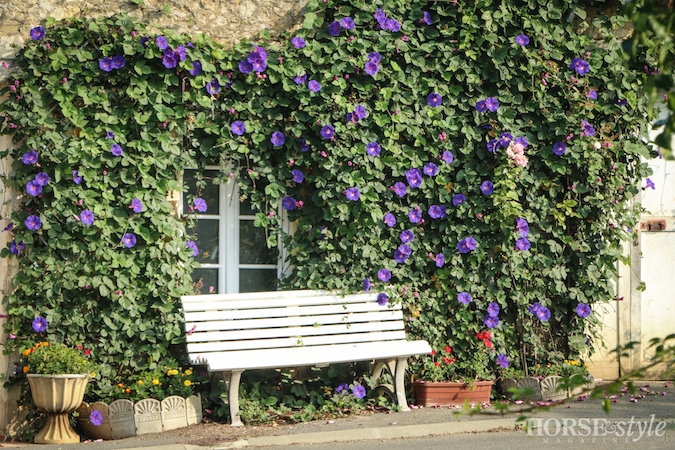 Flowers abound in Maizet.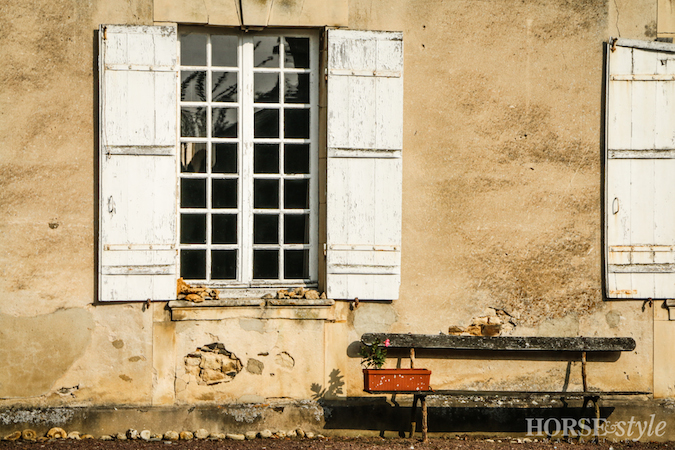 The charming house in Maizet where I stayed.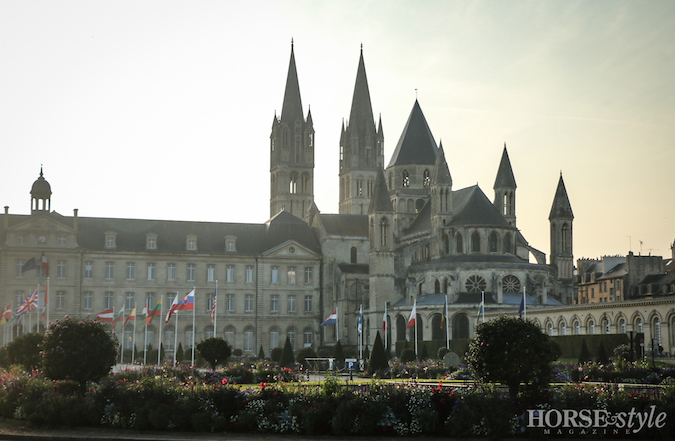 Seen in the city center of Caen, France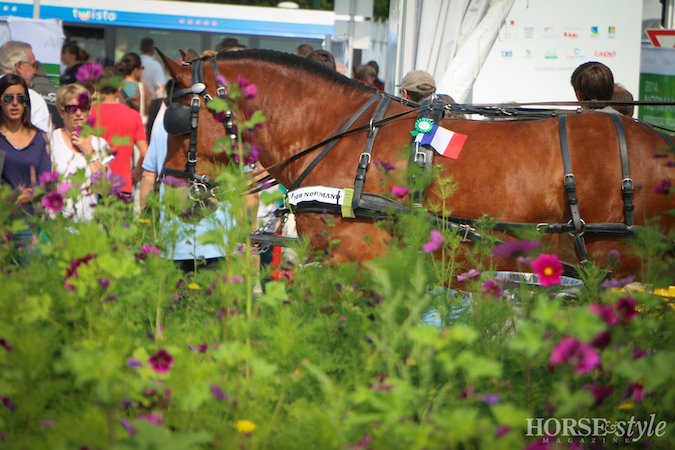 So long, France!