"When you win, open the champagne immediately! Don't wait—the next day is always a new day in the horse world."
With those wise words, Bjorn Ikast headlined the $25,000 Ariat Grand Prix during the first of two finale weeks to cap off Sonoma Horse Park's 2014 season, on Saturday, September 13th.
As is customary at Sonoma Horse Park on a Saturday afternoon, the VIP berm filled with riders and spectators, California wines were available at the bar, and 33 horse and rider pairs lined up to take on course designer John Manning's challenging, 1.35m track. The rider list included both experienced veterans, such as Olympian Peter Breakwell, and young, up and coming riders such as Eve Jobs, who was competing in her very first grand prix.
The course included a triple bar, a water option, and two combinations, proving difficult enough to allow just only six of 33 pairs to return for the jump off. With three horses entered, Bjorn Ikast topped the group aboard Chestina Z and also rode to 9th place on Colorado. The first round course presented its challenges right away; many riders took rails on fence 3, an oxer along the outside rail coming out of a four stride line.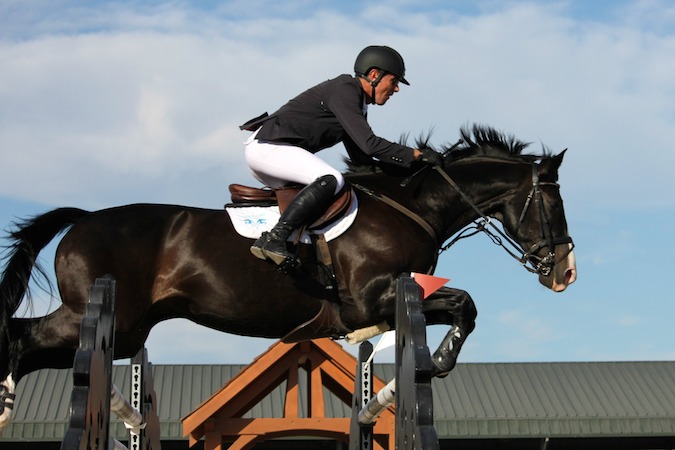 Ikast placed 1st with Chestina (pictured top), and 9th with Colorado, above.
The first combination, a four stride to a one stride to another four stride, also tripped up riders with rails and refusals. Yet the six riders who went clear in the first round laid down excellent trips, providing a quick and exciting jump off. Second place winner Jill Humphrey went first on Zubliem (owned by Alicia and Chris Foster) with a second fast, clear round. She held the lead through the jump off until Ikast went last.
In the jump off, four riders had a second clear round. Aimee Hanson aboard her own Coya earned third place, and Matias Fernandez rounded out the group of double clear riders in fourth on his own Alegria. Five out of the six riders in the jump off chose the water option, which paid off for them. The water jump gave Ikast a slight edge, as he was able to cut the turn tightly. Leaving out several strides in front of the water allowed him to add a stride down the final line.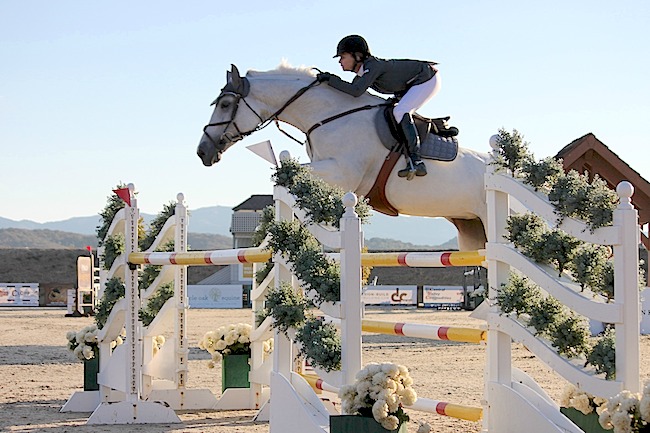 Aimee Hanson and Coya
"I'm very happy with Chestina," Ikast said after the round. "She's very simple and always tries. She's one of my newer horses and is fairly green—I've only had her for a year and she's nine years old. She was very careful though and didn't come close to touching a rail!" Chestina Z's carefulness and Ikast's risky turn boosted them just ahead, beating Hanson by .53 of a second. Ikast hopes to repeat his performance in next week's Grand Prix at Sonoma Horse Park's Season Finale $25,000 Grand Prix. Full results from the $25,000 Ariat Grand Prix are here.