"It's impossible."
"It can't be done."
"You're crazy."
Mark Bellissimo has heard it all (and so much more) since entering the horse show world with big dreams and a high set of ideals. No challenge is too big, and he seems to enjoy it even more when the odds are stacked against him. For that reason alone, holding a high level show jumping competition in New York City was a perfect project for him.
Because if you're Bellissimo, who owns Equestrian Sport Productions and runs the Winter Equestrian Festival in Wellington, Florida, and you can plan one night of equestrian competition in America's most intense city, you might as well plan four. If you can invite a few important VIPs, you might as well build them an enormous lounge, dripping in diamonds and complete with golden chandeliers. If you can go an inch, you might as well go a mile.
So hats off to Bellissimo and his partners (Donald Trump, Rolex, et. al) for pulling it off in style last night, at the Wollman Rink in Central Park. The stars aligned for organizers who hoped for perfect weather (check), an A-list crowd (check), and a fairytale ending that Broadway couldn't have written any better (check check.) New Yorkers who were out for a relaxing walk in the Park last night had some extra traffic to avoid, as elite show jumping horses gingerly made their way down a shady jogging path to and from the show arena. The background couldn't have been much more dramatic, and as the setting sun bounced off New York City skyscrapers, it was clear that this was going to be something very different.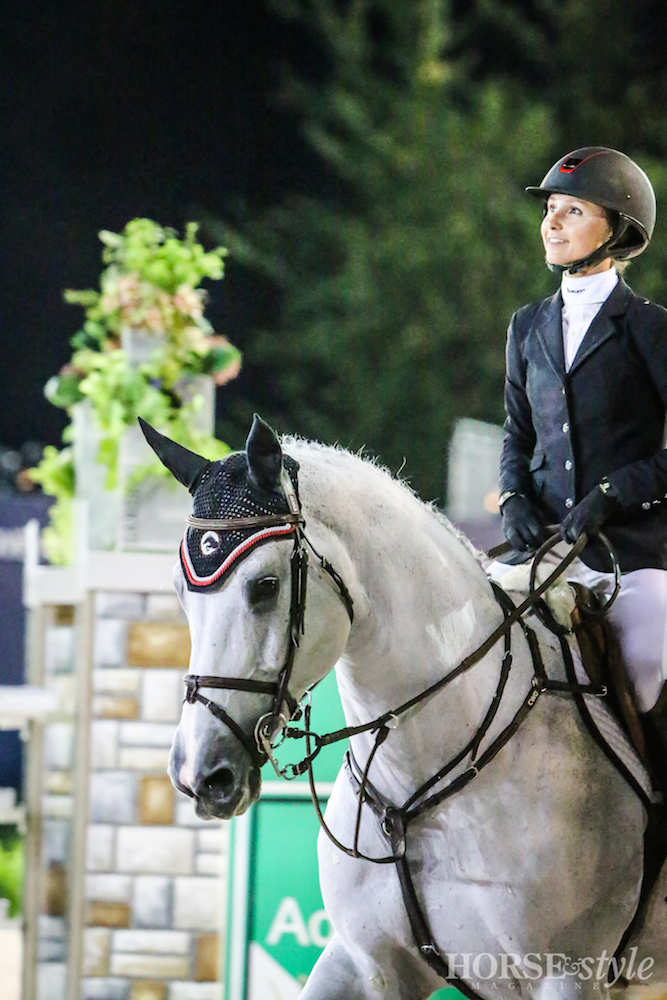 Georgina Bloomberg and Juvina earned themselves a starring role in the evening.
And different it was, from beginning to end. The class was broadcast live on NBC Sports, the first time ever to be aired in a primetime slot, very exciting stuff. While the naysayers might have a field day with their armchair criticism, nothing could detract from this groundbreaking moment: live show jumping, on television and in living rooms around the United States, at last.
Course designer Steve Stephens seemed out to prove something with the track for the $210,000 FEI Central Park Grand Prix CSI3*, Presented by Rolex. Life in the big city ain't easy, and neither was his course, which kept 22 of 23 riders from jumping clean.
The horses couldn't be blamed for entering the ring as starry-eyed as I am when I step onto the intimidating streets of the city. Tall bleachers and even taller VIP seating bordered the arena, an unusual oblong shape that was roughly the size of an indoor. The jumps came up fast and created a big-city challenge for everyone, including favorites Kent Farrington and McLain Ward, neither of whom qualified for the second round.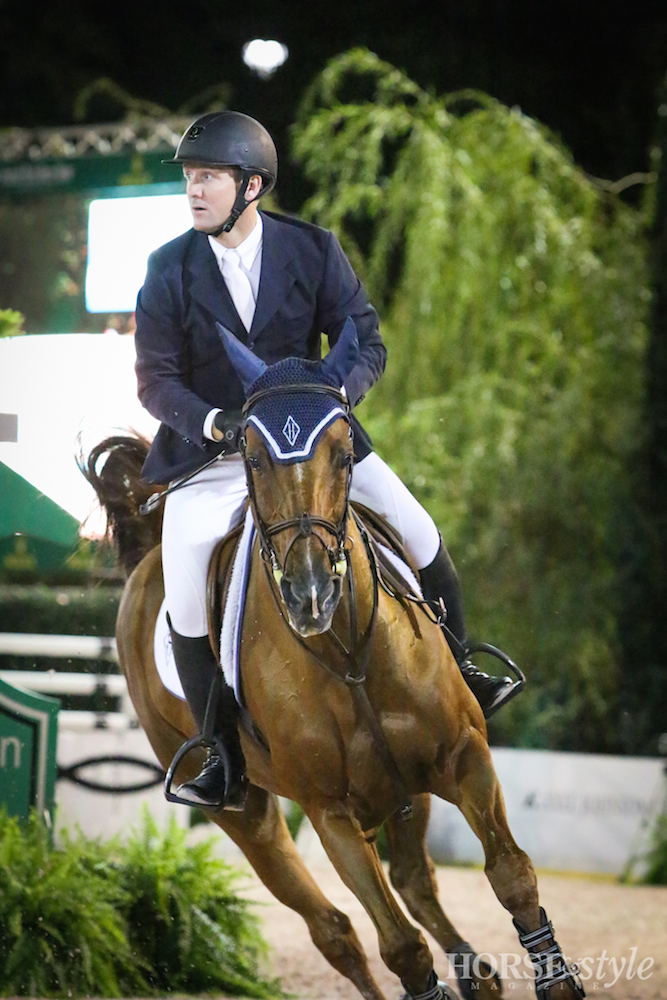 It wasn't the night for Ward and HH Ashley 
Instead the night belonged ever-so-fittingly to Georgina Bloomberg, who won the class aboard Juvina. Bloomberg is at home in this, her hometown, and as she walked the Park with her eight-month-old son Jasper in her arms, stopping to talk with passersby and graciously posing for photos, it was clear that she was soaking it all in, and enjoying the moment. That last time she rode a horse in New York City, it was during the National Horse Show's swan song at the Madison Square Garden. When that was shuttered, there were many who believed that show jumping would never return to NYC, and Bloomberg couldn't have been happier to saddle up again in the middle of the city.
The crowd of New Yorkers, those brave souls who forked over the $250 per head ticket price (still not a good idea) to claim a blue plastic seat, seemed a little bewildered in the stands, and were quieter than your typical sporting event crowd. Perhaps they thought they were at a tennis match; the seating atmosphere was not unlike one.
The more stylish in-crowd was set-off from the rest of us in an ultra-lush VIP that held the likes of Donald Trump, Bruce Springsteen, Carson Kressley, and a couple of ladies wearing their weight in Lugano Diamonds. Not that there was to be any complaints from the media set. A tall media tower complete with everything a hardworking reporter could desire (hot food, power outlets, high security, oh my!) was welcomed by those of us who had been dreading lugging all our equipment into an unknown venue.
After yesterday evening, the Central Park Horse Show is an unknown venue no more. And, impossibly, it all worked out. As Bellissimo stood at the ingate for the latter portion of the class, he seemed to be soaking it all in as well. Once again, he's gone and done it – making the impossible, possible, one horse show at a time.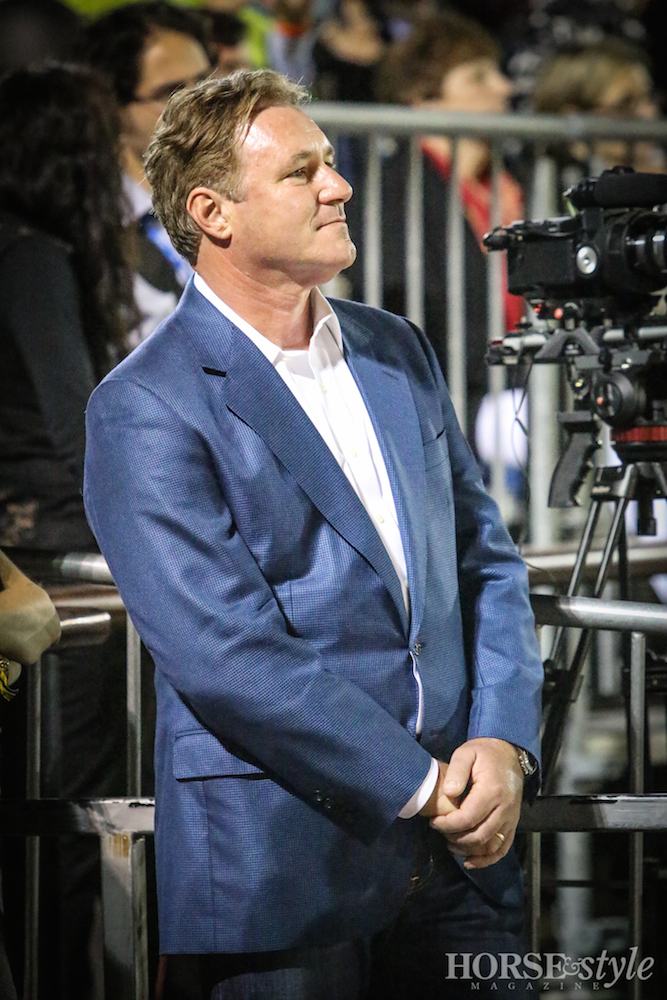 Bellissimo surveys a job well done
The Central Park Horse Show continues Friday through Sunday, with disciplines ranging from dressage to polo on the schedule. Coming up tonight, more show jumping with the $50,000 NYC vs the World 1.45m Speed Class Demonstration. Tickets are still available for all night classes ($272.00 per person) and daytime matinees ($32.65 per person.) Don't have the cash? Don't worry. The whole thing will livestream here.
More information at www.centralparkhorseshow.com.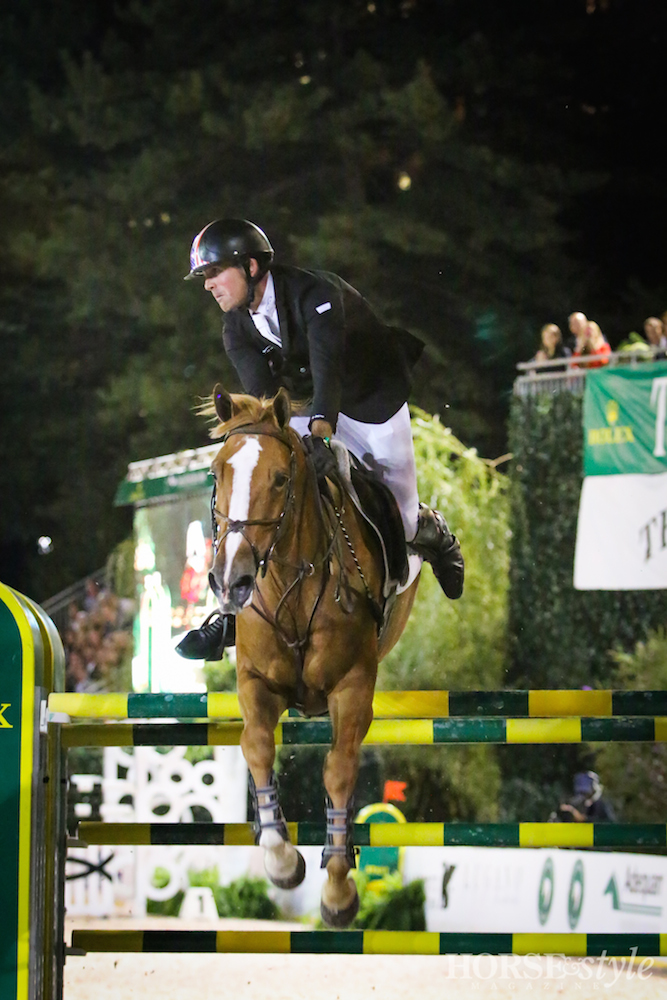 Jayne and Valeska