Equestrians are two things: horse lovers and athletes.  There are watches for golfers and divers but, it's rare to find a timepiece that has been specifically designed with riders in mind. Enter, the Hunter Harmony Rider's Watch.
Arrival in Style
My new Hunter Harmony watch arrived in a sleek black box with a cloth padded inside.  The product instructions were clear and uncomplicated. Tucked inside was a stunning watch with a brown leather band known as "The Secretariat." It instantly felt special.
First Impressions
I'm not known for reading directions, but this watch was instantly user friendly. I was able to quickly figure out how to set the time and date. I will admit I was initially hesitant to wear the watch at the barn, how could such a well made, high-end watch not get scratched or dirty during my everyday barn duties? But then I remembered that this is a watch made by riders for riders, and on I went.
Technical Appreciation
There are technical components to this watch I know I'll never fully understand, however the simple yet brilliant characteristics of is show themselves during everyday life at the barn. The large face of the watch and angled illuminating hands made it easy to read as I was riding, and was much simpler then stopping to look through a cell phone's glare.
The face is made of sapphire crystals with a double anti-reflective coating to prevent scratching and glare. I really put this to the test while I was helping move a tack trunk. The face of the watch slid against a barn door and I thought, "oh no, my new perfect watch." But when I pulled away to check the damage, it was only to find it was scratch free and still gleaming.
Perhaps my favorite part of the Hunter Harmony is the saddle leather strap, I half wanted to hang the watch up on the bridle hook and clean it with the rest of my tack. Feeling the quality of the leather, I cleaned away, knowing it wouldn't ruin anything.
Most importantly this watch looks great! As soon as I opened it I envisioned how it would look on my wrist, poking out just so between my hunt coat and gloves. All amazing technical aspects aside, I still want to wear something stylish, and the Hunter Harmony checks that box well.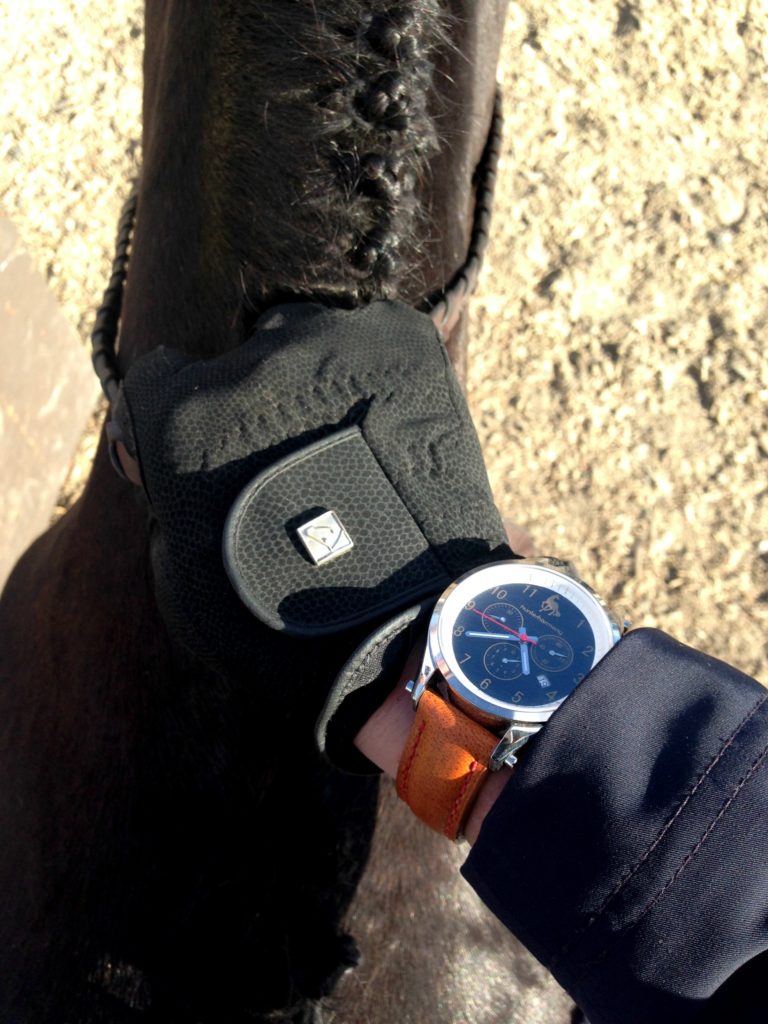 For the People
As a rider and equestrian style enthusiast, I am delighted with the Hunter Harmony watch. It's not only a watch made for riders by riders, it's made in the USA. The design headquarters and everyday operations of the company are based out of Colorado. One of the best things about this watch is that it's designed for the horse lover not matter what discipline or level. It's a true riders watch.
If you are a trendsetter like me, you'll want first dibs on one of these luxury athletic watches!
Hunter Harmony is on kickstarter to gather support for mass production. Visit them on Kickstarter now. Your watch purchase through Kickstarter will help get the ball rolling for the growth of this fun and innovate independent brand!
-By H&S Publisher Sarah Appel