If you have recently watched any of the high junior/AO jumper and grand prix classes in Southern California, you have likely seen the Chang brothers, Andrew and Derek, in and around the ring. At 19 and 18 years of age they are working their way up in the big classes with their trainer Mark Watring guiding the way. The brothers show, train, work and attend school together. So what's it like for these two athletes to compete against each other? I caught up with them to see if sibling rivalry has any place in their quest for success in the show ring.
The brothers began riding about eight years ago at Mill Creek Equestrian Center in Topanga, CA. Originally, they began in eventing but quickly decided they preferred to focus strictly on show jumping. Andrew says they immediately fell in love with the sport. Both boys point out that the big reason for this is the partnership between horse and rider. They both feel it's one of the best parts of riding, and believe that the partnership they build with their horse and the lessons learned from that relationship have applications outside the ring.
Andrew and Derek began to show competitively about three years ago. Training with your brother mostly has its upsides, they say. Andrew remarked, "Training with each other is very helpful because we give each other pointers. It's something special to share a sport with your brother." They like to keep the atmosphere fun at a show by arguing about who's the better rider. Even when I approached them about doing this article, Andrew tried to convince me that he was "the good one". But the results at the end of the day tell the real story… at least for that day. While it's true they are competitive with each other in the show ring, they truly prefer to turn their competitive tendencies towards others. If one of the brothers does well, they consider it a victory for both of them.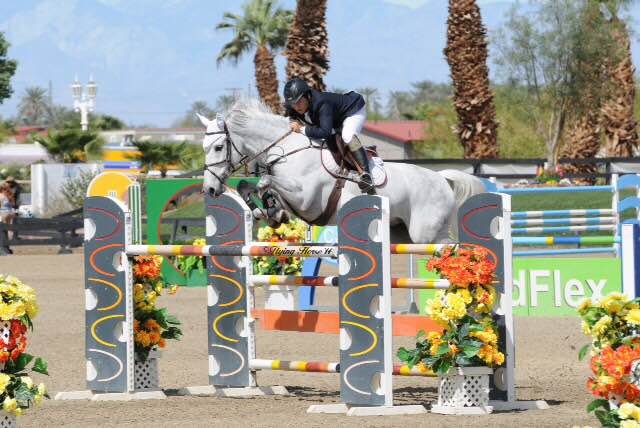 Derek Chang on Viktor, Thermal 2014. Photo ©Flying Horse Photography
This support for each other has helped them to new successes in the grand prix ring. Andrew earned high placings this year in the Blenheim EquiSports $30,000 Markel Insurance Grand Prix and the $25,000 GGT Footing Grand Prix at the Huntington Beach Surf Classic. Meanwhile, Derek successfully completed his first grand prix at the recent  Flintridge Horse Show. "Shows for me are a way to gauge how I have improved as a rider through my training," he says. Another supporting factor in their success is their trainer Mark Watring. Andrew says of Mark, "He's great. I can always tell how well I rode a course by looking at his face after I exit the ring."
The brothers juggle their show schedule with their school schedule; both attend the University of Southern California. Andrew studies International Relations and Business, while Derek studies Public Policy. As if showing and college wasn't enough to keep them busy they have also created a custom printing company, A.D. Chang, Inc., that they run together.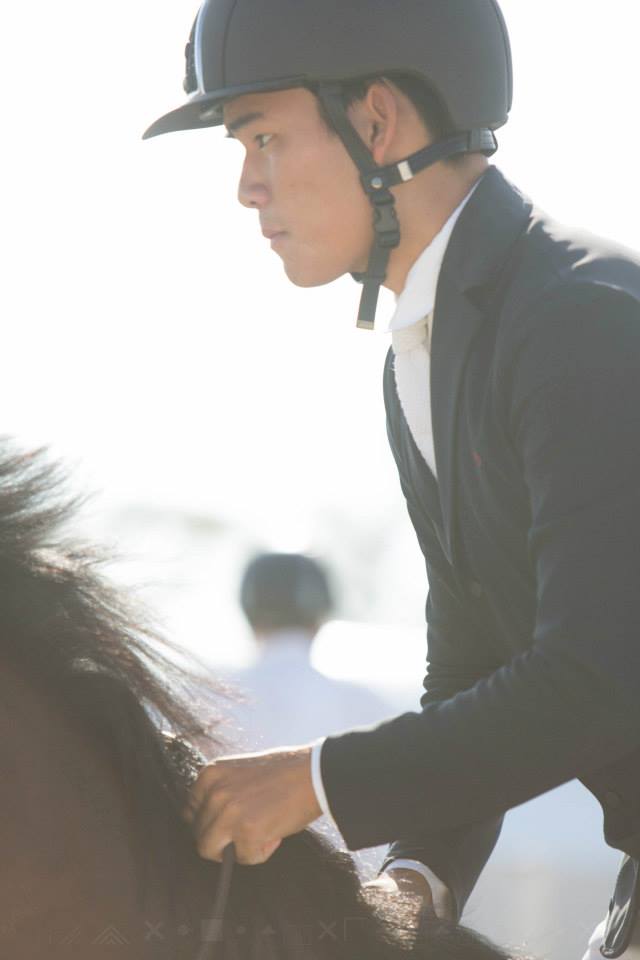 Andrew Chang. Photo ©Bret St Clair
They have big goals to achieve: riding in the Thermal $1 Million Grand Prix and one day showing at Spruce Meadows. Together they have the right attitude and support for each other to get them both there. While they may be a bit competitive with each other, as all siblings are, it is the partnership they have created that makes them a powerful force. At your next horse show, keep an eye out for these two up and comers. They may just be the next big thing in the grand prix ring.