Let's talk tradition. It is after all, the height of the holiday season (is it already December 10th? How did that happen?) when we gather with friends and family, and even the non-traditionalists among us partake in a tradition of some sort. Yes, it truly is the most wonderful time of year.
When we were putting together this year's Holiday Guide To Equestrian Style at H&S, we were struck by the spin that horse people put on holiday traditions, and how they make their own. Did you know that Tori Colvin pulls her Christmas tree our of the house and jumps it with a horse every year?
That's a tradition we may borrow from Tori one day, but for now there's a new tradition in our households – especially since two H&S staff members have young daughters at home who love horses – with the Dark Horse Chocolates' Christmas "Stall" Calendar.
Dark Horse Chocolates offers its own fun take on traditional advent calendars, which have been around since the 19th century, and help children count down to Christmas during the month of December. This one features a stable scene, and the pieces of chocolate hidden behind each cardboard "door" are of an equestrian theme.
Holidays seen through the eyes of children are more exciting than experiencing them as adults, and at the age of three, H&S Publisher Sarah Appel's daughter Ella is well aware that Christmas is coming. She only wants to listen to Christmas music in the car, she has many questions about Santa's reindeer, i.e. what they eat, where they sleep and on (fellow parents of young children, is this sounding familiar?) Ella especially loves opening up her Dark Horse Christmas Stall Calendar every day during this countdown to Christmas (pictured below). She doesn't know it yet, but on the final day before Christmas, she'll find a special chocolate pony behind that last door. Happy Holidays!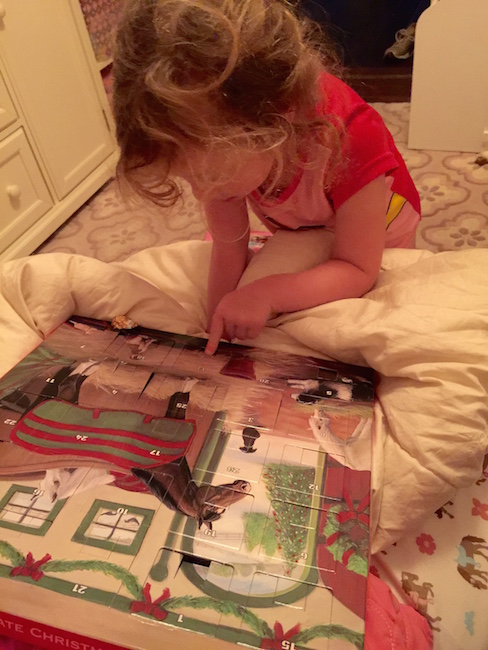 The Dark Horse Chocolate Christmas "Stall" Advent Calendar is featured as an H&S Staff Pick in the 2014 Horse & Style Holiday Guide to Equestrian Style.