The jumper ring works an equalizer. All that matters is that the jumps stay up and the time stays down. So when 66-year-old rider Leslie Nelson steps into the 1.20m arena – whether at Thermal, Spruce Meadows, or the Longines LA Masters – she's not focused on her age. She's in there to commit to the task at hand – and most importantly, per her trainer's instructions, to ride her flatwork. And it's working. Clear, fast rounds at the international level have crowds forming to watch her ride. It may be her age that draws them in, but it's her skill and strength that make her memorable.
Born in Pebble Beach, California, Nelson began riding in three-day eventing (As pictured above, riding at the Pebble Beach Equestrian Center around 1960. In her early teens at the time, Leslie is aboard a Thoroughbred that she personally purchased for $800, sailing over the brush on Pebble Beach's cross country track). By age six, she already felt the desire to jump higher. It's a mentality that Nelson thinks is in her DNA, and it served her well, eventually landing her on the American three-day team at the Pan American Games. But by 1972, Leslie needed a change and moved to Sun Valley Idaho to ski (as a stuntwoman appearing in Warren Miller films) and to ride horses. There she trained with Bob and Debbie McDonald at River Grove Farm in the hunters, showing at Spruce Meadows in 1987. A bad ski accident during this time prompted Leslie to take up mountain biking. Not one to treat the endeavor lightly, she went full tilt, even clinching the women's title of VetExpert World Champion in 1998. But the underlying motive for pursuing stunt work and mountain biking sponsorships and titles was to fuel and to supplement her riding habit. "Everything else that I did, I did to support the horses," Leslie explains.
When Leslie met and married her husband in 2000, she returned to the Bay Area. She worked for various trainers, doing whatever she could from grooming to painting jumps, once again in order to afford her equestrian pursuits. But her major breakthrough wasn't until 2013. Family circumstances allowed the finances for her to show full time, and she called Ray Texel on a whim to ask to train with him. She feared that he would think her too old to ride at her target level. He didn't. So Leslie took a leap of faith, sold her home in Morgan Hill, and moved to be close to Ray at Alder Lane Farm in Cotati.
"This is my bucket list time," Nelson says. After a knee replacement surgery this winter, she'll be back in the saddle to tackle a show schedule that once again includes Thermal, Spruce Meadows, and the Masters (Los Angeles and Paris, she hopes.) It's a schedule that she feels honored to tackle. It's no wonder then that even with all her past achievements, Nelson considers right now as the pinnacle of all her athletic endeavors. So what's her biggest secret to the dream world that she's living? To never settle, no matter your age.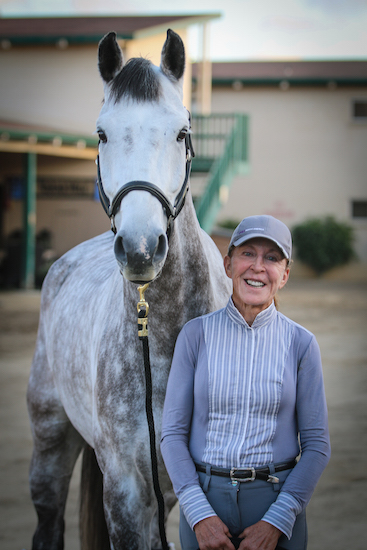 Leslie with Coupis, her seven-year-old jumper prospect. Photo ©Erin Gilmore
Horse & Style: You've taken some major risks to pursue show jumping at this level. Why right now?
Leslie Nelson: I know that my window is small, but I have to embrace this and jump in. It's been the most rewarding experience of my life. My life has been a risk, and I accept it and go with my heart.
H&S: Which horses do you currently own and campaign?
LN: I currently have four, and three of them are from Ray's long-time partner in Germany, Florian Meyer zu Hartum. I show Last Hurrah, my ten-year-old soldier, and Cornetto, a seven-year-old gelding, in the 1.20m division, and Ray shows Coupis, another seven-year-old, in the 1.30m and 1.40m. The newest addition is Baldira, and she'll be Ray's grand prix mount.
H&S: What is it like for you to compete at this level of international events such as Spruce Meadows and the Longines Los Angeles Masters?
LN: It's really an honor to ride at this level. I figure that I only have about five more years to really try at it, and I've realized that I can overcome my limitations by choosing mind over matter. I'm familiar with the taste of this level from my junior days (in three-day eventing), but now I have a greater appreciation (for this level). I've always known how to work hard in order to succeed, so I feel prepared and deserving of this experience. I'm also having so much fun.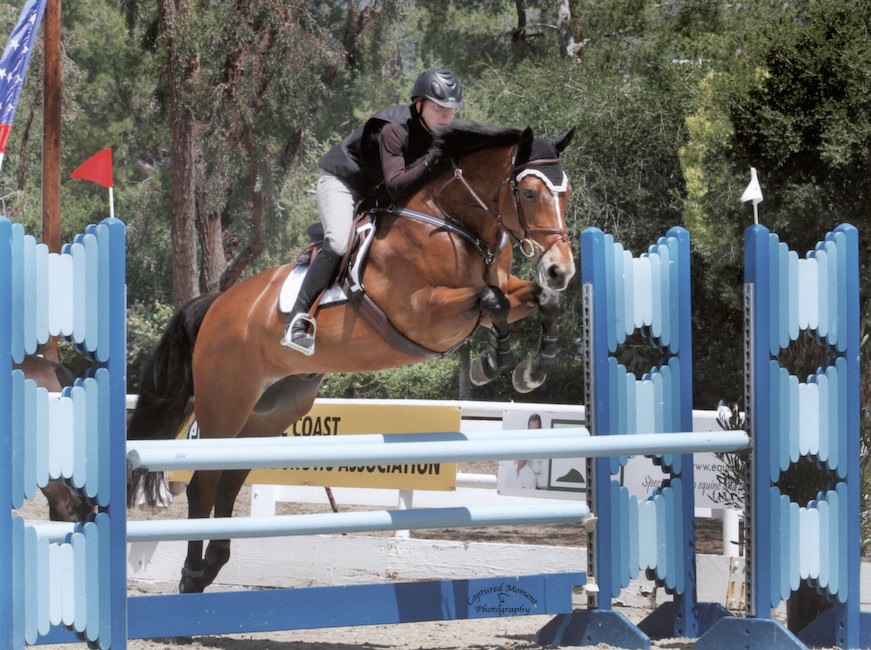 Leslie and her horse Hurrah competing in the 1.10m jumpers, summer 2014, at Huntington Beach. Photo ©Captured Moments
H&S: When did you start the mountain biking?
LN: I had a really bad ski accident doing a backflip (in the late '70s0. I almost lost my leg, and it was so severe that the doctors told me that I wouldn't ride or ski again. For rehab, they told me to ride my bike. I started mountain biking in 1979. I biked for 15 years to help support my horses (through sponsorships, prize money, and running a mountain biking school in Idaho) and biking was good cross training.
H&S: What drives you to succeed at the elite levels in multiple sports?
LN: I think it's DNA. I'm predisposed to be that way and I've learned to push against the opposition in my life – whether athletic or otherwise – to reach the upper percent. There's something inside of me that's geared to deal with adversity. I've had so many crashes and burns and disappointments and I cannot be deterred. If you have something you love this much, you have to pursue it.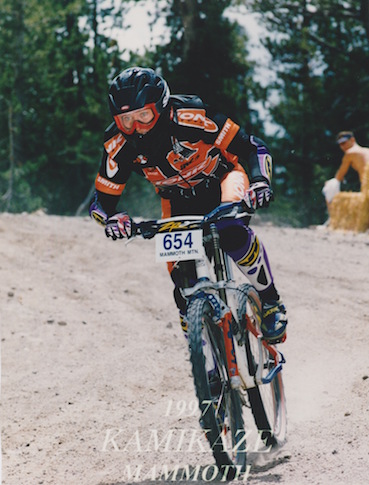 Leslie charging downhill on Mammoth Mountain in 1997, a year before she won the VetExpert World Champion title.
H&S: What are some tools that your trainer has equipped you with in order to be an effective rider?
LN: Ray teaches us how to ride our horses. The best compliment I can ever receive is when your trainer says, "this could be one of my horses" about a horse that I personally school. It's so empowering. The ribbons are fun, but to know that my horse is correct and happy is even better.
H&S: How do you cross train for this level of riding?
LN: I'm 66 years old I want to keep riding until I'm 90, so I have to keep moving and watch what I'm eating in order to stay in shape. I alternate days with road cycling and working out in my home gym. I do my calisthenics on the floor every day. I ride two to three horses every day, and when I go to horse shows, I handwalk my own horses for hours.
H&S: How have you overcome roadblocks in your journey?
LN: Everyone gets nervous to a certain extent. You can hold onto failures or falls, and they will hold you back. I learn from my mistakes but then I keep going. I don't hold onto those mistakes. If you think you'll fall off, you'll fall off.
I love the perfect rounds, but it's the enjoyment of the journey and the excitement of the next day. I'm grateful for my time. Even if I didn't do well that day, there's always tomorrow.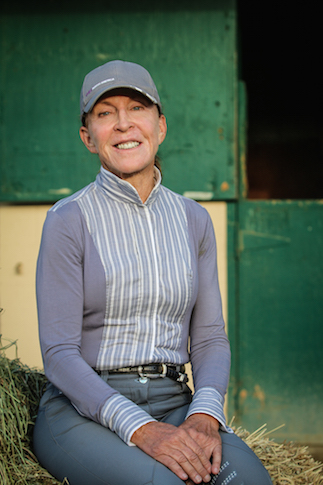 H&S: You've already achieved so much. Do you even think in terms of what's next?
LN: Right now, my horses are the focus. This is the most special time of my life. I have four beautiful horses and I have the support of my husband to pursue this, and it's magical. I'm blessed. I'm going to take this as far as I can take this. We have so many dreams with our horses and so many pursuits. I'm finally fulfilling what I started when I was six – when I knew that I want to jump to the highest height that I'm capable. It's going to be an amazing journey.
This article was originally published in the Dec/Jan 2014/15 issue of Horse & Style Magazine. Go here to read the complete issue, and don't forget to subscribe to H&S so you don't miss a thing!