In a busy shopping center located a stone's throw away from Stanford University and the Palo Alto horse community that surrounds it, a true equestrian style gem quietly opened its doors for the first time last September.
Meet ELLA, acronym for Equestrian Lifestyle Luxury Art, a new, welcome edition to the Northern California equestrian scene. When proprietor Melissa Lu blended her talent for merchandising with her passion for the equestrian lifestyle, the result was ELLA. Lu is an American born Chinese whose family has deep ties in both countries. She grew up in the Palo Alto area, attended Santa Clara University and spent her teenage years riding in the Los Altos Hills and Saratoga.
But when her mother's interior decorating business took her to China, Lu discovered a culture attuned to the developing sport of show jumping. Lu lived in China full time for over a year, and during that time began riding at a nearby equestrian club.
That was ten years ago, and in the time since, Lu has traveled between bases in California and China. Her knowledge of show jumping in the States lent her a unique perspective while participating in the sport in China. "My friends were always trying to find riding gear (in China) and they would ask me to bring things back from the States for them," Lu explains. "There started to be a lot of tack stores, but nothing on the up-market side. So I thought, why not have something that brings people together with all the really great brands that have quality, performance, and equestrian appeal.
"In China, people are generally more brand-conscious, and they're much more trend followers than trend setters, so once everyone's wearing it you're golden," Lu adds. "But until then, it's a real uphill battle."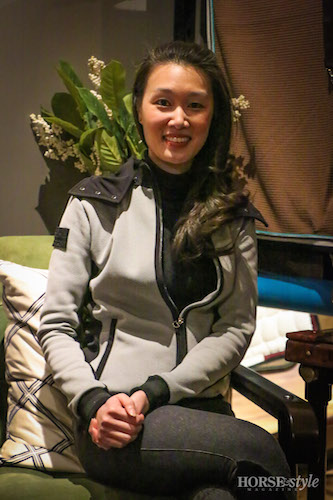 Lu can often be found at ELLA Palo Alto
Lu opened the first ELLA store in Beijing in 2006, and later added a second at a nearby riding club. She sourced a careful selection of equestrian brands and combined them with a selection of home furnishings and accessories. The result is an appealing mix of products that attracts both riders and non-riders.
Fast-forward to 2014, and Lu felt the pull of home in California. She wanted to base herself back in the Bay Area, and reconnect with the local equestrian community. She saw the opening of the first US-based edition of ELLA as a leap of faith, but one that she couldn't be more excited about.
"We're not a full-blown tack store," Lu explains. "We're inspired by the equestrian lifestyle, and we try to bring together the best products for the home, as well."
That said, the store offers a selection of saddles, Pariani saddles and tack, Kep helmets, and Cavalleria Toscana apparel alongside lesser-known equestrian brands such as Zandona horse boots and Razzapura undergarments.
Show jumping videos play in one corner of the store, and the cozy atmosphere invites visitors to stay and relax for awhile. Asian-inspired decorative touches are a nod towards ELLA's roots, and contribute to a unique shopping destination that is more than worth the trip to Palo Alto.
Visit ELLA in the Town & Country Village shopping center: 855 El Camino Real, Palo Alto, CA www.ellapa.com
[Best_Wordpress_Gallery id="7″ gal_title="ELLA"]