Wellington, FL – February 18, 2015 – As the sun began to fade behind the International Arena at WEF, camera flashes set the scene for the 7th Annual Lip Sync Show benefiting Danny & Ron's Rescue. On Sunday, Feb, 15, the Special Events Pavilion was transformed for an event that rivaled even the most glamorous award shows or movie premieres. Hundreds of children, families and supporters of Danny & Ron's Rescue, a nonprofit dog rescue based in Wellington, Florida, and Camden, South Carolina, took their turn walking the red carpet in preparation for the night of performances ahead. The venue was energetic with multicolored lights adorning the facility, and it even featured a step and repeat complete with a red carpet interview. The performers dressed as their favorite celebrities, putting on a show that brought people of all ages from the equestrian community and beyond together to support their beloved dog rescue.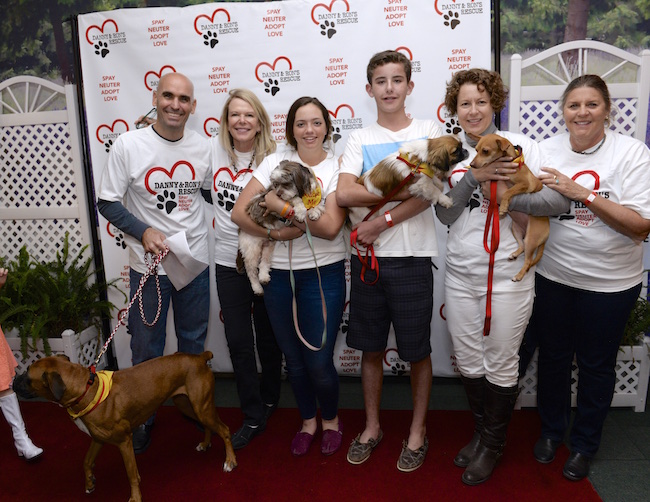 Volunteers introduce adoptable dogs to the guests of the 7th Annual Danny & Ron's Lip Sync
Over 450 guests were greeted by several adoptable canine companions looking for their forever homes. Guests enjoyed a marvelous dinner catered by the White Horse Tavern while getting puppy kisses as the anticipation began to build for the long awaited lip sync performances. Marigot Bay came out at the top of the "Battle of the Barns" with their lip sync to Madonna's most iconic songs. Chapin Cheska led the way with "Material Girl," fully dressed in bright pink with a platinum blonde wig. As she drove off the stage in a miniature car, Reid Arani, Mimi Gochman and Sophie Gochman entered the scene and put on a wonderful performance of "Vogue." Their routine was electric with animation, strong costumes and confidence. Kim Kolloff, Event Chairwoman and Emcee, started the Lip Sync seven years ago to foster a sense of philanthropy and altruism in children and provide a kid-friendly event that is truly one-of-a-kind.
Her idea was epitomized in the bravery one 4- year-old showed when she took the stage to sing "Let it Go." Zoey Burton, dressed as Elsa from Disney's Frozen, belted out the song from the bottom of her heart, capturing the attention of all in the room and warming their hearts with her vocals. "I am singing tonight so we can save more dogs," Burton said before grabbing the microphone and wowing the audience and judges.
Kolloff works tirelessly throughout the year to not only put on an extraordinary event, but also to educate children. This was reflected the night of the Lip Sync Show when the children were able to answer any question about Danny & Ron's Rescue including how many dogs are euthanized every year (4 million), the amount of offspring an unspayed female and offspring will produce in seven years (67,000), and the fact that Danny & Ron's Rescue is the only rescue in the United States to not have an adoption fee.
Kolloff, who volunteers for the rescue, said, "I just love working with the kids, helping with the rescue dogs, and supporting Danny & Ron's Rescue during the 12 weeks of Equestrian Sport Productions' horse shows. I am 100 percent dedicated to their cause because Danny and Ron never ask for an adoption fee and the only way to keep their rescue going is through donations. That is why I started the Lip Sync show seven years ago." Kolloff continued, "My heart truly feels empty the rest of the year when I am not here in Wellington helping Danny and Ron find homes for their dogs. The most rewarding part of the Lip Sync is how the kids HAVE learned about giving back. Whenever I see them at the show, I hear about their costumes and what song they have chosen to perform, but the look in their eyes and the real excitement in their voices happens when they are talking about their bake sales, bow sales, and sponsorships. They feel so proud to raise money to help Danny and Ron save more dogs and continue their mission."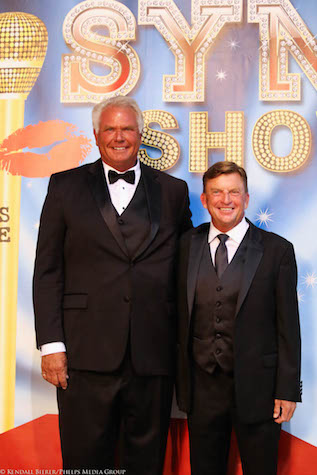 Ron Danta and Danny Robertshaw
The 2015 Lip Sync benefiting Danny & Ron's Rescue was epic, totaling 12 performances with some of history's most recognized tunes, as well as those currently sitting on the top of the charts. Lady Gaga impersonator Betty Atchison kicked off the night with a five-star performance complete with live vocals, professional dancers and authentic costumes. Miles Holman, Cooper Emerson and Riley Emerson performed Queen's "We are the Champions" to transition to the night of lip sync performances.
Event announcer Brian Lookabill looked on with pride as his son Cole joined Savannah Embly on stage to sing "The Highway Don't Care." Georgie Murphy and Leah Greenstein put on a spectacular routine to Taylor Swift's "Shake it Off," while the Battle of the Barn performances were heating up. Marigot Bay enjoyed their much deserved win for Battle of the Barns; however, they were not the only barn to put on an over the top performance! Sweetbar, Sweet Oak and J Bar teamed up to perform a mash up of "Blank Space," "Lips are Moving" and "Turn Down," while Charles Moorcroft Inc. competed with a well-choreographed mash up of Lady Gaga's "Paparazzi" and "Applause." Katie Kappler LLC put a smile on everyone's face with Pharrell's "Happy," while Forget Me Not Farm performed the Johnny Cash hit "Ring of Fire." Madison Hill completed the Battle of the Barns with Mark Ronson's "Uptown Funk." Each one of the performances was over the top and showed deep appreciation for everything that Danny & Ron's Rescue does to save dogs.
The judges – Dr. Betsee Parker, Ryan Beckett and KiJuan Minors – agreed that every child was a winner. During the midpoint of the performances, the lip sync came to an intermission for the Fund In Need live auction. Danny & Ron's Rescue has saved over 8,600 dogs since its inception in 2005, and each dog averages a cost of $500 to the rescue for expenses to spay/neuter, vaccinate, microchip, de-worm, and rehabilitate. Guests pledged money to help with the veterinary expenses while also helping to raise the funds for the much-needed extra quarantine room for dogs requiring additional medical care. They raised nearly two-thirds of the cost, with Dr. Betsee Parker personally donating the $50,000 first place prize money won by her horse Ovation and rider Tori Colvin during the 2015 Hunter Spectacular on Saturday night. The night was capped off with a performance by Jack Towell, George Wallace, and Robert Crandall dressed as the characters from "The Bird Cage" and Hardin Towell, Rob Gray, Stevie Macken, Kevin Crosby and Shawn Casady dressed as the Village People, all performing their very own version of "We Are Family."
It was the perfect ending to a night filled with fun, laughs and philanthropy. "I remember when we were just a grassroots tiny rescue, and this event wasn't even a quarter of its current size," Ron Danta said. "We are so fortunate to have the support of all of you, because what we do would not be possible without each and every one of you." Danny Robertshaw concluded, "It's not that we are going looking for dogs that need surgery, but they come to us, and we cannot turn them away. If there is one thing that we know, one thing that keeps the both of us going with our mission, it is that every stray has the simple desire to be loved, and our mission grows stronger every day." To see photos of the Seventh Annual Lip Sync, benefiting Danny & Ron's Rescue, please visit official photographer Lois Spatz's online gallery: http://www.loisspatz.com/CharityOrganizations/Danny-and-Rons-Rescue-7th/. Through the efforts of the kids, parents and supporters, Danny and Ron's Rescue was able to make history at the Seventh Annual Lip Sync Show. The event was a huge success with five dogs adopted and crucial funds raised for the organization. Danny & Ron's Rescue would also like to thank Dever Golf Carts for their generous donation of a golf cart rental for the remainder of season to the group that raises the most for the nonprofit. For more information on Danny and Ron's please visit http://www.dannyandronsrescue.com/ or stay up to date with their Facebook.