Last week we wrote about a piece of big news that was announced at the annual North American Riders Group meeting on February 17th in Wellington, FL. A potential rule change that allows for an exemption of the mileage rule on the seventh week of a continuous show series could spell future growth for George D'Ambrosio and Nona Garson's The Ridge at Wellington Turf Tour, which operates just a few miles away from the Winter Equestrian Festival.
As we sat on a berm overlooking the competition rings on a recent Friday at the Turf Tour at the International Polo Club, D'Ambrosio candidly shared his thoughts on what a possible mileage rule exemption could mean for riders in Wellington, and more specifically, for his competing horse show, which he has carefully grown into its current form as a popular, supplementary circuit to the main game in town. Read on:
Horse & Style: Why are you stepping into the debate about the mileage rule?
George D'Ambrosio: This is something that Nona and I have been asking the USEF to get involved in for the last six years. We believe, and we've been asking the USEF to understand that in Wellington, we're in a rare area that is saturated with over 4,000 horses. We believe there should be a competitive, second horse show with full rights to all divisions.
H&S: Why has it taken so long to see headway on this issue?
GD: (I believe that) the owners of the dates would like to monopolize everything, and they are heavily supported by the USEF, and so it's almost as if USEF is figuring if it's a matter of him just handing me one check, or the two of you handing me two checks, it doesn't really matter. And no, that's not good for the sport.
H&S: What would the "seventh week" rule do?
GD: Because there are 4,000 horses down here, there's no reason why there shouldn't be a second facility that's actually twice the size, that also could handle everything professionally and correctly. Give them the legal sized rings, the legal sized schooling areas, the correct parking area, the legal drainage facilitates, and so on.
H&S: Does The Ridge want to replace WEF?
GD: Absolutely not. We would never take on every division. We wouldn't look to take more than 600 horses per show. What The Ridge wants to offer is an opportunity for the professionals and trainers to perform at the level they need to prepare for world-class competition. We aren't looking at it for the money part of it, we're looking at it for the excellence of it.
If (WEF) lost 1,000 entries, it would improve at the lower levels, and it would gain what it requires and needs: space. No one will argue that WEF is hands down the best in the world on Saturday nights. Aachen and Spruce Meadows have a tough time competing with that arena on a Saturday night.
H&S: How do you hope to see The Ridge grow?
GD: We would be looking to oversize; do something somewhere on 100 acres, something that gives you all the ample room and space that you need to grow into.
An FEI rating is for sure in the future. We're dedicated to doing this. Nona and I put seven horses into the Olympic games between the two of us, and we feel that we've been there done that, proven all we could prove with training and riding. Now we're a little older and this is our focus, to run and manage the best horse shows in America. That's our goal.
It would be phenomenal to have another horse show in South Florida that is a good example of what a world class show should be offering you. This space, these jumps, these conditions, this atmosphere, these amenities. We are accommodating everybody's needs with every little detail. Even better if the entries are half as much to show at WEF. With healthy competition, there's less of the "only show in town" mentality.
H&S: Can you talk about the competition environment at The Ridge?
GD: The Ridge Turf Tour is held on open fields. There isn't much in the way of fences or barriers, or a sand ring that slows horses down, and funnels them in by keeping them looking to the inside.
What we feel we're doing here is developing riders. They've got to steer, they've got to stand them up and hold them up, if they're dragging, they're going to slip in the corner because it's natural grass footing. They've got to learn how to ride, not only at the jumps but in the turn and through the turn. With such a wide-open setting you've got to ride every step.
And it's set up to be affordable. Both the Turf Series and The Ridge schooling shows, which we would continue at my farm. The schooling shows are are for the beginning level of rider. It's quiet, ample room, no pressure, you don't have 100 people watching you or 100 golf carts distracting you. We're trying to fill a clear need in south Florida.
H&S: If it is passed, how will the seventh week rule affect other areas in the country?
GD: I'll say this, where else in the country can you do this? We've had so many managers –­from all over the world– come and visit what we're doing here, and they all say that this wouldn't work anywhere else. Where else is there a pool of 4,000 horses to draw from? Nowhere else.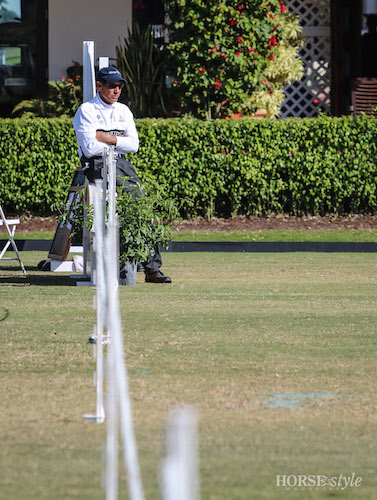 George D'Ambrosio looks out over the grand prix field at IPC