Dressage! Many riders hear that word and shudder, but I happen to like dressage and always have. As a kid I did some low level eventing and dressage with an OTTB named Prior. We had a great time together. When I was 15 we qualified for Pony Club Nationals in dressage. Our freestyle was to an assortment of songs from The Beatles; Prior loved The Beatles and I swear he would match his step to the rhythm of the music. After the test, the judge commented that I really shouldn't use lyrics in a musical freestyle, yet we still won that qualifying class. These days, dressage horses dance to all sorts of fun, lyrical, non-traditional music and the freestyle is always a crowd favorite!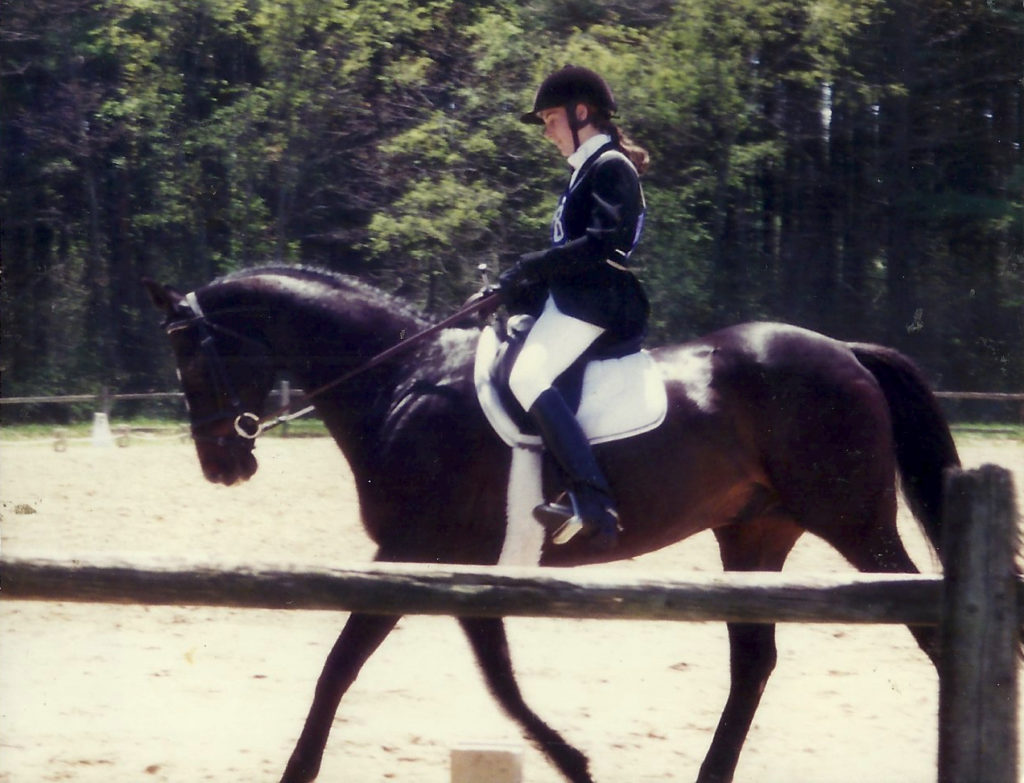 Prior and I workin' that dressage freestyle, circa 1996
So what does this have to do with Billy? Well, we just had our first dressage lesson and it was awesome! Petra Hoffman is an accomplished rider/trainer from Germany living in Wellington for the season. I asked her if she would have any interest in giving me a lesson on my young, green OTTB. I explained to her that I have had one dressage lesson in the past 15 years but I was hoping to take some lessons to improve our jumping. She said no problem and she would be happy to work with us.
Petra worked with Robert Dover during the time of Hector Rodriguez and El Sahib. El Sahib was a Thoroughbred ridden by Hector Rodriguez in dressage at the 1988 Seoul Olympic Games. On occasion she would see Robert Dover ride or train El Sahib and said it was amazing, so she has no preconceived notion of the Thoroughbred, but rather a fondness toward the breed.
I would imagine dressage has got to be tough for Billy. He is very tall, at least 17 hands ) and he is ALL legs. Sometimes when I am riding him I feel like all four legs are going in different directions! He is getting stronger behind but is still a bit weak so it is hard for the poor guy to carry himself all the time. Plus, he is an OTTB so his initial training was to lean on the bit, pull with the front legs and drive from behind to create a long flat movement, basically the opposite of jumping and dressage. He is however super athletic and pretty well balanced. His best characteristic is that he is willing and likes to work.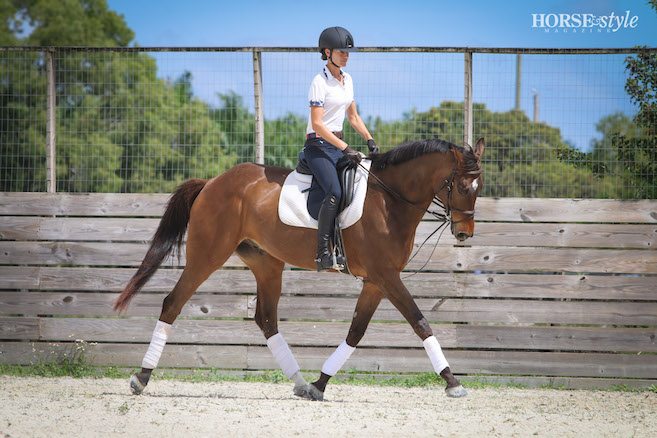 What a fun lesson we had!!! It was only about a half hour but Billy worked every muscle in his body and was exhausted. It's amazing how hard it is to perfect a movement. Billy got very soft and subtle at the walk and the trot. He stayed straight and really started to work through his back and hind end. It was an amazing feeling!! The canter still needs work, his spider legs kind of go all over the place at first, then he collects himself for 30 seconds and then falls apart again, but this will get better with time and fitness. We ended the lesson with homework. Transitions, transitions, transitions, go forward, come back, forward, back. It was so good for us – as every hunter/jumper rider knows, adjustability is so important in jumping. I think we will both be tired by the end of the week, but I cannot wait for our next lesson!
Read Siobhan Gallagher's ongoing series about her recovery from a traumatic brain injury, and her progress with Billy the OTTB, by clicking here.