Written by Lindsay Brock
Lin Kingsrød sat on the sideline of the International Arena in Wellington this past March and watched as her once modest line of equestrian-inspired clothing continued to grow on a global scale. Notably it was eighteen years ago when a preliminary business plan among friends grew into what is now Kingsland Equestrian.
---
Best known for stylish logo patches on classic sweaters and breeches, iconic bomber jackets and even the occasional bikini, Kingsrød's clothing sensation sprang from a simple effort to improve her own comfort while in the tack.
A rider since the age of seven, Kingsrød grew up in a small town outside Oslo, Norway. She and her twin sister got their first pony at age 12, which they shared for a year before each having one of their own. From that first pony, Kingsrød went on to compete throughout Norway, Belgium, Poland and Switzerland before making an appearance at the European Championships as a 15-year-old pony rider.
A lawyer by trade, she met her husband, Norwegian rider Dag Ove Kingsrød, at age 22. Once she completed her studies, the couple moved to Germany to follow her husband's riding schedule. While starting a family, Kingsrød helped in the stables, but she stayed on the ground while pregnant with her first of three children. The Kingsland seed was planted at this time.
"I was approached by a Norwegian friend who was living in Hong Kong with close ties to the textile industry; she asked if I wanted to start something up with her," explained Kingsrod. "It was then that I had the idea to start doing something with clothing."
The Cardboard Box Era
Inspired by fashion and function, Kingsland's humble beginnings included a storage facility in Kingsrød's home and cardboard boxes of merchandise in her trunk, as she embarked on a line with a few pieces focused on fit, comfort and quality.
"I went to a fair in Germany, rented a space and built a stand," said Kingsrød. "Then I met a tack shop owner in Spain and asked if he would look at the boxes I had. The next day he sold out, so I gave him more boxes and we went from there."
Traveling from horse show to trade show, Kingsrød began to make a name for herself in equine fashion. "I sold out of those boxes one item at the time," she said. "I designed, packed, talked, hauled, travelled, pushed and prayed. Soon, some of the big riding names discovered that I actually carried something new and better."
After three years the cardboard box era led to something bigger.
The Explosive Bomber Jacket
While Kingsrød started successfully with a few styles of breeches, shirts and tall socks, the game changer was her leap of faith with the Kingsland bomber jacket.
Kingsrød admits that she didn't have a clue how much work went into making a jacket. When she approached her manufacturer in Hong Kong about what she wanted, they told her that she had to make a minimum 600 of each model – 1,200 in total. A big shift from the cardboard box era, "That jacket was my dream, but I didn't know how we were going to sell all that merchandise," she said.
Even today, she isn't sure how she sold that initial run of 1,200 jackets. A credit to her foresight, Kingsrød wisely chose to develop a line that the market embraced. A strong symbol of Kingsland quality, the bomber jacket, still available today, exploded on the market fifteen years ago, escalating the brand to a new level.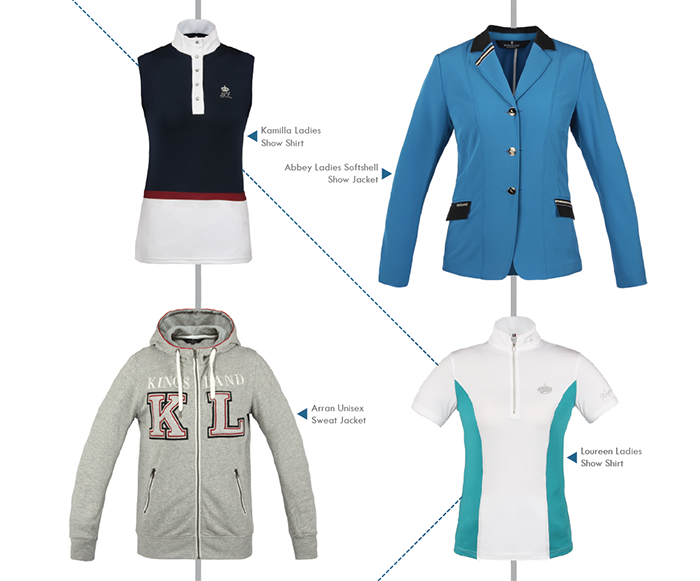 Wears Well and Looks Great
One thing remains steadfast with the Kingsland line; this is workwear. Whether it's white, pink, classic or fashion-forward, it's worn by equestrians that encounter dirt, wind, rain and sun on a daily basis. Holding true to this motto, seventy percent of each collection consists of the classical Kingsland look, while thirty percent is geared towards fashion trends.
Kingsrød submits each garment to heavy testing before manufacturing to ensure it can live up to both the Kingsland standard and the equestrian lifestyle. "We test everything. We get some samples, test them, make changes and send them back," she said. "The clothes we make are for work and it's important to remember that when creating competition wear."
. . .
To read the rest of the article, check out our full August/September issue online!
Featured photo © Shannon Brinkman; Julia Tops, one of Kingsland's youngest sponsored riders, looks stunning in one of their classic polos. | "Behind the Brand: Kingsland" was our August/September 2015 cover story. To read more great articles, subscribe today.