I recently caught up with equestrian fiction author, Natalie Keller Reinert, who just published her latest novel, Show Barn Blues. I've been an avid reader of Reinert's work since she published her first book, The Head and not the Heart, in 2011. Her fiction focuses on horse racing, eventing, and now, thanks to Show Barn Blues, the world of hunter-jumpers.
Horse & Style: Thanks for agreeing to this interview! Let's get right into it – what are you working on now?
Natalie Keller Reinert: I just released Show Barn Blues, a book I couldn't give up on. I tried to give some of the scenes and setting to Pride, which is the sequel to Ambition readers have been asking for, but in the end, I loved the main character too much to demote her to a secondary role. Grace deserves her own story. In the end, readers will see how it ties into the Eventing Series, even though it's about a hunter-jumper barn in Orlando.
Now that Show Barn Blues is out in the world, I'm focusing all my energies on the final rewrite of Pride. So many people have asked me for more Jules! I'm having fun getting back into her snarky little head.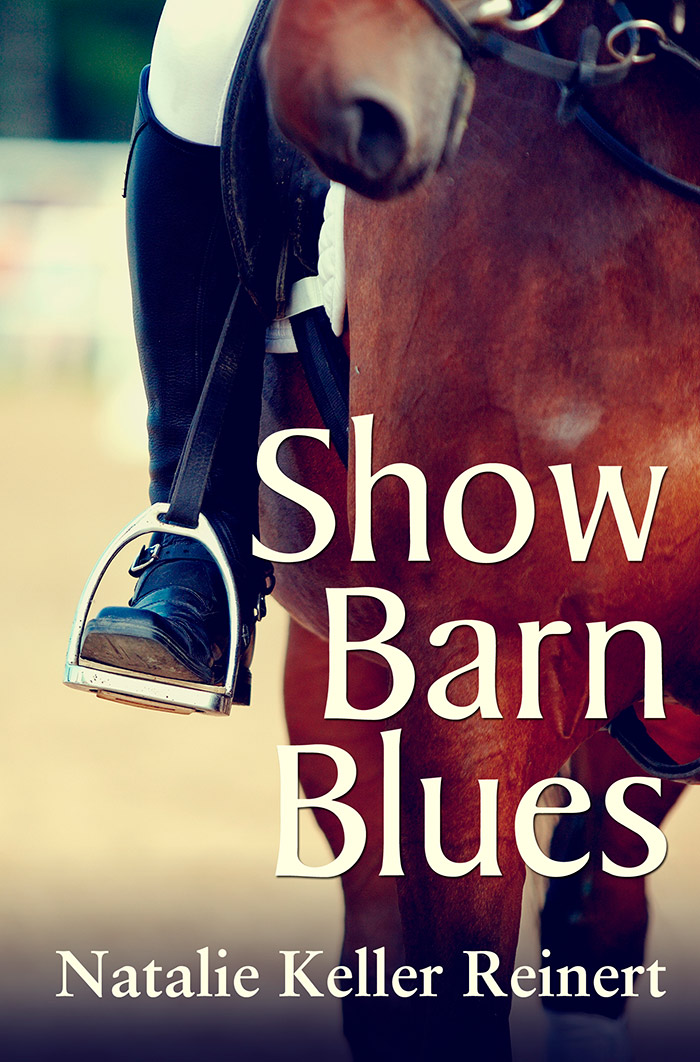 H&S: I just finished reading your latest Alex and Alexander novel, Turning for Home. Will we see Alex again any time soon? Any chance you'll write a prequel? I'm dying to know about Alex pre-Alexander, and I'd love to know more about their relationship prior to their marriage.
NKR: I think Alex will be back, because she's always in the back of my mind. I'll read an article and think about how Alex might deal with the problem. I have some unfinished story lines in my multitude of notebooks that I read through sometimes and wonder about. Still, I'm having too much fun letting Alex evolve into an adult (a proper adult, not a twenty-something) to play with a backstory, but you never know…
H&S: Are Alex and Alexander based on real people you've met in the horse industry, or are they completely fictional?
NKR: No one's completely fictional, right? But they're not based on anyone in particular. They are just smatterings of people from the horse business whom we've all met. Alexander is almost this archetypal figure of the older trainer working students tend to fall hard for, which is why Alex gets to tease him and make him crazy once they're married, while he has a hard time stepping out of the boss role and into the partner role.
H&S: As we see in Turning for Home, ex-racehorse adoption is very near and dear to your heart. What's your background with off-the-track Thoroughbreds (OTTBs)?
NKR: When I was thirteen, my parents bought me an OTTB who was one step removed from rescue. I was thirteen and still very much a brave novice, so riding Amarillo for the next decade developed my not-so-perfect but very effective riding style. Maybe it's a little graceless and workmanlike, but I stick in the saddle. I owe that to Amarillo, who was a good boy but had his moments. He wasn't perfect for everyone, but he was perfect for me. To this day, I have pictures of him all over my apartment. I still dream about him.
So OTTBs just developed into the only sort of horse I really like to ride. I've professionally ridden ponies, warmbloods, and draft horses, but Thoroughbreds are my soulmates. I understand them. We get each other. We fight but we always make up.
H&S: Tell us a little about your writing process. What advice would you give to an aspiring author?
NKR: Write the truest thing you can, and let people tear it apart.
I used to think – and other writers have told me – writing for equestrians was hard because we demand perfection. That's half-right, but getting the technical details right is only the beginning. Equestrians all have their way of doing things, and it's always, "my way or the highway."
For writers, that means we could write the most accurate depiction of barn life in the world, and someone will read it and say, "No. No, that's terrible, that's the wrong way to run that barn, wrong way to run that business, wrong way to train that horse."
Well, first off, of course it is. That's the conflict. If the trainer starts out perfect, you really don't have a story. But second, Jules' way of running a barn is not Alex's way of running a barn. Neither of them run a barn the way Sally Smith who just downloaded my book for the first time runs a barn. There's no one way to do anything, and what could make writing an accurate book more difficult? It's only going to be accurate for a fraction of your readers.
Equestrians are passionate people with massive ambition, huge hearts, and yes, big egos. It's just who we are. So when you write for equestrians, you have to be prepared – sometimes, you're going to be that one trainer at that barn down the road who does everything wrong. And people are going to be really happy to tell you, in a very public manner, that your book is everything from nonsensical to dangerous.
And now some fun questions!
H&S: Now that we know what you're writing right now, tell us what you are currently reading.
NKR: I'm reading Mary Pagones' wonderful eventing story, Fortune's Fool. I'm absolutely in love with Pagones' style, so the moment I finished her first book, The Horse is Never Wrong, I had to read the next one. Her characters really speak to me, and the two books are written in a completely different style, so you really feel like you're in the lead characters' heads. Fortune's Fool, in particular, brings up those big post-Young-Adult questions about how much you're willing to give up for a career with horses.
H&S: Out of all your fictional horse characters, which one is your favorite? Similarly, which of your books is your favorite? Why?
NKR: My favorite horse has to be Tiger. I based Tiger on Amarillo, my first Thoroughbred, and named him for the succession of Hold That Tiger horses who were running for a couple of years at Tampa Bay Downs. I loved them all. I wanted one for myself. There was just something about them.
My favorite book is Other People's Horses. I love Saratoga, and that book was conceived there, sitting at an outdoor table drinking beer and writing the plot in the back of a Fasig-Tipton catalog. I think that was the racetrack novel I wanted to write when I was ten years old. Everything came together – the plot was right, the characters were right, the setting was just a love letter to Saratoga. I don't remember struggling with the story, although I must have, a little bit. Then Holly Tonini came through with the most miraculous cover photo ever; a good friend made it into a glorious design; another wonderful friend edited the manuscript. When it was the fiction semi-finalist for the Dr. Tony Ryan Book Award, I was just on top of the world.
H&S: I see that you've moved back to Florida – will any OTTBs be joining the Reinert family?
NKR: No, we've been horse-free for a few years, and we're staying that way. Everyone just needed a break, and there are a lot of things we wanted to do as a family which we couldn't do with horses around. Not to mention, being an author is a nice job, but it doesn't pay enough to keep horses! I do other things, and those other things would eat into any potential riding time I might have.
H&S: And finally, what's one thing you'd like your readers to know about you?
NKR: I love hearing from readers. I have enough book ideas to keep me busy for the next five years, but that shouldn't stop anyone from emailing me and letting me know what they like, and what else they'd like to read. I wasn't going to write another book about Jules. Ambition was supposed to be a stand-alone title. I get too many emails asking for more, so I developed an entirely new story arc for a Jules series. When I published Ambition, I was terrified people would hate it, but it's turned into a really big deal for my readers, and I'm happy to give them more.
– – – – – – –
Thanks, Natalie, for your time – we've enjoyed this interview! Please check out Natalie's Amazon page and website for more information about her current (and upcoming) novels. Each and every one is a page-turner!